Welcome to a very special post! 🙂 I'm so excited to have my first ever, 12 days of holiday giveaways here at SimplifyLiveLove! Check back every day for the next 12 days and each of the exciting giveaways I have in store for you!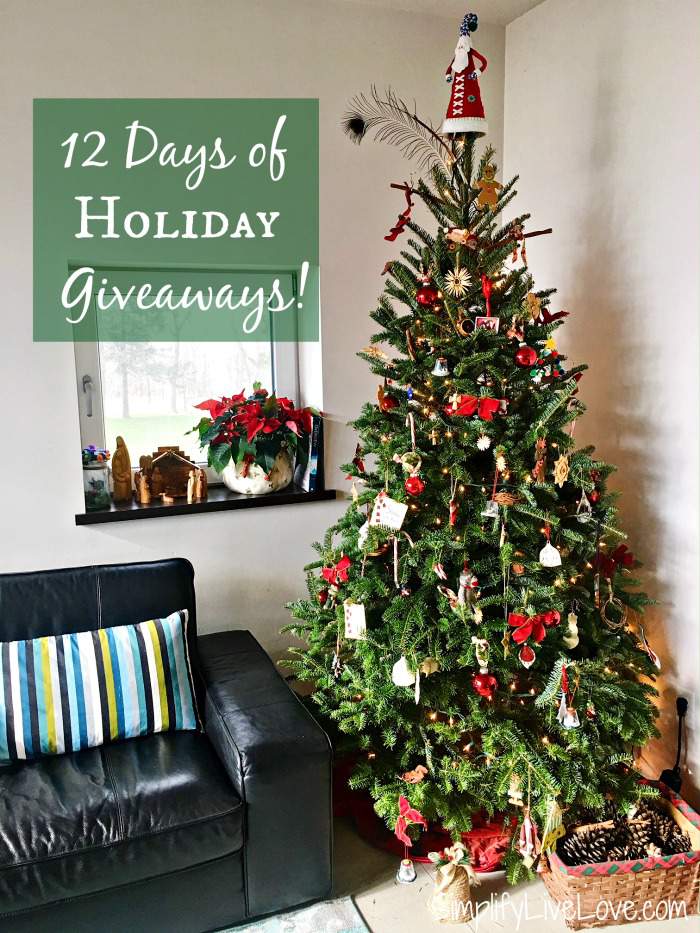 *This post contains affiliate links which means I earn a small percentage of your purchase at no cost to you! Thank you for supporting my site.*
12 Days of Holiday Giveaways
Thank you so much for letting me into your life this year! I'm very pleased to have a few gifts in store for you and I hope they arrive in time for gifting! From games, to books, to household items, I hope you'll find something you'd like to win! Make sure to check back each day to enter the day's new giveaway!
Day 1 – Win a Spike Ball Game!
Did you read my post game post earlier where I shared my family's top games for 2017? Spike Ball is my 12 year old son's most favorite of 2017 and I'm so excited to have one to give away! We learned about this game from my sister this past summer. Her family plays it a lot in Seattle. When we went to ChiTAG 2017, Ben was so excited to see it there too.
Spike Ball was featured on Shark Tank and is an active outdoor game. It doesn't take a huge yard and it's a big hit with boys and girls alike.  You can buy Spike Ball at Amazon for anywhere from $45 – $60 or enter to win a game here! 
This giveaway is open to US residents 18 years of age and older. SimplifyLiveLove is not responsible for shipping.
a Rafflecopter giveaway

---
Go here to enter my giveaway for beautiful Jord Watch Gift Card Giveaway! I love my Jord watch so much! Enter here!
---

Day 3 –  Bonk Board Game!
Bonk is fun wooden board game for 2-4 people. In a nutshell, each player slides small balls down a chute to try to knock the wooden ball into one player's zone! It's trickier than it looks because the board slopes down from the middle! We played this at ChiTAG and had a lot of fun. You can buy Bonk for $39.99 at Target  and all orders ship free through 12/23! You can also win one here!
---
Day 4 – $50 giftcard to Nature Box!
How would you like a $50 gift card to spend at Nature Box? We love Nature Box healthy snacks and I'm excited to offer a $50 giftcard to one lucky winner! This is an Instagram giveaway, so head to Instagram to enter!
---
Day 5 –  American Girl of the Year 2017 Gabriela McBride
To enter this amazing giveaway sponsored by American Girl, head over here to this post and learn about Gabby's mission to empower girls through poetry and enter to win a Gabriela McBride doll!
---

Day 6 – One Happy Salmon Game
Up for grabs today is one of our favorite fun games, Happy Salmon! This silly game takes about 30 seconds to learn and is a loud and fun time for the entire family. It makes a great stocking stuffer or gift for hard to buy family member! Enter the Rafflecopter giveaway here. Note, you must be 18 years of older and a US resident. Good luck!
---

Day 7 –  PinBall 3000
It's Day 7! Up for grabs today is an awesome PinBall 3000 craft kit and game! Your crafty kid or pinball enthusiast will love this! Contest is open to US residents 18 years of age and older. Enter via the rafflecopter form below. Good luck!
---

Day 8-  Announced Ice Cool Board Game!
---
Day 9 – Announced December 13
---
Day 10 – Announced December 14
---
Day 11 – Announced December 15
---
Day 12 – Announced December 16
---
Bookmark this page and check back each day for the next giveaway!