Welcome to my first 3 Things Post! I've been reading these posts written by my blogging buddy Jami at An Oregon Cottage for quite some time now and have wanted to write my own for ever. This type of post is a great way to share more personal and behind the scenes peeks into my real life, and after thinking about writing my own 3 Things Post for over a YEAR…I am finally doing it! 😀
Each Saturday from now on, I pledge to share three details from my life with you: a book I'm reading, a look inside the Passive-Aggressive House, something the kids are working on, a funny snapshot of our chickens, bunnies, dogs, answers to reader questions, links to helpful or interesting products etc. I hope you'll let me know if you enjoy these posts so I'll be motivated to keep sharing.
Okay – here goes!! For my first 3 Things post I'm sharing pictures from the Passive-Aggressive House kitchen, an update on Sara's fight with hip dysplasia, and details on my new instant pot obsession. At the end of the post, I'll have links to other goodies that inspired me this week.
3 Things 9.17.16: My Kitchen, Hip Dysplasia Update, Instant Pot Obsession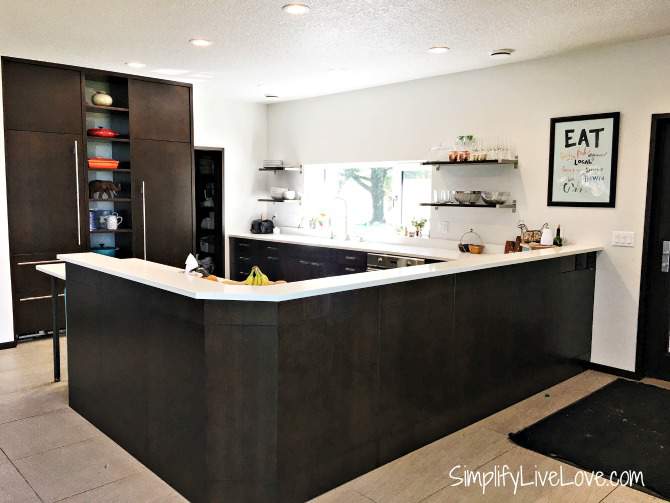 1. My Kitchen
My kitchen was just finished a couple of weeks ago. Well, actually there's one more detail to finish, but it's a helluva lot closer to done than it was when we moved in just over ONE YEAR ago. When we first moved into the Passive-Aggressive House, the cabinets didn't have handles on them and I couldn't open them. True story – it made me very grouchy for a long time. The shelves around the window weren't there, the fridges didn't have the wooden doors on them, and the wood panels were not on the outside of the peninsula. I want to add square photos in the space over the window, but I'm not sure what to put up there. Shots I've taken of flowers and my garden bounty maybe? What are your thoughts?
Here are some in process photos of the kitchen. The open shelf under my steam oven is the one detail that still needs to be finished. It will eventually become a little cabinet with a real door and a handle. And just to make sure I'm keeping my promise to show you my 'real' life – below is a picture of the way my kitchen normally looks.
Everyone has shaving cream for crafts on their kitchen counter tops right? Mail, recycling, school lunch boxes, dirty dishes…this is my normal. But my Ideal Self would keep that beautiful kitchen clean. Maybe some day.
2. Hip Dysplasia Update
Sara's struggle with Hip Dysplasia is almost a distant memory. The foggy memory of her spica casts, three surgeries, and many tears seems like a bad dream, honestly. But it's real and part of her story and since people still come to my blog for the hip dysplasia posts, I know I should share more. While I did share a lot of posts about our journey with Hip Dysplasia when we were in the thick of it years ago, I haven't shared much recently. In fact, I told very few people about the check up she had in May! On her 6th birthday she heard the words hip parents and babies love to hear: the two year clear. Hip moms and dads know the significance of those words.
Her hip is nicely in place, her socket is developing well, her legs are the same length, and we don't have to see her surgeon again until she turns eight in two years. I just hope everything continues to go well. We all love this girl so much and really really really really hope her hip struggle is over.
3. Instant Pot Obsession
After seeing so many facebook posts about the Instant Pot for months now, I finally bit the bullet and bought my own. I got the 6 qt version with the yogurt maker and I've been experimenting with it ever since. I've had some successes (beef with rigatoni) and also a failure (chicken noodle soup – sadly the noodles were WAAAAAY overcooked and that pretty much ruined the soup), but over all, I'm really enjoying this new contraption and plan to share more recipes very soon!
I also ordered a couple of cookbooks that I really like – Pressure Cooker Perfection from America's Test Kitchen and The Instant Pot Electric Pressure Cooker Cookbook. I'm excited to make Tomato Sauce out of tomatoes from my garden and Tuscan Chicken Stew using recipes in the new cookbooks!
Links to posts that inspired me this week
1. My friend Beth at Reality Daydreams makes the most amazing videos for her fun DIY blog. She created her a recipe video recently and I'm so inspired. I want to learn how to make these videos. It's on the list. Check out her chocolate swirl spider web cheesecake. So fun!
2. My friend Nicky is an amazing cook. She shared a recipe on my blog a while back for German Frikadellen that I love because they are easy, freeze well, and best of all, they're a throwback to my childhood in Germany. She also shared an Instant Pot recipe for Homemade Beef Pho Soup on her blog that I want to try out soon.
3. My friend Melanie wrote a post that I really enjoyed reading called My Ideal Self. Every woman needs to read this post on coming to terms with who we are at our cores. I love this friend, and I'm so glad she's out of the "anxiety ridden fog" (her words) that she's been in for the last two years.
What do you think of this new post series? And what inspired you last week? I'd love to hear!
SimplifyLiveLove is a participant in the Amazon Services LLC Associates Program, an affiliate advertising program designed to provide a means for sites to earn advertising fees by advertising and linking to amazon.com.