One of my favorite recipes for cabbage involves my slow cooker! This recipe is quick to throw together and delightful to eat. Enjoy this easy and healthy Crockpot Sausage and Cabbage Recipe!
*This post contains affiliate links which earn me a small commission at no cost to you.*
One way I keep my budget low is to buy what's cheapest when it's cheapest. I use the EWG's Dirty Dozen/Clean 15 list prioritize my organic purchases.
I like cabbage a lot, and I like it even better since it's on the Clean 15 List and often very cheap! I've found that cabbage hits rock bottom prices around St. Patty's Day for some reason. Watch for cheap cabbage in March!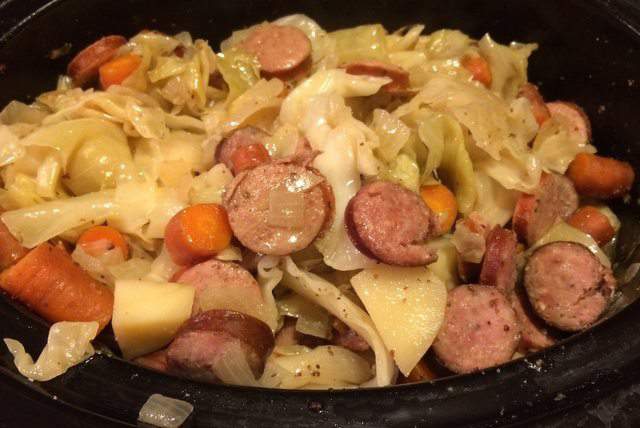 Crockpot Sausage and Cabbage Recipe
I've been making this recipe for Sausage and Cabbage in my crockpot for a long time. I found the original recipe on southernfood.about.com but I can't find the original source anymore – and I've since adapted the recipe to fit my family's needs.
It's easy and delicious and perfect for busy days because you can just throw the ingredients in the slow cooker and forget about them. It's also naturally gluten-free and so just about anyone can eat it!
Yield: 8
Crockpot Sausage and Cabbage
A quick, easy, cheap and healthy dinner idea. This crockpot sausage and cabbage recipe is sure to be a hit in your life, if you like cabbage of course!
Cook Time
4 hours
3 seconds
Total Time
4 hours
15 minutes
3 seconds
Ingredients
1 small head cabbage, coarsely shredded
1 large onion, coarsely chopped
1 1/2 to 2 pounds organic kielbasa
1 cup apple juice or water works just as well, honestly
1 TBS dijon mustard
1 TBS apple cider vinegar
2-3 large potatoes, diced
2-3 large carrots, diced
salt and pepper to taste
Instructions
Layer the cabbage, onion, potatoes, carrots, and sausage in a 5 or 6 qt. crockpot.
Whisk together the juice, mustard, vinegar and pour over crockpot ingredients.
Cover and cook on low for 8 to 10 hours. (My crockpot cooks it faster than that - it's usually ready after only 4-6 hours instead so prepare to adjust the time depending on your crock pot.)
I've also cooked it on high for 1 hour and then on low for 3-4 hours when I forget to get it ready earlier in the day.
Nutrition Information:
Yield:
8
Serving Size:
1
Amount Per Serving:
Calories:

520
Total Fat:

34g
Saturated Fat:

11g
Trans Fat:

0g
Unsaturated Fat:

21g
Cholesterol:

83mg
Sodium:

1318mg
Carbohydrates:

37g
Fiber:

4g
Sugar:

9g
Protein:

18g
Nutritional data is not always correct.
I love this recipe because it is quick, frugal and delicious. My crockpot is my work horse! If you're looking for a good slow cooker, I highly recommend this Hamilton Beach 6 qt version.
You may like these healthy recipes too!
Old Fashioned Chicken Noodle Soup for the Instant Pot
German Frikadellen Recipe with Pan Fried Potatoes
Beef with Rigatoni for the Instant Pot
15 Healthy Freezer Friendly Recipes