Slow Cooker Cabbage and Sausage Recipe You'll Crave All Year
on Sep 06, 2023, Updated Oct 28, 2023
Enjoy this warm and comforting Crockpot Sausage and Cabbage Recipe! It's a quick and easy recipe and totally delicious. Slow cooking is a great way to get a healthy meal on the table on busy days and this is one of our favorite slow cooker recipes.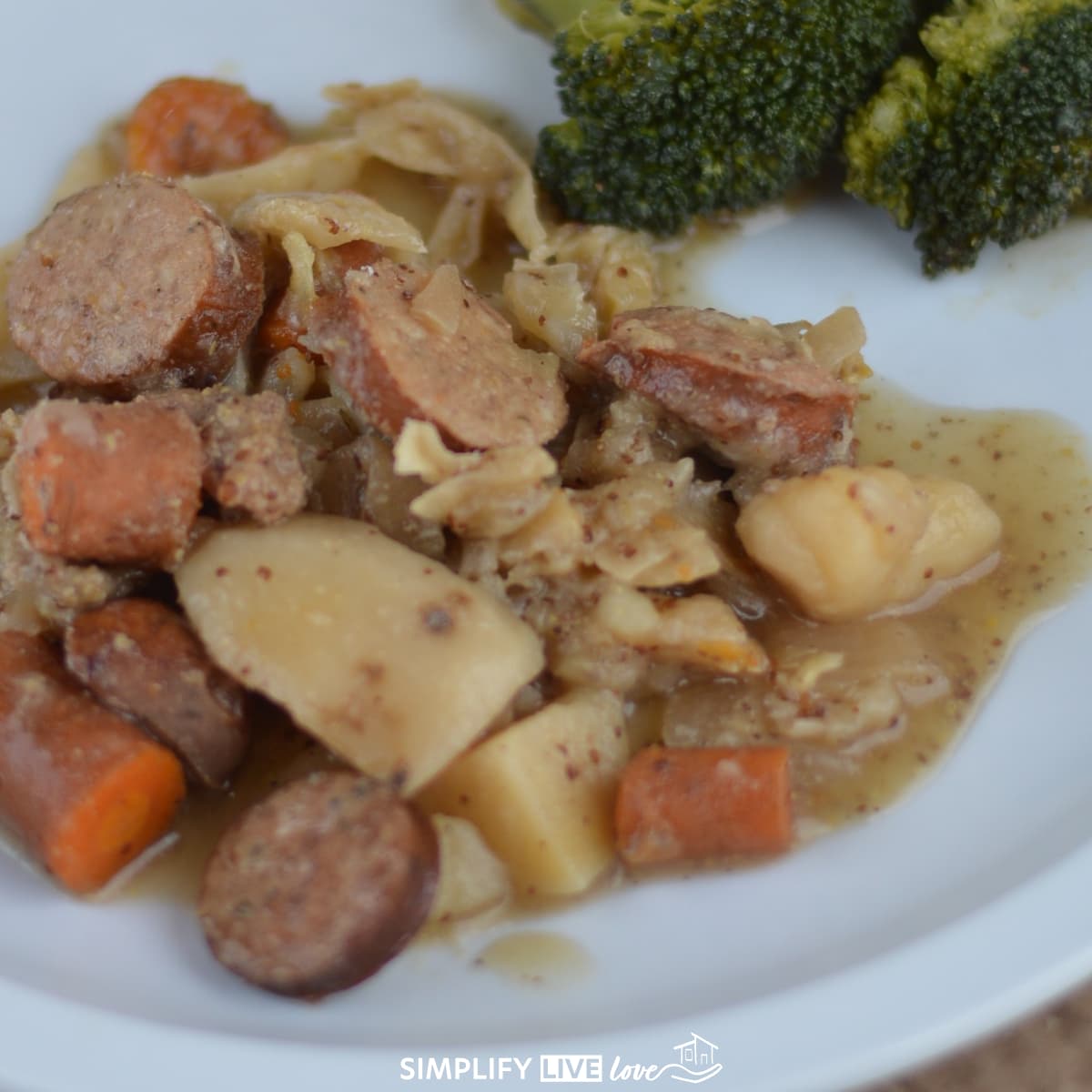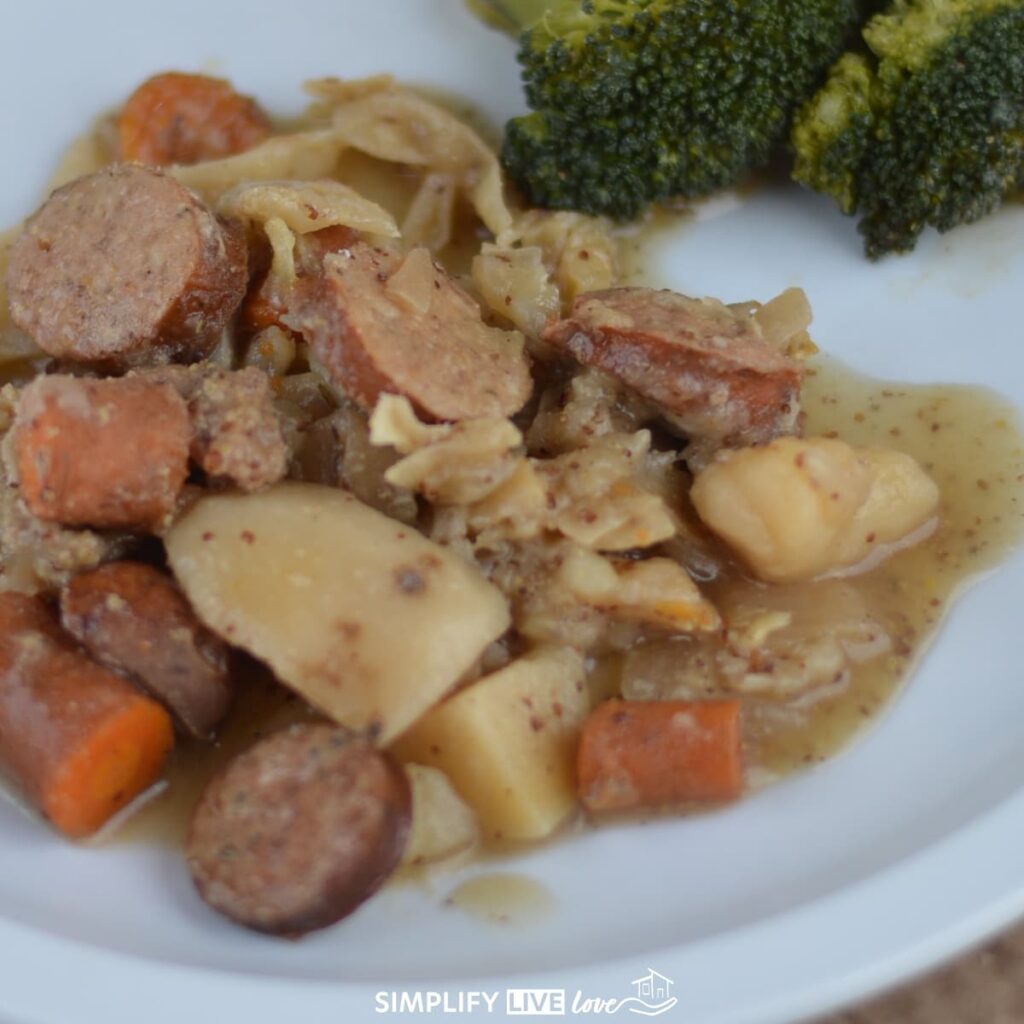 We try to eat seaonsally for our health as well as the planet. We grow what we can in our garden and love fresh cabbage which is an easy early spring or fall garden crop. As long as you can keep cabbage worms at bay, it doesn't take a lot of effort. I highly recommend growing cabbage in your garden.
However, if you don't garden, cabbage is also very economical to buy. And since it's also a relatively clean vegetable in terms of pesticide residue, I buy conventional cabbage when it's at rock-bottom prices. 
If you're interested in seasonal eating, this recipe is good for both spring seasonal eating and fall seasonal eating.
Growing our own veggies is one way I keep our grocery budget down. Another way I keep a low grocery budget is to use the EWG's Dirty Dozen/Clean 15 list to prioritize my organic purchases. I'll buy conventional fruit and vegetables if they're on the Clean 15 list, but organics for the items on the Dirty Dozen list.
I like cabbage a lot, and I like it even better since it's on the Clean 15 List and often very cheap. I've found that cabbage hits rock-bottom prices in March around St. Patrick's Day when it's in season as a spring crop. However, it's also in season in the fall which makes this a great recipe for seasonal fall eating as well. One of my favorite slow cooker recipes is this quick and easy crockpot cabbage and sausage!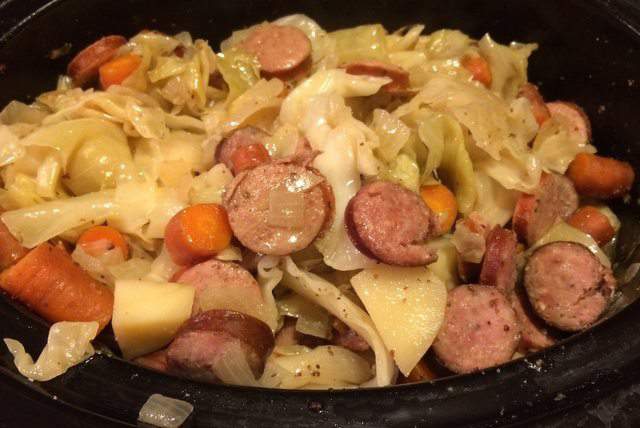 Mouthwatering Family Dinner: Cabbage and Sausage Crockpot Recipe Revealed
I've been making this recipe for Sausage and Cabbage in my crockpot for a long time. I found the original recipe on southernfood.com but I can't find the original source anymore – and I've since adapted the recipe to fit my family's needs.
It's easy and delicious and perfect for busy days because you can just throw the ingredients in the slow cooker and forget about them. Here's how to get this great recipe on your table too!
Ingredients
First, gather the following ingredients:
1 small head cabbage, coarsely shredded
1 large onion, coarsely chopped
1 1/2 pounds organic kielbasa, sliced sausage
1 cup water, can sub chicken broth if desired
1 tablespoon dijon mustard
1 tablespoon apple cider vinegar
2-3 large potatoes, diced
2-3 large carrots, diced
How do I prepare cabbage for the crockpot?
Now, get everything ready. It's easy to prepare cabbage for cooking. Simply rinse the cabbage, remove the outer leaves, and chop it into bite-sized pieces for even cooking.
Do I need to peel the potatoes or carrots?
Peeling potatoes and carrots is a personal decision. Because I grow organic potatoes in my garden, and a lot of nutrients are found in potato skins, I don't always peel them. You do what you think tastes best!
What type of sausage works best for this dish?
Smoked sausage or kielbasa is commonly used because of its robust flavor, but you can use your favorite sausage variety. We love the garlic kielbasa available at Costco.
Is Slow Cooker Cabbage and Sausage Gluten-Free?
This recipe can absolutely be made gluten-free, but there are a couple things to double check. First, make sure that the sausage you use is gluten-free. Most unprocessed meats like sausage are naturally gluten-free, but some processed sausages may contain gluten-containing additives, so check the label.
None of the spices called for in this recipe contain gluten, but if you switch any up, make sure to check the labels. Some spice blends may contain gluten.
If you choose to add broth, make sure it's gluten-free. Many store-bought broths are available in gluten-free versions.
Is this Crock Pot Recipe Low-Carb?
Cabbage is naturally low in carbohydrates, so it's a good choice for a low-carb recipe. But some of the other ingredients might not be. If you want to make sure this is a great low carb recipe, double check the following:
Opt for a low-carb sausage or kielbasa. Check the label for any added sugars or fillers.
Be mindful of the amount of starchy vegetables such as potatoes or carrots, as they can increase the carb content. If low carb is important to you, consider using loewe-carb veggies like cauliflower or turnips instead.
What are some side dishes that pair well with cabbage and sausage?
Lots of side dishes go well with this cabbage and sausage recipe. Here are a few of our favorites:
Crusty Homemade Sourdough Bread
Quick & Easy Greek Style Cucumber Salad
For dessert, try simple and delicious fresh fruit in waffle cones.
Can I freeze the leftovers?
Yes, this dish actually freezes well. Cooked cabbage and cooked potatoes are fine to freeze, but you don't generally want to freeze them if they aren't cooked. Store in an airtight container and thaw in the refrigerator before reheating.
To freeze, portion into individual or family-sized portions in air-tight containers, let cool completely, then put in the freezer. It should keep well for 2-3 months.
Yield: 8 servings
Crockpot Sausage and Cabbage
Simplify your evenings with this quick, easy, cheap and healthy dinner idea. We love this slow cooker sausage and cabbage recipe! It's always a hit on chilly, busy nights.
Total Time
6 hours
20 minutes
Ingredients
1 small head cabbage, coarsely shredded
1 large onion, coarsely chopped
1 1/2 pounds sliced organic kielbasa sausage
1 cup water
1 TBS dijon mustard
1 TBS apple cider vinegar
2-3 large potatoes, diced
2-3 large carrots, diced
salt and pepper to taste
Instructions
Prep potatoes, carrots, and cabbage. Slice sausage.
Layer the cabbage, onion, potatoes, carrots, and sausage in a 5 or 6 qt. slow cooker.
Whisk together water, mustard, and vinegar. Then pour over the other ingredient in the slow cooker.
Cover and cook on low for 6- 8 (My slow cooker cooks it faster than that - it's usually ready after only 4-6 hours instead so prepare to adjust the time depending on your slow cooker.)
Notes
Feel free to sub chicken broth for the water if you want a slightly richer taste.
I've also cooked this meal on high for 1 hour and then on low for 3 hours when I forget to get it ready earlier in the day.
Recommended Products
As an Amazon Associate and member of other affiliate programs, I earn from qualifying purchases.
Nutrition Information:
Yield:
8
Serving Size:
1
Amount Per Serving:
Calories:

410
Total Fat:

26g
Saturated Fat:

8g
Trans Fat:

0g
Unsaturated Fat:

15g
Cholesterol:

62mg
Sodium:

1015mg
Carbohydrates:

32g
Fiber:

4g
Sugar:

5g
Protein:

14g
Nutritional data is not always correct.
More recipes for chilly evenings you may like
Old Fashioned Chicken Noodle Soup for the Instant Pot
German Frikadellen Recipe with Pan Fried Potatoes
Beef with Rigatoni for the Instant Pot
15 Healthy Freezer Friendly Recipes