Eggy breakfast muffins are delicious, nutritious, and freezer friendly. They're a snap to make and reheat well. Make them this week!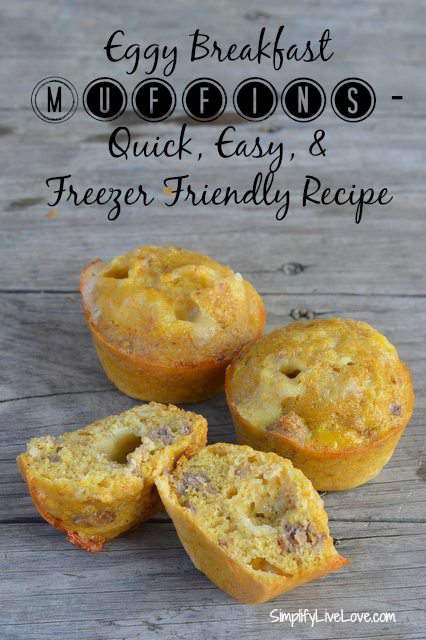 If you're looking for a new breakfast idea, I highly recommend these Eggy Breakfast Muffins. They are delicious, nutritious, and best of all, they freeze well and reheat nicely. I love having a bag of these in my freezer so I can send my husband out the door with a warm breakfast with little effort on my part. (I can sleep longer knowing he has something to help himself to…) 🙂
I got the idea for this recipe from one of my favorite cookbooks, Family Feasts for $75 a Week
, by Mary Ostyn. If you don't have this book, I highly recommend getting a copy or borrowing it from the library. There are a lot of super recipes in it.
Eggy Breakfast Muffins
Ingredients
1/2 lb cooked meat (bacon, ham, or sausage)
1/2 cup shredded raw veggies (zucchini is my fav - I have lots in the freezer from my garden and it's easy for me to disguise as a spice - but carrots, mushrooms, peppers - all would be fabulous in these muffins.)
6 large eggs
1/2 cup milk
1 cup shredded Cheddar cheese
1 cup freshly ground flour
1 tsp baking powder
1/2 tsp salt
1 tsp minced, fresh parsley
Instructions
Preheat oven to 350 F and prepare your muffin tins.
Cook the meat and remove from pan. Saute the veggies until soft, 3-5 minutes. Remove to bowl.
Mix together eggs, milk, cheese. Add dry ingredients and then everything else. Stir together just until combined.
Bake for 20-25 minutes.
Enjoy!
It's also a very versatile recipe all the way around. Don't have shredded cheddar? Tried sliced Provolone. Don't have sausage? Try bacon. Or omit meat altogether. You can put whatever you want in these eggy muffins! I double this recipe to make 24 muffins at once.Then I freeze the extras and feed them to my husband during the week when he needs something quick. It works very well!
You can also add about any combination of veggies in these muffins. Sneak in a few carrots, some broccoli, peppers. Whatever veggie combo your family like – add it!
How do you feed your family a nutritious breakfast with little effort (and without getting up 0 dark thirty?)
Like this recipe for eggy breakfast muffins? You might like these too:
Pumpkin Scones Packets + for the Freezer