Visiting Shell Island, jet ski rentals, airboat rides, and swimming with dolphins are just a few fun things to do in Panama City Beach, Florida! Here's info on it all and our favorite Panama City Beach Restaurants you will enjoy with (and without) your teens!
SimplifyLiveLove occasionally receives complimentary products, hosted travel, and/or compensation related to the content shared here. This story may contain affiliate links which means we receive a small commission on your purchase.
Fun Things to Do in Panama City Beach, Florida with (& without) Teens!
Last fall I was invited to visit Panama City Beach with one of my teenagers for a Real.FUN.Thrills press trip. The two of us hadn't gone anywhere on our own since she was a toddler and when I asked her if she would like to go, she was 100% ready!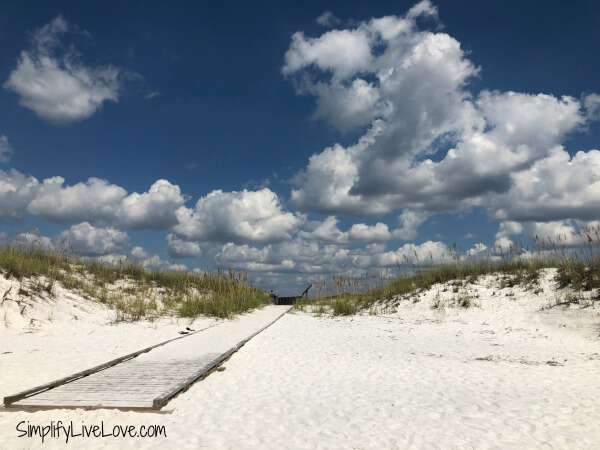 As winter grabs a hold of us here in Eastern Iowa, I am thinking how warm it was in Florida and all the fun things we did. I'm ready to go back! Here were just a few of the fun things Anna and I were able to do in Panama City Beach, Florida.
Shell Island Panama City Beach
Shell Island in Panama City Beach is a 7-mile long undeveloped barrier island the Gulf of Mexico and the St. Andrew Bay. Part of St. Andrews State Park (the most visited state park in Florida), it's completely undeveloped and absolutely stunning!
There are no concession stands, restrooms, picnic tables, trash cans etc to spoil your views, so make sure you take everything you need when you visit this beautiful island. And don't forget to take your garbage with you when you leave.
To get to Shell Island, you'll have to take some sort of water craft as it is not accessible by car. We took the Bay Point Lady boat shuttle from the Sheraton Bay Point Resort where we stayed.
Learn more about Shell Island by clicking here.
Jet Ski Rentals Panama City Beach
Not only did we take the resort shuttle to Shell Island, but we also drove there on jet skis one day, which ranks right up there as one of more terrifying things I've done. Marine Family Go-Cart Rules stipulate that once you step on the gas, you can't let off, you see. No matter what, keep on the gas.
When the jet ski rental people told us to hit it and go, I listened. In retrospect, that might not have been the best course of action since this was really my first time on a jet ski in the ocean. We did not tip but it was very bumpy, and I have to admit that more than once I feared for my life. After we got to Shell Island my screaming teenager (who clearly also feared for her life) said she'd find her own ride back. And she did. You know what – the ride back to the marina was blissfully quiet and not nearly as choppy. LOL!
And just look at the views from Shell Island! Learn more about Adventures at Sea jet ski rentals in Panama City Beach here.
Airboat Rides Panama City Beach
While Anna's favorite part of the trip was playing at Shell Island with her new best friends, my favorite part was the airboat ride. I loved can't tell you how much I enjoyed skipping over the water and touring the West Bay Marshes with Wild Thang Airboat Tours.
Our knowledgeable guide taught us a lot about the marsh ecosystem as he pointed out birds, an Osprey nest in a power pole, and took us on an alligator hunt. He was as entertaining as he was knowledgeable and we really enjoyed our first airboat ride!
Ride the SkyWheel Ferris Wheel at Pier Park
We happened to be in Panama City Beach during Columbus Day weekend and were super excited to attend the Pirates of the High Seas Fest at Pier Park. Featuring all sorts of pirates, parades, fireworks, live music, and more, you have to go if you're PCB at the right time!
While we were at Pier Park for the pirate parade, we decided to take a ride on the SkyWheel Ferris Wheel for a lovely view of the sunset! The ferris wheel is not for the faint of heart as you'll ride 200 feet up in an enclosed gondola. The stunning views of Panama City Beach are totally worth it though!
Swim with Dolphins Panama City Beach
Another very amazing experience we had on our press trip to Panama City Beach was a dolphin encounter at Gulf World. You can swim with dolphins, penguins, harbor seals and stingrays at Gulf World. They also have educational shows featuring dolphins, sea lions, tropical birds and more, indoor and outdoor exhibits with a variety of animals, and a pool where you can touch and feed stingrays.
As part of a small group, we participated in the Dolphin Encounter where we touched, kissed, and hugged a dolphin. Anna really loved this experience – it was one of her favorite activities on the trip.
Learn how to swim with dolphins in Panama City Beach here.
Our Favorite Panama City Beach Restaurants
Of course, you'll also have to eat! Fortunately, you don't have to look far for delicious places to eat in Panama City Beach! We liked everywhere we visited – from popular local spots to more upscale seafood restaurants. Here are a few of the Panama City Beach restaurants we really enjoyed.
Andy's Flour Power
Andy's Flour Power was voted the best cafe and brunch spot in Panama City Beach for good reason!.Featuring pastries, omelets, cake, live jazz and more, we all really loved this stop. If you go, make sure to try the Hummingbird Cake. I've never had it before and it was oh-so good. Made pineapple, banana, pecan, and cream cheese frosting. I suggest going with a group and trying a lot!
Liza's Kitchen
Another favorite local breakfast place, Liza's Kitchen doesn't look like much from the outside. It's located in a strip mall but don't let that deter you! I can personally recommend the Hippie Hash, and if you like eggs benedict, breakfast sammies, and homemade biscuits, they serve all that up too!
Thomas Donut & Snack Shop
Sadly, we didn't get to try the donuts at Thomas Donut & Snack Shop (located right off the beach at Laguna Beach)- but if the line was any indication of how good these donuts are, I highly recommend that you go. Several of my Iowa friends mentioned to me that they always stop there when they go to Panama City Beach, so I'm going to go ahead and recommend it! If you've been let me know what you thought!
Finn's Island Style Grub
Finn's Island Style Grub was really one of my favorite places to eat in Panama City Beach. Another unassuming restaurant, Finn's has a huge outdoor patio and more a food truck vibe. Featuring tacos, bowls, wraps, and salads, my favorite was the ahi tuna tacos! And the ceviche was lovely too.
Next door was gift shop with some great souvenirs I'm still kicking myself for not buying and a coffee shop that also sold smoothies and kombucha on tap! If you end up with a sunburn, we found a great sunburn spray called Solar Recovery Hydrating Mist. Several people in our group were quite red and were thrilled to have found this spray and the instant relief it provided.
The Grand Marlin
If you're looking for a fancier meal, The Grand Marlin will not disappoint. Don't worry – it's still a casual atmosphere, but the most fancy of any of the spots I've mentioned here. We had a variety of food at the Gran Marlin from oysters to Grouper and local Red Snapper. We were told they also have beautiful views of the Florida sunset, but we were too late to see it, sadly.
Runaway Island Beach Bar & Grill
Runaway Island Beach Bar was the last place we ate before heading home. Located right on the beach, it's a lovely beach bar and grill. The food was fine, but I think the bigger reason to go here is for the amazing atmosphere! It's not that often that we get to eat with such beautiful views of the ocean!!
With all of these fun things to do and delicious places to eat, it's easy to see why Panama City Beach is a favorite Florida getaway destination. I'd love to hear you favorites about the area too!