Save time and get healthy with this great collection of healthy instant pot recipes! Get off to the right start in the new year and finally learn to use your IP! Plus, read to the end and enter an Instant Pot giveaway brought to you by me and my Blogging BFF Nicky, from Little Family Adventure!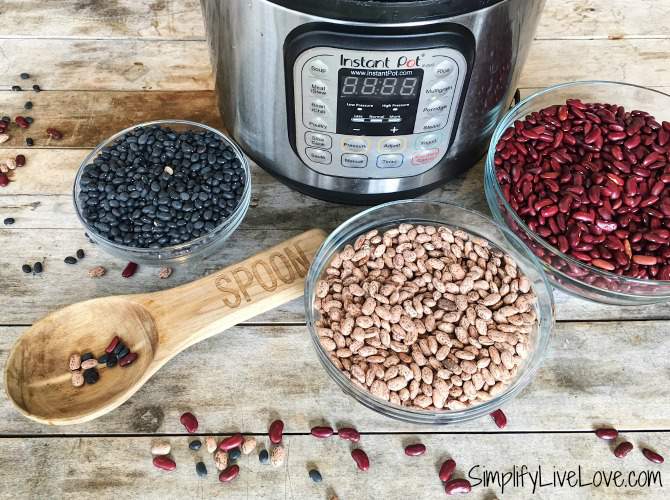 *This post contains affiliate links which may earn me a small commission on your purchase. Thank you for supporting my site.*
Healthy Instant Pot Recipes for 2018!
It's hard to believe that 2017 is coming to an end so soon! With about two weeks left in the year, many of us are already searching for healthy recipes we're going to make once January 1 rolls around! Since the Instant Pot really makes cooking from scratch a lot easier, my friend Nicky and I thought it would be nice to offer an Instant Pot Giveaway to one lucky reader!
Here is a week's worth of Healthy Instant Pot recipes for you to try!
If you're a gumbo fan, you'll definitely want to try Nicky's Easy Gumbo recipe! Full of spicy Andouille sausage and chicken served over rice, this recipe is cajun comfort food at its best.
Beef Pho, anyone? Yes, please! Run over to Little Family adventure and try out her homemade Beef Pho recipe. Who needs an expensive pho shop when you make your own quickly and easily with this healthy instant pot recipe?
Finally, try this recipe for Mediterranean Lentil and Chickpea Stew featuring Roasted Cauliflower! When it's 5 pm and you have no idea what to cook, whip this together with staples you might have in your pantry!
Nicky also put together a great post with 21 different Instant Pot Pasta recipes! I've found pasta to be a little tricky to cook in the Instant Pot, so if you like pasta, you'll want to check out this post for sure.
Nicky's recipe are a little more ethnic, but my instant pot recipes probably qualify for more comfort food. If you're looking for tried and true comfort food instant pot recipes, I've got you covered!
Instant Pot Recipes from SimplifyLiveLove
Feeling down? Make this Homemade Chicken Noodle Soup right in your Instant pot. Made with homemade broth if you have it, and leftover chicken or turkey, this soup will can help boost your immune system and leave you feeling better!
Beef with Rigatoni is perfect for cold winter nights. Easy and impressive, it's a crowd pleasure for all ages. I was recently served a very similar dish in a fancy restaurant, and I have to say, I liked my version better.
Probably the number one thing I cook in my Instant Pot is dried beans. Dried beans are so much cheaper than canned beans and they're also a lot healthier because they're missing most of the sodium! We use beans in our taco meat, taco soup, and in beans and rice. We also eat bean burritos a lot too! Beans can be tricky to cook in the Instant Pot, but this handy post will set yous straight and have your beans turn out soft and yummy every time.
Finally, my recipe for chicken and rice in the instant pot is another winning recipe. Chicken and rice might seem like a pretty bland recipe, but my addition of feta cheese and lemon puts a nice twice on this old-timey recipe!
One final post for you full of Instant Pot recipes is my post with lots of ideas for recipes you can make in your Instant Pot for breakfast, dinner, and dessert! This is another post you don't want to miss. Go here to find out how to make healthy breakfasts and desserts in your Instant Pot too!


Now that we've inspired you with a week's worth of healthy Instant Pot recipes, plus a lot extra, how about a giveaway? As a way to say thank you to our loyal readers this year, Nicky and I are joining forces in a Instant Pot giveaway you don't want to miss!
Enter to win this Instant Pot Giveaway – Instant Pot 7-in-1
Why you want to win this Instant Pot!
It's  7 appliances in one! It's a Rice Cooker, a Pressure Cooker, a Slow Cooker, Steamer, Saute, Yogurt Maker and Warmer! Whew!! Think of all the kitchen appliances you can get rid of!
Features 11 Smart Programmable digital codes for effortless cooking
It's stainless steel made from food grade 304, no chemical coating, 3-ply bottom for even heat distribution
It includes nice accessories: rice measuring cup, stainless steel steam rack, rice paddle, soup spoon, condensation collector and recipe booklet!
This giveaway is open to US residents only, 18 years of age and older. Giveaway ends at midnight on December 3oth, CST!
SimplifyLiveLove is a participant in the Amazon Services LLC Associates Program, an affiliate advertising program designed to provide a means for sites to earn advertising fees by advertising and linking to amazon.com.