I've already seen the back to school pictures all over facebook, so I know healthy school lunches are on the minds of parents everywhere. Let your kids make their own lunches this year with this list of affordable and healthy organic and/or non-gmo items from Aldi USA! Many thanks to Aldi USA for sponsoring this post. All opinions are mine.
Let the Kids Make their Own Healthy School Lunches 
DIY Lunch Station
I shared a couple weeks ago that my four kids (who have previously been homeschooled) are heading off to school this year. This is a first for me and I would be lying if I said I'm not nervous about the transition already. I'm totally anxious and worried about a lot of things, one being how to prepare healthy lunches for four kids every day!
To make the process easier, we created a DIY lunch station using my lovely IKEA cart and a dedicated lunch bin in the fridge as well! This station will let my kids help pack their own lunches. Some things will still require a little help from me, but it will be pretty easy for the kids to grab and go from the lunch cart and fridge bin. I picked up all the goodies for this lunch cart recently at Aldi. If you guys follow me on this blog, you know I love Aldi and their ever growing selection of organic and non-gmo food items.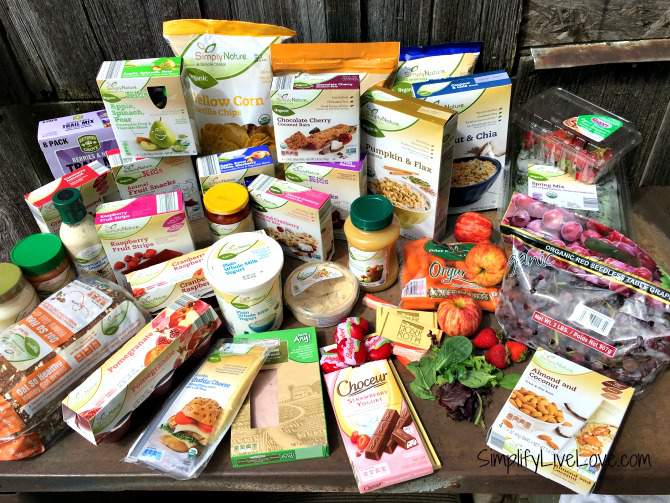 Healthy School Lunches with Items from Aldi
I prefer organic and non-gmo options so they make up most of this list, but Aldi also has an impressive selection of conventional grocery items as well. I also listed the prices I paid, but do keep in mind that they can fluctuate based on location and availability. Also, because we do like occasional sweets (keeping it real!), I also included a few of my favorite sweet items to pack in school lunches too. They aren't necessarily healthy, but they sure are good and the kids love them!
Fruit / Veggies
Organic strawberries – $2.99 / lb
Organic baby carrots – $1.59 / lb
Organic grapes – $4.89 / 2 lbs
Organic apples – $5.99 / 3 lbs
Mandarins – $2.49 / 3 lbs
Bananas – $0.29 / lb
Organic, unsweetened apple sauce – $1.99 / 24 ounces
Simply Nature Organic frozen berry blend – $2.99 / 12 ounces
Organic spring salad mix – $2.49 / 1 lb clamshell
Simply Nature Organic frozen berry blend – $2.99 / 12 ounces
Dairy / Meat Products
Simply Nature Organic classic hummus – $2.29 / 8 ounces
Simply Nature Organic peppercorn ranch dressing – $1.99 / 12 fluid ounces
Simply Nature Organic salsa – $1.89 / 16 ounces
Never Any! Turkey lunch meat – $3.29 / 7 ounces
Simply Nature Organic white mild cheddar cheese slices – $2.99 / 6 ounces
Mini Babybel cheeses – $2.79 / 4.5 ounces
Simply Nature Organic yogurt – $2.99 / 32 ounces
Breads / Grains / Beans
Organic refried beans – $0.99 / 16 ounce can
Simply Nature Organic corn tortilla chips – $1.99 /11 ounces
Simply Nature Non-gmo verified multigrain crackers – $2.49 /10 ounces
Simply Nature Organic seeded bread – $3.99 / 27 ounces
Simply Nature Organic granola – $2.69 / 11.5 ounces
Pantry Items
Simply Nature Organic peanut butter – $3.89 / 16 ounces
Simply Nature Organic mayonnaise – $2.99 / 15 ounces
Simply Nature Organic peppercorn ranch dressing – $1.99 / 12 fluid ounces
Simply Nature Organic salsa – $1.89 / 16 ounces
Snacky Items
Simply Nature Organic animal fruit snacks – $2.69 / 6 pouches
Simply Nature Organic fruit strips – $4.99 / 21 strips
Simply Nature Organic coconut bars – $3.99 / 4 bars
Simply Nature Organic white cheddar puffs – $1.99 / 4 ounces
Simply Nature Organic squeezable fruit & vegetable blends – $2.29 / 4 pouches
Simply Nature Non-gmo verified fruit &  nut bars – $2.99 / 4 bars
Simply Nature Non-gmo verified no sugar added flavored applesauce – $1.49 / 6 cups
Southern Grove Trail Mix bags – $3.99 / 8 bags
Utz Certified Yogurt filled chocolate bars – $1.99 /
Mamba Candies – $0.69
This is not an exhaustive list of all the organic and non-gmo options Aldi sells, but it should give a you really good idea of what all they have. If you like to eat a healthy diet but haven't been to Aldi in a while, I hope you check them out! You can connect with Aldi on facebook, twitter, and instagram.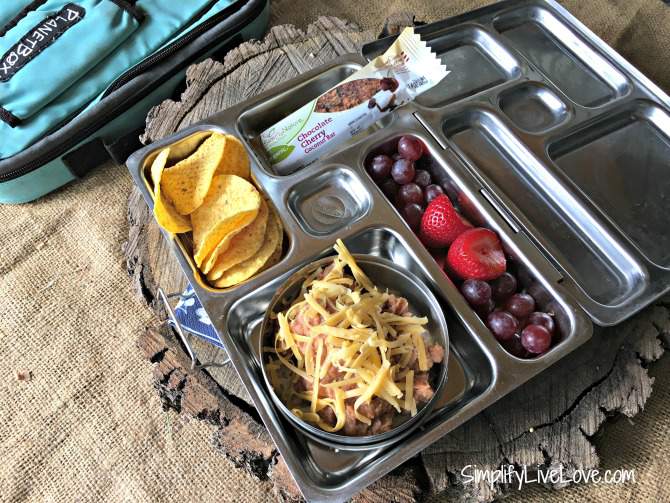 Ideas for Lunches Using the List Above!
Using the items in the list above, here is a list of "main dish entrees" my kids love in their lunches. In fact, when I put together the lunch for this post, two of my kids said that's exactly the lunch they want. Every day. LOL!
Chips & refried beans & cheese
Peanut butter & crackers
DIY lunchables with cheese, deli meat & crackers
Peanut butter & jelly sandwiches
Meat & cheese sandwiches
Hummus & cracker & carrots
Yogurt parfaits using frozen berries & granola
Peanut butter & apples & raisins
Green salad with trail mix & ranch dressing
Do you pack your kids' lunches? I'd love to hear your tips and tricks to simplify the process.
SimplifyLiveLove is a participant in the Amazon Services LLC Associates Program, an affiliate advertising program designed to provide a means for sites to earn advertising fees by advertising and linking to amazon.com.