I'm happy to partner with JORD Wood Watches on this fun giveaway for my readers. JORD provided my lovely watch, but the opinions here are all mine.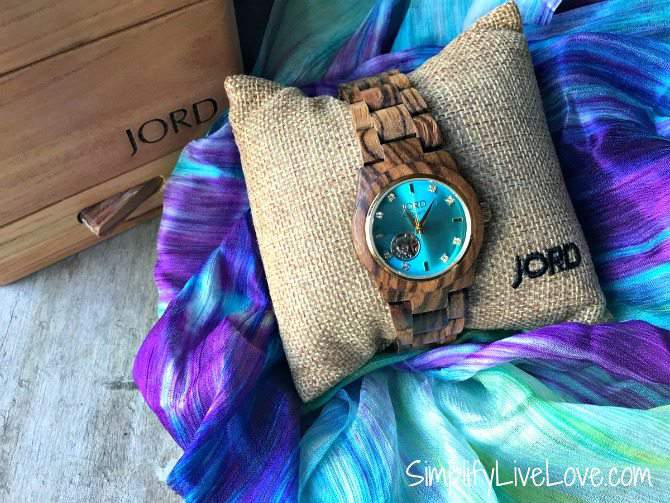 JORD Wood Watch Giveaway
I hadn't worn a watch in years until recently when I received a lovely JORD Wood Watch. Watches used to be one of my wardrobe necessities, but in this cell phone era, they've sadly been replaced. And replaced with what? A cell phone. I used to love watches and bracelets, but after the watch went, the bracelets quickly followed. And I think that's just sad. So here's me: taking the time to enjoy watches and bracelets again. 🙂
Have you seen JORD Wood Watches? The St. Louis based company JORD (yes, I'm a MIZZOU grad!) believes in encouraging people to making time count by designing inspiring watches. They create lovely wooden watches and value sustainability, efficiency, and experiential living. In this busy day and age, I certainly need reminders to get back to what matters most, and that's kind of why I started this blog. JORD believes that "moments are bigger than minutes and your watch should tell more than time."
I'm in love with the Zebrawood & Turquoise watch JORD sent me from their CORA line. Since I have a daughter named Cora, I think this watch line is kind of ironic. 🙂 My watch was hand crafted from 100% natural wood and has no battery. It has to be wound initially, but then as long as it's worn every day for at least eight hours, daily activities should keep the watch wound.
If wearing a watch helps me slow down and take time out to contemplate the beauty of life instead of thinking about all the piddly time sucks that come with my phone, I will happily keep wearing my lovely CORA watch from JORD!
How would you like to win a gift certificate for your own JORD Wood Watch? Head over here and enter the simple form! Everyone who enters will receive a $20 e-voucher, and the grand prize winner will win a $75 e-voucher! Contest ends at 11:59 pm on 11/20.
Good luck!