Nutrish For Cats – Review & Easy Grill Salmon Recipe
on Aug 13, 2014, Updated Jul 19, 2020
"I participated in an Influencer Activation Program on behalf of Mom Central Consulting for Nutrish for Cats. I received a sample of Nutrish for Cats to facilitate this review and a promotional item to thank me for participating."
Although I don't share too often about our cats, they are important members of our family, and today I've got information about Rachel Ray's natural new cat food called Nutrish. Since I've posted about the animals we have on our homestead – our chickens and our Great Pyrenees dog – it's high time I share a bit about our cats, too!
Nutrish For Cats – Review & Giveaway #MC #NutrishforCats #sponsored
A cat was the first pet my husband and I ever got – our first baby, so to speak. We rescued Romeo (on the left) while we were living in Japan in 1998 and we rescued Scarlett (on the right) in Missouri a few years ago. Although I don't share that much about our cats, they are important members of our family, and we were really sad a few months ago when Romeo disappeared. He was almost 16 years old and I had been dreading his death for about a year now.  After all, nothing lives forever, and the closer he got to 16, the more I looked out for him. Our cats are indoor / outdoor animals and I've often heard that old cats just disappear.
Sadly, earlier this summer Romeo disappeared and we haven't seen him since. It was a very sad day when we realized he was gone, but all in all, he was a happy cat who had a great and long life. Interestingly, when Romeo disappeared, Scarlett's behavior changed a bit. Romeo was very aptly named and was a real lover of a cat. He always wanted to be around his people and was tolerant of everything that was thrown at him in his almost 16 years – multiple puppies, multiple babies, and even new cats. Scarlett, though, has never been as friendly and has always been pretty aloof. Since Romeo's death, she has become friendlier, though,  and we see her a lot more. I think she misses her buddy. 🙁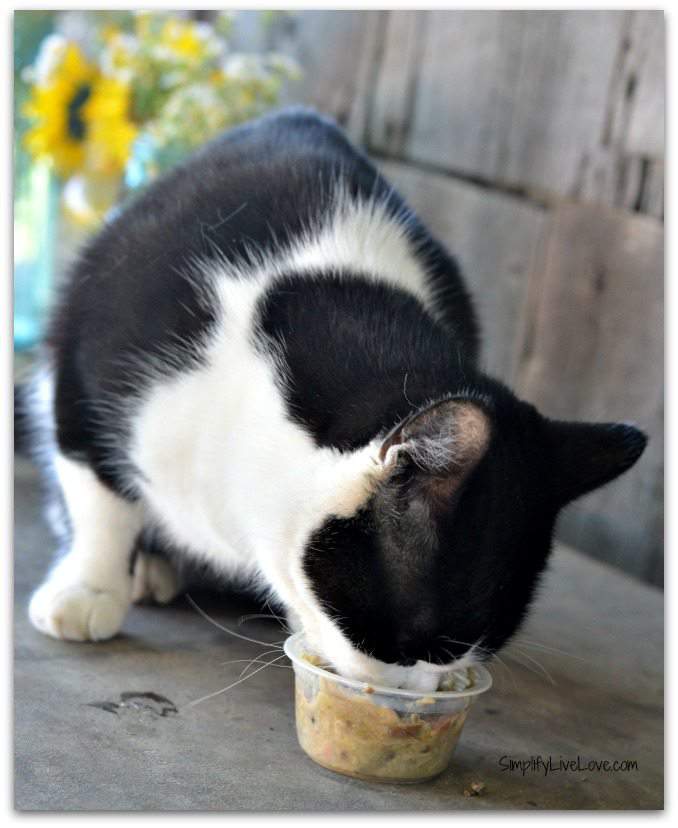 We normally feed our cats kibble, but I thought a little wet food might help cheer up Scarlett after Romeo disappeared so we've been feeding her some of Rachel Ray's wet Nutrish formulas with fun flavors like Chicken Purrcata, Ocean Fish-alicious and Lip Smackin' Sardine & Mackerel. Of course, Scarlett absolutely loves this cat food. She digs in and doesn't stop until she's licked the bowl clean.
I've never been a big fan of wet cat food, but this first natural cat food from Rachel Ray actually looks like real food.  Real meat like chicken or fish is the #1 ingredient and there's never any junk like meat poultry by-product meal, artificial flavors or preservatives.
I avoid junk meat, artificial flavors, and preservatives in food I feed my own family, and it only makes sense to feed my animals a healthy diet as well.
Easy Grill Salmon Recipe
Here' s a healthy recipe we love – Easy Grilled Salmon. Now, I have to admit that I'm not the family grill meister – and I grilled this.  You've been warned.  I learned a few things about grilling salmon when I made this dinner. Next time I grill salmon it will look better – but the taste won't change because this recipe is really good as is. 🙂
Easy Grilled Salmon
Ingredients
1 lb wild Alaskan salmon (with skin, preferably)
2 garlic cloves, crushed
juice of 1/2 a lemon
salt and pepper to taste
1/2 cup GMO-free soy sauce
1/4 cup raw sugar
1/4 cup good quality olive oil
Instructions
In a small bowl, mix together all ingredients and stir until sugar is dissolved. Place fish in bowl and cover with the marinade, turning the fish to coat. Refrigerate for at least two hours.
Preheat grill to medium heat.
Lightly oil the grate to help prevent sticking, or cook the salmon on a cedar plank.
Place salmon, skin up (ie red side directly on the grill) and cook for 6-8 minutes. Don't disturb the salmon while it cooks or it will stick. Throw away the marinade after you've placed the salmon on the grill.
Flip the salmon and cook 6-8 minutes more, or until it flakes easily with a fork.
Enjoy!
Looking for Nutrish Cat food? This link will help you figure out where to buy Nutrish – It's available at Walmart and Targets in my area.  Before you buy, head over here for money saving Nutrish Coupons. Every little bit helps, right?