Delicious and Easy Pineapple Jalapeno Relish Canning Recipe for Summer Grilling!
on May 13, 2019, Updated Oct 29, 2023
Pineapple jalapeno relish is a fresh summer condiment recipe you need to try this year. Delicious on grilled pork, brats, and more, this small-batch canning recipe is perfect for beginners and also makes a great gift! This post is sponsored by Newell Brands, makers of Ball® Home Canning products. All opinions are my own.
You Need this Pineapple Jalapeño Relish Recipe for Summer Grilling!
I'm always looking for delicious ways to preserve my summer garden bounty, and one thing I struggle with is what to do with the hot peppers. One plant can yield so many and we certainly don't eat a bunch at a time! This pineapple jalapeño relish is one of my new favorite Ball® canning recipes.

How to make pineapple jalapeño relish
Making this relish is really quite easy. You can make it even if you've never canned before! The longest part is simply chopping the pineapple, onions, and jalapeños. Once that's done, the rest is easy.
If you've never canned before, this is a good recipe to start out with! Canning is not hard, but it is important to adhere to a few simple concepts for food safety reasons. Even if you are a veteran canner, it's a good idea to re-read these steps to make sure you're doing it right.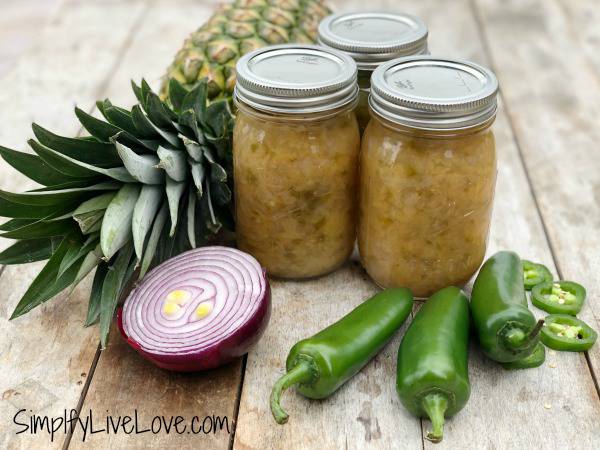 Canning basics and safety tips
Use the jar size indicated in the recipe. This is important because processing times changed based on jar size.
Make sure to sterilize jars and fill them while they're hot. A good way to do this is wash empty jars in the dishwasher so they're clean and warm when you're ready to fill. Alternatively, you can heat them in your canning pot on the stove.
Fill your jars one at a time and place them in the canner to wait while you fill the remaining jars.
Fill to the the correct headspace and remove air bubbles before putting on the lid and ring. The Ball® bubble remover/headspace tool makes this a very easy task.
Wipe the rim of all your jars with a wet cloth to remove any food particles before putting on the lid.
Make sure your canning pot includes enough water to cover the jars by 1-2 inches.
Start the processing time when the water begins to boil – not before.
Leave jars in the canner for 5 minutes to cool before taking them out.
Let jars rest on a kitchen towel or wooden cutting board for 12-24 hours before checking the seal.
Check the seal by removing the ring and making sure the lid is concave, then wipe the jar, and store in a dark, dry, and cool area.
If you're ready to give canning a try, I highly recommend picking up the Ball® preserving starter kit at Target. Check for in-store deals and coupons on Ibotta to save some money! This 9-piece kit is designed to be the all-in-one solution for first-time canners! It includes a lot of the really handy tools you'll need for your first small-batch canning recipe, including jars, bands, and lids, pectin (perfect for early summer jams and jellies), a jar lifter, the really handy bubble remover/ headspace measuring tool, and a funnel! If you're a veteran canner but know someone who would like to try it out, this kit also makes a great gift!
Ball® is celebrating their 135 anniversary this year! To celebrate they have released the cutest Ball® Aqua Vintage jars and I'm giving away a set. Head over to instagram to find that giveaway!
Ready to make this easy pineapple jalapeño relish? Here's the recipe!
Yield: 4 pints
Delicious and Easy Pineapple Jalapeno Relish Canning Recipe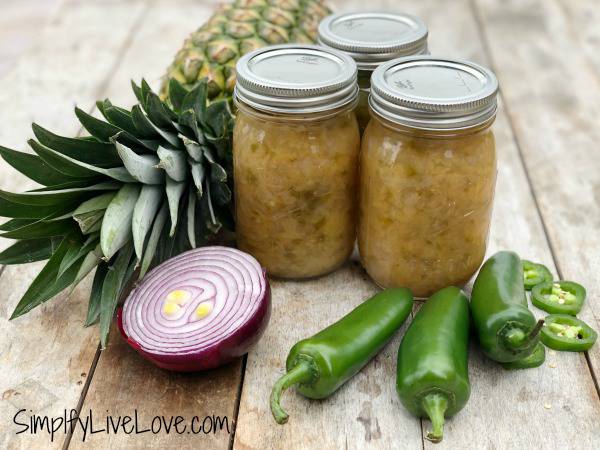 Sweet and tangy condiment with a little bit of spice.
Additional Time
15 minutes
Total Time
1 hour
5 minutes
Ingredients
8 cups diced pineapple, 2 medium pineapples or from frozen
1 medium red onion diced about 1 1 /2 cups
4-6 jalapeno peppers, seeded and chopped
1 cup apple cider vinegar
1/2 cup water
1/2 cup sugar
2 tsp salt
2 tsp ground coriander
Instructions
Prepare boiling water canner. Heat jars in simmering water until ready to use, do not boil. Wash lids in warm soapy water and set aside with bands.
Pulse pineapple, red onion, and jalapeno in the bowl of a food processor just a few times to finely chop, being careful not to puree.
Combine remaining ingredients in non-reactive pot set over medium heat. Bring to boil, lower heat, and simmer for 5 minutes.
Add pineapple mixture and simmer, stirring, until liquid has reduced by half, about 15-20 minutes.
Ladle hot relish into a hot jar leaving 1/2 inch headspace.Remove air bubbles. Wipe jar rim. Center lid on jar and apply band, adjust to fingertip tight. Place jar in boiling water canner. Repeat until all jars are filled.
Process jars 15 minutes, adjusting for altitude. Turn off heat, remove lid. Let jars stand for 5 minutes. Remove jars and cool for 12-24 hours. Check lids for seal. They should not flex when center is pressed.
Notes
Wear gloves when working with hot peppers.
Nutrition Information:
Yield:
16
Serving Size:
2 TBS
Amount Per Serving:
Calories:

84
Total Fat:

0g
Saturated Fat:

0g
Trans Fat:

0g
Unsaturated Fat:

0g
Cholesterol:

0mg
Sodium:

293mg
Carbohydrates:

21g
Fiber:

2g
Sugar:

17g
Protein:

1g