Fall means all things pumpkin, apples, pie, and spices. To help you make the most of your fall, we've put together a list of 10 amazing Pumpkin Patches in Iowa! You won't want to miss any of them, so start planning your fall trips now.
10 Amazing Pumpkin Patches In Iowa
Finding the perfect pumpkin is a family affair. The days of running to the store and picking up a pumpkin to carve for the Halloween season have passed. Instead, take a trip to the local pumpkin patch for a fun way to spend quality time with family and friends!
Pumpkin patches know they need to go above and beyond to make visits memorable. Instead of just finding pumpkins, we can look forward to attractions beyond taking the hayrack ride to the field as we search for that perfect jack-0-lantern canvas. Pumpkin patches offer sand boxes of corn for kids to play in, corn mazes that challenge our navigational skills without the help of GPS, as well as slides, swings and even haunted houses.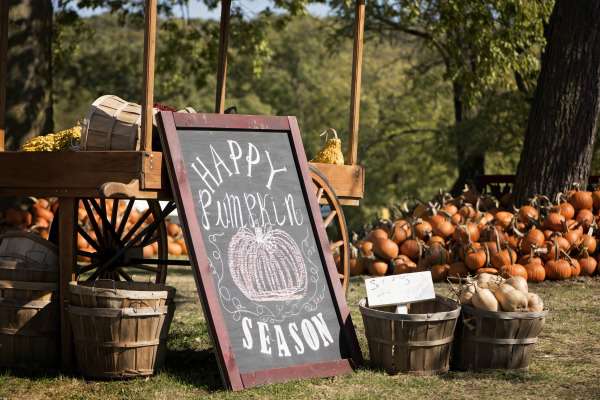 Iowa has dozens of fantastic pumpkin patches, each providing a wonderful experience for families. Here are 10 family-friendly pumpkin patches around Iowa where you'll not only find a great pumpkin, but the family will have a grand ol' time too!
1. Buffalo Pumpkin Patch in Buffalo
Buffalo Pumpkin Patch has called the Kurtz farm in Buffalo home for 20 fall seasons. Open daily from early September through October, admission is free. However, you'll need to purchase tickets for each activity in which you want to participate, including a hayrack ride to the pumpkin field, playing in a straw castle, as well as finding your way through a sorghum maze. Additionally, you can play laser tag or maintain your farm roots by milking a goat.
2. Colony Pumpkin Patch in North Liberty
Colony Pumpkin Patch in North Liberty offers a variety of fall fun for the family. Opening mid September and running through October, your family can enjoy the season with a hayrack ride to a pumpkin field to choose the perfect gourd. Admission includes the hayrack ride (weekends only), access to a 10-acre corn maze, as well as additional play attractions, such as a corn box and low zipline. In addition to the pumpkin patch, you can take on a zombie invasion (Friday and Saturday beginning Sept. 28). Purchase an add-on and ride a transport that takes you through the zombie field where you fire mounted paintball guns at zombie characters.
3. Pinter's in Decorah
More than "just" a pumpkin patch, Pinter's Gardens & Pumpkins in Decorah is "agri-tainment." Open weekends between Sept. 21 and Oct. 27, visitors can enjoy a tractor ride to the field and choose a pumpkin. Pinter's also invites visitors to take a trip through its giant corn maze. Play areas include an inflatable jumping pillow, pedal go-karts, a big slide and an old-fashioned game of tetherball. Enjoy concessions offering Pinter's famous baked goods and drinks.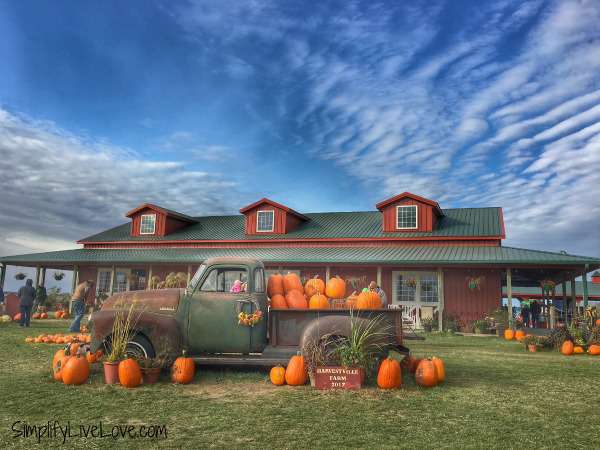 Open from spring to the holiday season, Harvestville offers more than 40 acres of pumpkins and other gourds on weekends mid-September through the last weekend of October. Along with the pumpkins, you can take a stroll through a 10-acre corn maze or enjoy fun and games, such as a giant corn pool, tire pyramid and bean bag toss. Enjoy fresh apple cider treats, including "dipkins" donut balls.
5. The Pumpkin Ranch in Winterset
Winterset is home to more than covered bridges. The Pumpkin Ranch opens its doors to visitors Fridays, Saturdays, and Sundays Sept. 20-Oct. 27. Your admission fee includes a hayrack ride to the fields to choose your pumpkin or gourd (there is an additional charge), 10-acre corn maze offering checkpoints and a mystery game, jump pillow for big kids and a jump kids for the tykes. Zip lines and two tunnel slides await your arrival, as well as an obstacle course and toddler town. The pumpkin patch also offers horseback rides and a petting zoo on special dates, so you'll want to check The Pumpkin Patch's Facebook page.
6. McCurdy's Pumpkins in Atlantic
Open weekends Sept. 22 through Oct. 28, McCurdy's Pumpkins in Atlantic invites you to take a tractor ride to the field to pick out your favorite pumpkin among the dozen or so types available. While not large, a two-acre corn maze offers family fun. Your group will enjoy the play area, which includes a corn pool.
7. Pioneer Trail Orchard and Pumpkin Patch in Council Bluffs
Council Bluffs Pioneer Trail Orchard and Pumpkin Patch has been greeting visitors for nearly a quarter century. Open weeknights and both weekend days Sept. 28 through Oct. 31, Pioneer encourages you to take a hayrack ride to find your favorite pumpkin or gourd. Your family and friends can also participate in a variety of attractions, including searching for riches in the Gold Barn, finding your way through the maze in the Dark Barn and jumping around the hay pit. With Halloween around the corner, you can also visit the haunted farm house (for older children and adults) or the child-friendly haunted barn.
8. Scarecrow Farm in Lawton
Scarecrow Farm in Lawton is about a 15-minute drive from Sioux City and provides a fun visit for the whole family. Enjoying a hayrack ride around the farm, you have several options for selecting your pumpkin, gourd or squash. Open weekends in September beginning Sept. 14 before opening daily all of October, your visit also includes playing in a five-acre corn maze, corn-filled play box, or on large tire swings. You can also play on a 70-foot pirate ship with cannons and nets. You may also want to check out the singing chicken show.
While it doesn't provide a wagon ride around the pumpkin field, Geisler Fars does the field harvesting for you, and offers the pumpkins near the entrance. This saves you time and allows you to take advantage of the fun and games between Sept. 1 and Oct. 28. The corn maze is a major attraction, offering a professionally-designed route that can take up to an hour to complete.
You'll receive a map at the beginning of the 10-acre maze, which includes 20 fence posts. Each post contains a number and has a paper punch design. You can get a coupon for a slice of pizza with a completed map. You can also enjoy the fun zone, which includes 20 family-friendly attractions, such as a giant slide, jump pad, a tractor tire swing and a corn hole toss game.
10. Enchanted Acres near Sheffield
This fun Pumpkin Patch in Iowa offers fun pumpkin adventures Friday-Sunday Sept. 14 through Oct. 28. You can enjoy a hayrack ride to the pumpkin patch or you can choose from dozens of pre-picked gourds. The pumpkin patch also provides entertainment options, including a corn pool dig, a pumpkin cannon and a kids playground. You can also meet and pet goats, rabbits and more animals in the petting zoo.
Have you been to any of these pumpkin patches? Which was your favorite?
For more Fall Fun in Iowa, check out these posts:
American Gothic House & Things to do in Eldon, Iowa
Iowa 80 Trucking Museum at I-80 Truck Stop
Historic Hills Scenic Byway in the Fall
Fall Harvest Tour in Franklin County, Iowa
Easy Ways to Decorate Pumpkins without Carving
Healthy & Fun Snacks for the Perfect Halloween Party