If you've ever wanted to make your own rotisserie chicken, this spice mix for a great rub really helps give your chicken that store bought flavor!
My parents gifted me with a counter top chicken rotisserie machine (like this one) many years ago and this homemade spice mix is the missing ticket to deliciously homemade rotisserie chicken. If you don't have a rotisserie machine, you can also make rotisserie chicken in a slow cooker (this Hamilton Beach is the one I have!)! And, I love to use this versatile spice mix in chicken noodle soup too. Here's my recipe for Instant Pot Chicken Noodle Soup.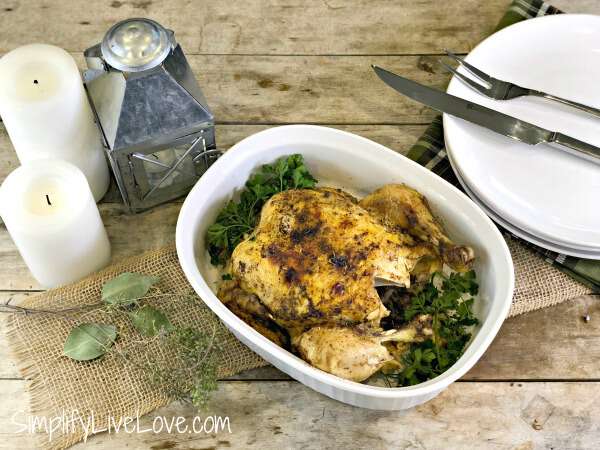 Update: I have started making a delicious rotisserie chicken in my Instant Pot! It's pretty easy and very, very delicious.
Here is a very easy spice combination to make any rotisserie chicken divine:
Rotisserie Chicken Rub Spice Mix
Garlic powder
Onion powder
Thyme
Salt
Paprika
Chili powder
Black pepper
That's all! I prefer to add 2-3 TBS of each spice and make a large batch when I make this recipe.
Rotisserie Chicken Rub
A savory homemade spice mix perfect for making rotisserie chicken and many other dishes.
Ingredients
2 TBS Garlic powder
2 TBS Onion powder
2 TBS Thyme
2 TBS Salt
2 TBS Paprika
2 TBS Chili powder
2 TBS Black pepper
Instructions
Mix together an equal amount of each spice and store in an airtight container.
Put them in an empty spice jar and shake it over your whole chicken. Make a lot so you don't have to mix it the next time you make a chicken! Don't forget to label your jar so you know what's in it… 🙂 By the way, if you like to make your own spice mixes, I highly recommend these
Ball Canning Jar Spice Lids
! I got some a couple years ago and love them.