There's not much better than a bowl of hearty and delicious simple beef stew on cold winter days. Made in a dutch oven, beef stew is a fantastic make ahead meal that your entire family will love.
*This recipe contains affiliate links which means I earn a small commission on your purchase.*
Hearty & Delicious Simple Beef Stew
This simple beef stew starts on the stove top and finishes in the oven. I first tried this recipe when Mary from Farm Girl Cookin' made it for a group of travel bloggers this winter. We were glamping at Red Cedar Lodge and this oven beef stew was a meal one night. Mary made most of the stew ahead of time, froze it, and then finished it off in a slow cooker the day we ate it.
Everyone loved it so much that Mary shared the recipe with us. She made it by combing recipes from Julia Child and Ina Gartner's classic beef stew recipes. It's very versatile and can be adapted to about any cooking style from stove top, to oven, to slow cooker, to instant pot.
Mary gave me permission to share it all with you! Everything about this stew is delish! I hope you enjoy the recipe as much as my family does.
Dutch Oven Beef Stew is so Yummy and Versatile
While the recipe is not difficult, the prep does take time, so I recommend that you start this recipe either in the morning or the day before you want to eat it. Letting it slowly cook for several hours is the key to melt-in-your-mouth beef stew, so rich in flavor that you will be licking the dutch oven clean after you finish the recipe.
A few questions about this stove top beef stew recipe:
What's the best beef for this stew?
I recommend 100% grass fed beef for this recipe. You can use pre-cut stew beef, but in my experience, taking the time to cut up a roast on your own will yield a much better result. I've used rump roast and arm roast in this recipe and both are fabulous. I'm lucky to have a farmer two miles away who I buy the most amazing grass fed beef from, but if you aren't as lucky, check out these deals from Butcher Box.
It seemed a little expensive to me at first glance, but I have heard rave reviews about their meat and service. When you compare the price to other humanely raised, quality meat, the price is actually not that bad. This January, you can get 2 lbs of wild caught Alaska salmon for free with your first purchase too! Join ButcherBox today and get 2 lbs of Wild Alaskan Salmon free!


Is red wine necessary in this beef stew?
This delicious stew calls for 3 cups (basically an entire bottle) of red wine which is really the foundation of the recipe. I highly recommend including the wine. It enhances the flavor so nicely!! If you don't want to use red wine though, you can substitute beef broth, but don't expect the same rich flavor the wine imparts.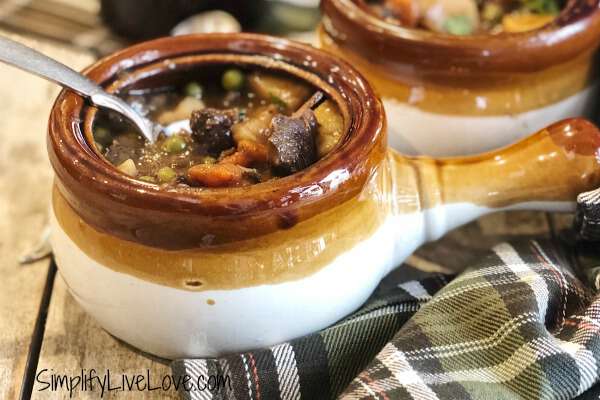 Can I Make this Oven Beef Stew Ahead of Time?
Absolutely! And I highly recommend that you do make it ahead of time. Cutting up a roast and searing it in batches will take a while. While you could use pre-cut stew meat instead of a roast, the roast provides such great flavor!
Prep the recipe on a day when you have a lot of time and then finish it in the evening for a delicious meal.
Is this Beef Stew Freezer Friendly?
Yes! Prepare the stew ahead of time and freeze it before you add the potatoes. Potatoes don't really freeze that well, so adding them the day you eat the recipe is the best bet. The rest of the recipe freezes just fine, however.
Can I make this Beef Stew in a Slow Cooker or Instant Pot?
Yes! You can make it in either. To make this recipe in a slow cooker, simply put everything in your favorite slow cooker after searing the beef and cook on low for 6-8 hours. I would add the potatoes during the last hour of cooking and the peas at the very end, just like the recipe card below specifies.
To make it in an Instant Pot, cook the bacon and sear the beef using the sauté feature on your IP. Put all ingredients (except potatoes and peas) in the IP and cook on manual for 40 minutes.
Use a natural release for 10 minutes, then manually release the remaining pressure. Turn sauté feature back on and add potatoes and cook for about 2o minutes, or until the potatoes are tender. Then turn off the Instant Pot and add the peas.
Here's the printable recipe!
Yield: 8 servings
Hearty & Delicious Dutch Oven Beef Stew
A rich and flavorful hearty beef stew, slow cooked for hours in the oven.
Total Time
3 hours
45 minutes
Ingredients
4 - 6 slices bacon, chopped into small pieces
2 1/2 pounds chuck beef, cut into 1-inch cubes
REAL salt
1 lb carrots sliced diagonally into 1-inch chucks
2 yellow onions, diced
2 cloves garlic, crushed
3 cups dry red wine (I used Winking Owl Merlot from ADLI)
1 carton (32 ounces) beef broth
1 TBS tomato paste
1/2 tsp dried thyme, or 1 tsp fresh
1 crumbled bay leaf
2 lb potatoes, cut into 1-inch pieces
2 cups frozen peas
2 TBS unsalted butter
3 TBS flour
Instructions
Preheat the oven to 325. Cook the bacon in a large dutch oven over medium heat for about 10 minutes, or until browned. Remove bacon with a slotted spoon to a large platter.
Sprinkle beef cubes with salt and pepper and sear them in the bacon grease on all sides, 4-5 minutes. You will likely have to do this in batches as you don't want the beef cubes to be touching while they sear. As they brown, remove the beef cubes to the plate with the bacon. Work until all of the cubes are seared, then set the plate aside.
You may been to add a bit more bacon grease or oil to the dutch oven. Now add the carrots and onions and saute for 10-15 minutes, stirring occasionally, until the onions lightly browned and fragrant.
Add the garlic and cook for one more minute.
Put the meat and the bacon back in the dutch oven.
Add the wine, beef stock, tomato paste and herbs. Bring to a simmer and cover with a tight fitting lid.
Put the covered dutch oven in the lower third of a preheated oven and let it simmer slowly for 3 -4 hours. During the last hour of cooking, add the sliced potatoes. Cover pot, and let it continue cooking until the potatoes are done. Mix the butter with the flour. Remove from oven, add the peas and the butter/flour mix, cover the pot, and let it rest for 10 minutes. The peas will heat up and the stew will thicken nicely.
Serve with crusty bread and enjoy!
Notes
A roast will result in the most flavorful beef stew, but you may use pre-cut stew meat to save time if you would like.
Nutrition Information:
Yield:
8
Serving Size:
1 1/2 cups
Amount Per Serving:
Calories:

623
Total Fat:

17g
Saturated Fat:

7g
Trans Fat:

1g
Unsaturated Fat:

9g
Cholesterol:

168mg
Sodium:

442mg
Carbohydrates:

43g
Fiber:

7g
Sugar:

7g
Protein:

59g
Nutritional data is not always correct.
Which method would you use for cooking this stew?

If you liked this one pot recipe, you'll like these too:
Old Fashioned Instant Pot Chicken Noodle Soup
Easy Chicken Tikka Masala in the Instant Pot
Instant Pot Pulled Pork Asian Rice Bowls