6 Secrets to Fluffy, Flaky Sourdough Discard Biscuits
Here's a go-to recipe for the best sourdough discard biscuits plus five secrets you need to know for making the perfect flaky, buttery sourdough biscuits! If you've ever been disappointed with sourdough discard biscuits that didn't rise or get flaky, this sourdough discard biscuits recipe is for you!
Easy Sourdough Biscuits Recipe
Your own sourdough starter discard is the gift that keeps on giving. If you don't find ways to use it – it will quite literally take over your home.
Luckily, there are so many delicious ways to use up that sourdough starter discard that you shouldn't have to waste it! This recipe is one of my favorite methods for baking biscuits. Enjoy this great sourdough discard recipe and the flaky, butter biscuits you'll bake.
What makes sourdough biscuits different? They are buttery biscuits that use sourdough starter or sourdough discard as a natural leavening agent. The wild yeast and lactic acid bacteria in the sourdough provide both leavening and that delicious sourdough tang.
It's such a great way to use up extra starter and we hope you love these homemade biscuits as much as we do! There are just a few simple ingredients you need to make delicious sourdough biscuits. But there are also some tips and tricks along the way that can really make the difference when you make this recipe. Before you get started, here are a few secrets you should know about making the best biscuit dough.
What's in this sourdough biscuit recipe
There are just a few simple ingredients you need to make delicious sourdough biscuits.
All-purpose flour – We recommend a high quality unbleached all-purpose flour for these biscuits. Unless you really prefer the classic white look of bleached flour, we think it's best to avoid the chemicals used to bleach flour. Plus, we think unbleached flour actually tastes better too. King Arthur and Wheat Montana are our favorite flours.
Baking powder – We choose aluminum free baking powder for everything.
Baking soda – Baking soda reacts with the sourdough starter to create carbon dioxide gas. The gas is essential to getting your biscuits to rise and turn light and fluffy. Make sure your baking soda isn't expired to get the full effect.
Salt – Our favorite salt to use in all recipes is Redmond's REAL Salt. It's a natural sea salt sourced from an ancient salt deposit located in Redmond, Utah. We like it because it is unrefined, all-natural, super pure, and contains trace minerals.
Butter – Use a high-quality unsalted butter to allow the natural flavors of the butter to shine without being masked by excess salt.
Sourdough discard – The consistency of your sourdough discard matters. If it's too runny or too thick, it can affect the texture of your biscuits. Aim for a discard that is similar in consistency to the sourdough starter you typically use in your baking.
Recipe Tip
Using cold butter and cold sourdough discard is key to making flaky sourdough biscuits! Also, remember no to over mix the dough to avoid releasing too much of the carbon dioxide gas prematurely, which can result in tough biscuits.
Secrets to fluffy, flaky buttery biscuits
Pin this now to find it later
Pin It
Use cold, grated butter
What type of butter should I use for sourdough biscuits?
One of the most important parts of this recipe is getting the butter right. If your butter is too warm, your biscuits won't rise. It's that simple.
Most biscuit recipes call for working small pieces of cold butter into the flour mixture. After trying lots of different methods, though, I recommend grating frozen unsalted butter with a cheese grater! Grated butter is quick and easy to work into a shaggy dough.
Use the right flour for this easy biscuit recipe
The second secret to yummy sourdough biscuits is using the right flour. I highly recommend a good quality all-purpose flour, like King Arthur. Use flour that hasn't been bleached or bromated for best results.
Use a kitchen scale
I never thought I would admit this, but baking is a science and it requires precision. Using a kitchen scale to measure ingredients like flour and sourdough discard is so important for consistent and reliable results. Being precise will get your biscuit dough to the right consistency, ultimately leading to better texture and rise.
Next, make sure to use a biscuit cutter. I never realized that the cutting process could have an impact on the finished biscuits, but it can. Invest in good quality biscuit cutters so you cut quickly, without turning or twisting.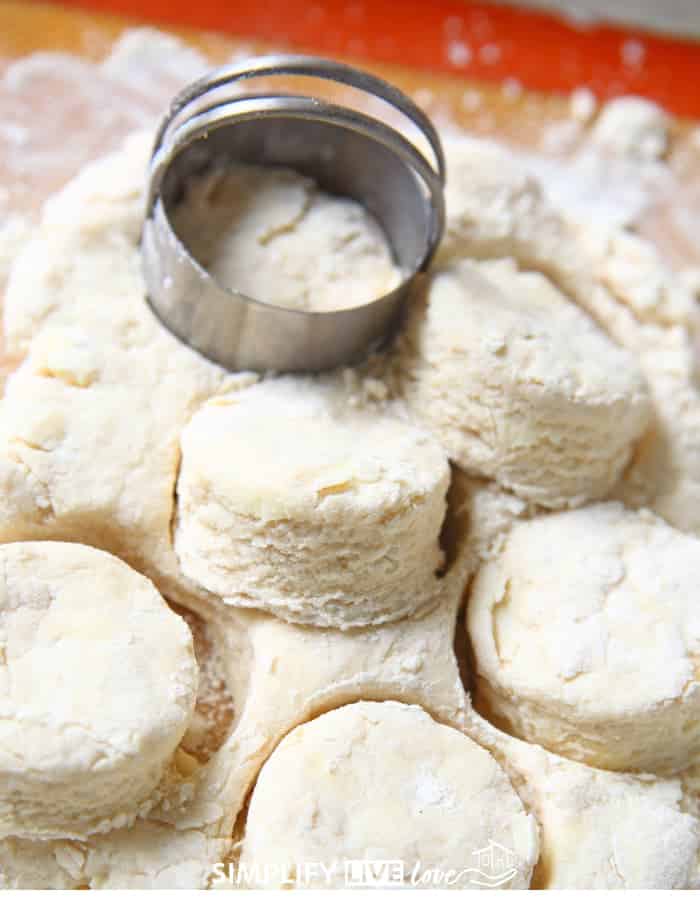 Cut the sourdough biscuits properly
Next, make sure to use a sharp biscuit cutter. I never realized that the cutting process could have an impact on the finished biscuits, but it can. Invest in good quality biscuit cutters so you cut quickly, without turning or twisting. It can be tempting to use a mason jar to cut the dough, but that won't help you get tender biscuits.
Make sure your discarded starter is healthy
Sourdough starter can have quite the impact on your biscuits too. Make sure you use active sourdough starter discard, not discard that's been languishing in your fridge for months.
Biscuit baking best practices
High heat and quick bake works best for the most delicious biscuits. Preheat your oven to a high temperature, usually around 425°F. This high heat encourages rapid rise and steam production, which leads to fluffiness. Bake sourdough biscuits quickly to prevent drying out.
Serving Suggestions for Sourdough Biscuits
These are great biscuits to serve with sausage gravy featuring our homemade sausage patties. The sourdough discard biscuits go great with our favorite soups like Zuppa Toscana and Hamburger Soup.
More Sourdough Recipes We Love
​Family Favorite Sourdough Bread
Sourdough Blueberry Crumb Cake
Yield: 12-14 - 2" biscuits
The Perfect Buttery Sourdough Biscuits
Go-to recipe for buttery, flaky, delicious sourdough biscuits made with sourdough discard.
Ingredients
2 sticks cold unsalted butter, grated
2 cups (454g) sourdough discard - cold works best
Instructions
Preheat the oven to 425°F, making sure your rack is in the upper third. Grease a baking sheet (you can also line it with parchment paper or silpat) or cast iron skillet.
Combine dry ingredients - flour, baking powder, and salt in a large mixing bowl, then work the butter into the flour until the mixture is unevenly crumbly.
Add the starter and mix the dough just until the ingredients come together. Some lumps of butter in the dough are a good sign – they will melt during baking and create air pockets. Over mixing the dough can make biscuits tough to avoid over mixing!
Turn the dough out onto a lightly floured surface and gently pat it into a circle about 1"-thick.
Use a sharp 2 3/8" biscuit cutter to cut rounds as close to one another as possible. Gently push and pat the scraps into a thick rectangle. Cut out more biscuits. If you have any leftover scraps, shape them into a 1"-thick biscuit as well.
Place the biscuits on the greased baking sheet or cast iron skillet. Give them lots of space so they spread as they bake.
Bake the biscuits in the upper third of your oven for 20 to 23 minutes, until they're golden brown.
Remove the biscuits from the oven, and serve warm. Top with melted butter for the best homemade sourdough biscuits!
Recommended Products
As an Amazon Associate and member of other affiliate programs, I earn from qualifying purchases.
Nutrition Information:
Yield:
12
Serving Size:
1
Amount Per Serving:
Calories:

212
Total Fat:

16g
Saturated Fat:

10g
Trans Fat:

0g
Unsaturated Fat:

5g
Cholesterol:

41mg
Sodium:

429mg
Carbohydrates:

16g
Fiber:

1g
Sugar:

0g
Protein:

2g
Nutritional information is not always correct.