Many thanks to Wondermix for sponsoring this post.
Continuing with my Earth Month Challenge this week – I'm moving to food. Today, I'm showing your how to make a delicious, homemade 12 Grain Bread. Bread is often a source of hidden ingredients (potassium bromate, trans fats, monoglycerides, diglycerides, BHA, high fructose corn syrup, coloring, soy lecithin – to name a few). Since I'd rather not feed my family these ingredients, I've learned over the years to bake my own super yummy bread. Another bonus – baking my bread is also lot cheaper than buying it from the store!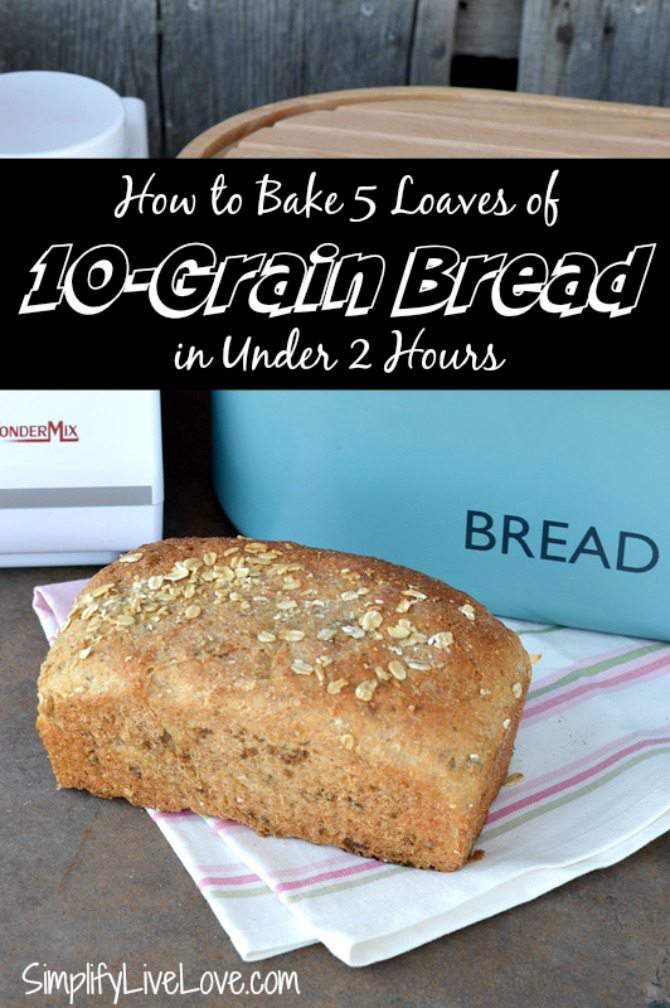 One way that I keep my costs down is to grind my own flour. I buy wheat berries in bulk from Azure Standard and make my own flour for pennies on the dollar. Because I don't have a lot of time, and I have six hungry people to feed, I need to bake a lot of bread very quickly. Using the right equipment, I'm able to grind my own flour AND bake five loaves of yummy bread in under two hours – from start to finish, including clean up time. That's not all active time either. The bread rises for half an hour and also bakes for half an hour.
I grew up eating what I call REAL BREAD in Germany. Bread that crunches. Bread that's made with whole ingredients. Bread that has flavor. We used to joke that American Bread was plastic compared to the German bread we bought from bakeries. You know what plastic bread I'm talking about, right? After I got married and started cooking for my husband and then later my kids, there weren't many great bread options for me. The good bread that I could find was seriously expensive and out of my price range. After meeting a woman who ground her own flour and baked her own delicious bread in 2003, I think, I was hooked. And I have been grinding my own flour and baking my own bread ever since.
[Read more…]