This pumpkin cheesecake recipe is one of our go-to desserts for holiday meals. My family asks for it every year and it is always delicious!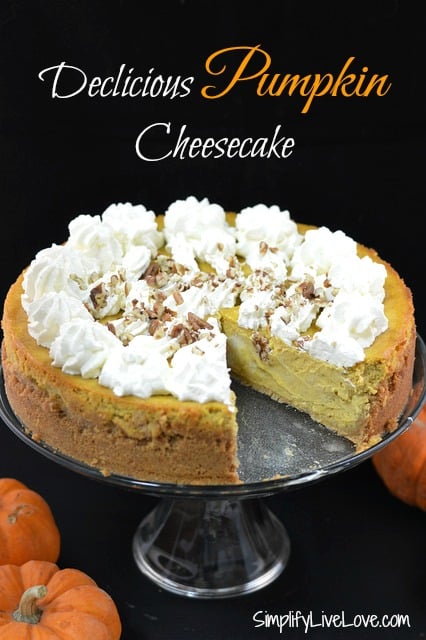 This is a Sponsored post written by me on behalf of Carton Smart for SocialSpark. All opinions are 100% mine.
Pumpkin Cheesecake is one of my most favorite desserts to make. I found the recipe years ago – before I ever even heard about blogs. I used to subscribe to a free email service called Menus for Moms and one year they sent me their Thanksgiving Menu. Since I love cheesecake, I made it right away and it quickly became a family favorite. I make it almost every year. Cheesecake really isn't that hard to make. It looks a bit intimidating, but it really isn't. If you've never made a cheesecake – you should try! You will need a Springform Pan
– but that's the only special equipment needed.
Delicious Pumpkin Cheesecake Your Family will Love
The recipe I'm sharing with you is adapted from one of the Menus for Moms recipes. I looked online for that menu but I couldn't find it. Menus for Moms has changed to a paid subscription since I used to get their weekly menus, but I want to give them proper credit for this recipe. 🙂
For a number of reasons, I rarely cook with cans. I was pretty happy when Pacific Foods sent me a few of their Carton Smart foods to try out. Become Carton Smart One of the cartons just happened to be Organic Pumpkin Puree – exactly what you'll need to make this cheesecake. Okay, are you ready to make this?
Let's make the pumpkin cheesecake crust
First, you'll need to make your crust so preheat your oven to 350 degrees. Also grease your springform pan. I didn't do this, and you can see from my picture that my crust stuck to it at the end. I've also read that greasing the pan can prevent your cheesecake from cracking and I'm excited to find out if that's true. But back to the crust – Crush up graham crackers in your food processor or blender. You could put them in a bag and use a rolling pin, but that's too much work for me. 🙂 Then mix in the sugar and butter.
Press the graham cracker crust on the bottom of your greased pan and about 2/3 of the way upside. Then bake for 5 minutes and let it cool while you prepare the filling.
Now it's time for the cheesecake batter
Beat cream cheese, vanilla and sugar until fluffy. Add pumpkin puree, eggs, and spices. Beat only until mixed. You don't want to over-mix cheesecake batter as it adds air bubbles which have been blamed on cracks. Pour batter into your crust and bake for 60-70 minutes.
Tips for Baking Cheesecakes
Baking cheesecakes can be a little tricky. I add a pan of water under the cheesecake to help reduce cracks. I also move all racks to the bottom of the oven. You want the center of the cheesecake to be just set – it's kind of hard to tell, but your finger shouldn't go through the middle of the cheesecake if it's cooked properly. Be careful that you don't over bake it!
Let your cheesecake cool completely before you take off the springform pan. After it has come to room temperature, put it in the fridge (still with the ring attached). Leave it there for 24 hours before taking off that ring and make sure you run a knife around the outside before releasing it so your cheesecake looks prettier than mine. Note my big crack! I used to stress about cheesecake cracks. Now I just cover them up so you can't see them and run with it. 🙂
I decorated this cake with real whipped cream and chopped pecans. So, I'm not a super good decorator, but hey. It tastes delish! Learn from my mistakes – grease that pan and run the knife around the edge before you release and YOURS will be much prettier. 🙂
Easy Pumpkin Cheesecake @CartonSmart Organic Pumpkin Puree
Ingredients
For the Crust
1 1/2 cups graham cracker crumbs
5 tablespoons butter, melted
1 tablespoon sugar
For the Filling
1 cup sugar
3 (8 ounce) packages cream cheese
1 teaspoon vanilla
1 cup Carton Smart pumpkin puree
3 eggs
1 teaspoon cinnamon
1/4 teaspoon nutmeg
To Decorate
1-2 cups Real whipped cream (to hide the cracks, optional)
1/4-1/2 cup chopped pecans (optional)
Instructions
Preheat oven to 350 and grease a 9" springform pan.
Mix the crust and press it 2/3 up the pan.
Bake for 5 minutes and let cool.
Combine sugar, cream cheese, and vanilla and mix until fluffy.
Add eggs, pumpkin, and spices and stir until combined. Don't over mix.
Pour the filling in the crust and bake for 60-70 minutes until the center is set. Be careful not to over or under cook.
Remove cheesecake from oven and cool to room temperature.
Chill in the fridge for up to 24 hours before releasing the pan ring.
Decorate to your liking and enjoy!
Nutrition Information:
Serving Size:
1
Amount Per Serving: Calories: 3496Total Fat: 249gSaturated Fat: 116gCholesterol: 510mgSodium: 1652mgCarbohydrates: 314gSugar: 213gProtein: 45g

If you liked this cheesecake recipe, you might like these recipes too:
Mint Chocolate Cheesecake Bars
Instant Pot Dessert Recipes Everyone Needs
Best way to cook a turkey – high heat, upside down