Do you know how to cook Instant Pot Beans? Beans are tricky in the Instant Pot, but this post will teach you how to cook both soaked and unsoaked beans in the Instant Pot. Both ways are totally doable with these useful tips.
*This post contains affiliate links. Thank you for supporting my site!*
How to Cook Dried Beans in the Instant Pot
One of the things I love the most about my Instant Pot is the ability to cook unsoaked dried beans relatively quickly. My Instant Pot has transformed the way I cook dried beans. I never remember to soak beans the night before and the ability to simply omit that step is so lovely!
We eat a lot of beans here at SimplifyLiveLove. I add them to taco meat to stretch the meat, they're a staple in my kids' favorite taco soup, and we make a lot of refried beans for bean burritos, nachos, and more. Dried beans are frugal, healthy, and easy to make and we love them!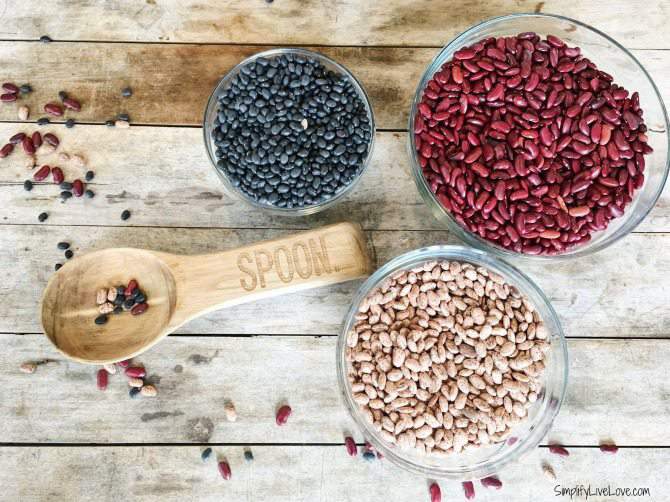 Cooking Time for Dried Beans in the Instant Pot
I primarily cook three different types of beans: pinto beans, black beans, and kidney beans. But I have all types of beans in my pantry and so I'm sharing this handy chart of cooking times for nine different types of beans. Soak them, or don't soak them. That's your call.
| | | |
| --- | --- | --- |
| Bean Type | Soaked | Unsoaked |
| Black Beans | 10-15 minutes | 22-27 minutes |
| Black-Eyed Peas | 5-10 minutes | 10-15 minutes |
| Cannellini Beans | 10-15 minutes | 30-35 minutes |
| Garbanzo Beans | 15-20 minutes | 35-40 minutes |
| Kidney Beans | 10-15 minutes | 25-30 minutes |
| Lentils | — | 12-17 minutes |
| Navy Beans | 10-15 minutes | 20-25 minutes |
| Pinto Beans | 10-15 minutes | 25-30 minutes |
| Split Peas | — | 5-10 minutes |
How to choose a cooking time for unsoaked dried beans
How I choose a cooking time depends primarily on my end goal for the beans. If I plan to use the beans in another recipe, meaning they will continue cooking after I take them out of the Instant Pot, I will cook them for fewer minutes. For instance, if I'm using black beans in my taco meat, I'll cook them for around 22 minutes instead of 27. But if I'm not putting them in another recipe, I will cook them for longer in the Instant Pot so they come out softer instead of al dente. I cook pinto beans for 28 minutes, for instance, instead of 25 if I'm making refried beans.
In addition to the beans, you'll also need a good quality oil and salt as well. I prefer to cook with unrefined salt as regular ole table salt has been bleached and has a lot of additives that I'd rather avoid. My favorite type of salt is REAL Salt from the Great Salt Lake in Utah. I love its pretty colors and it has a nice taste and lots of healthy qualities too. There are so many different types of salt. We only use table salt for crafts.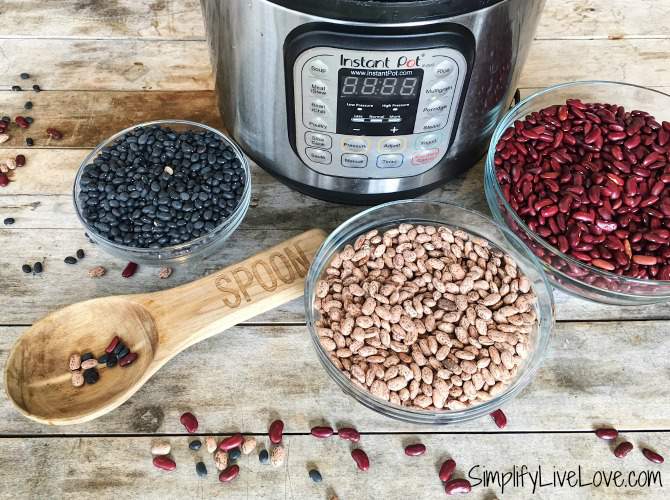 Some things to be careful about when cooking Instant Pot beans
Make sure you do not over fill your IP when cooking beans or it will foam and boil over. While the oil helps reduce foaming, one pound of beans (2 cups) is the maximum you can cook in a 6 quart Instant Pot. I know, that saddens me too, but it's not worth the mess to cook more. 🙁 Also, use high pressure and a natural release for best results.

How to Cook Dried Beans in the Instant Pot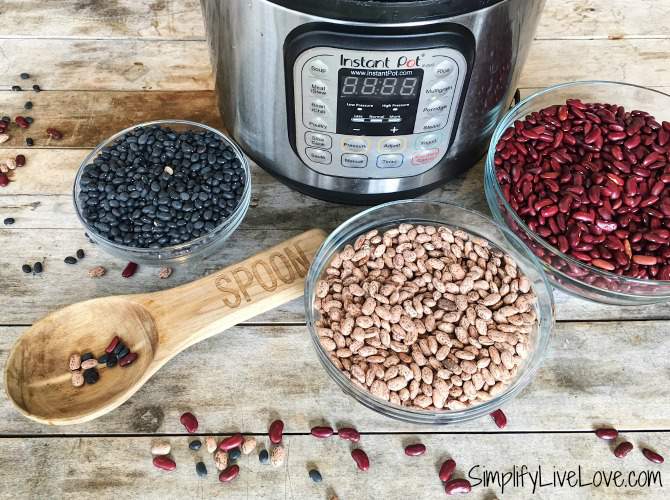 Ingredients
1 pound dried beans, rinsed and sorted
8 cups water
3 TBS oil
1 tsp salt
Instructions
Add ingredients to instant pot.
Seal the lid and cook on high pressure for the time specified in the chart.
Manually release pressure and enjoy.
Nutrition Information:
Serving Size:
1
Amount Per Serving: Calories: 859 Total Fat: 44g Saturated Fat: 6g Sodium: 2405mg Carbohydrates: 89g Sugar: 8g Protein: 34g
And that's it, my friends, how to cook dried beans in the Instant Pot! It's totally worth the price of the Instant Pot to me, just for the ability to cook dried beans in a relatively short amount of time! Do you cook beans in your Instant Pot? I'd love to hear if you soak them, or skip it!