I love to freeze carrots I grow in my garden. Frozen, sliced carrots are wonderful to add to sauces and soups all winter long. Here's not only how to freeze them, but four more ways to preserve carrots as well!
How to Preserve a Bumper Crop of Carrots, 5 Ways
1. Freeze Carrots –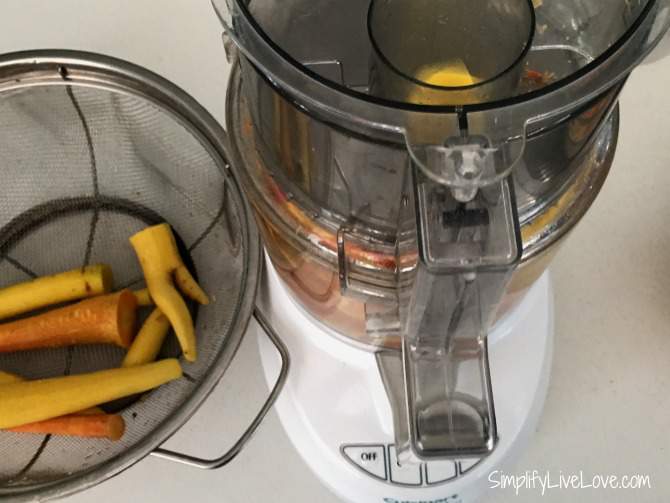 Freezing carrots is really easy and is my preferred method to preserve this delicious veggie.  To freeze, simply slice the carrots, then blanch them for 1-2 minutes, shock with cold water, pack and freeze. Easy peasy. Especially since I used my 11 cup Cuisinart Food Processor to do the slicing. I froze mine in 2 cup portions and they'll be great for winter soups or quick side dishes! They're so sweet and tasty!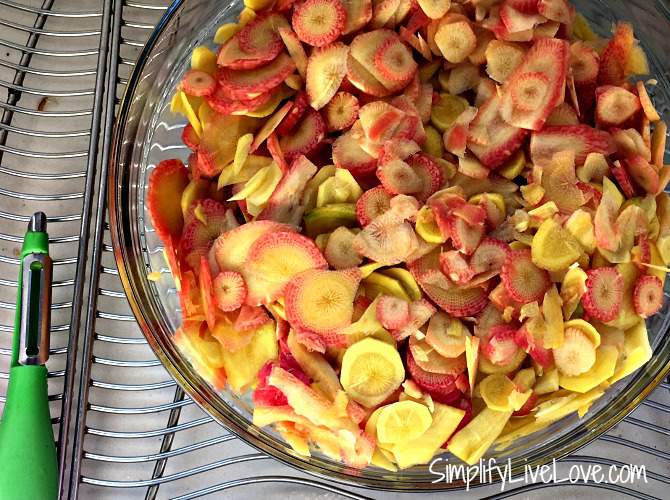 To freeze your own carrots, I recommend using a food processor to slice your clean carrots. I always peel mine too because they look a little straggly coming out of my garden, but if you grow beautiful carrots, feel free to skip the peeling. I absolutely love my Zyliss veggie peeler. I have used many different peelers over the years, but the Zyliss version is my favorite! Such an awesome peeler for less than $10 on Amazon. By the way, if purchase anything from Amazon, you help support this blog at no cost to you and you earn my eternal gratitude!
Bring a pot of water to boil while you prepare your carrots. Once the water has reached a hard boil, add the carrots and bring the water back to boil. Blanch the carrots for two minutes. I really like to use my Cuisinart 8 quart stockpot with strainer. Using a strainer makes draining so easy! I picked up this set at Costco a few years ago and love every pot in the set. You can get the same set on Amazon, too.
Now shock the carrots by draining the hot water and adding ice cold water. It's super easy to drain them if you cook them in the strainer. Then to drain them again, I simply dump them back in the same strainer they cooked in!
Now dry your carrots as best you can by dumping them on a towel. Make sure all the ice is gone.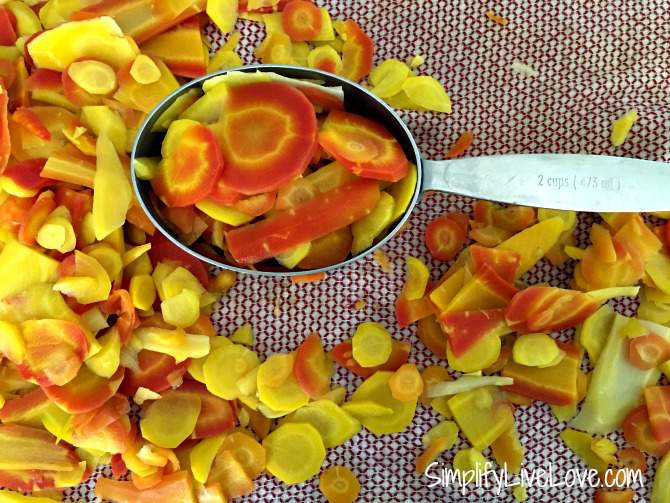 Measure them out and put them in freezer baggies. I freeze mine in 2 cup portions. Label, freeze (make sure to squeeze as much air as possible out of the baggie), and enjoy your carrots all winter long.
Here are 4 more ways you can preserve carrots too!