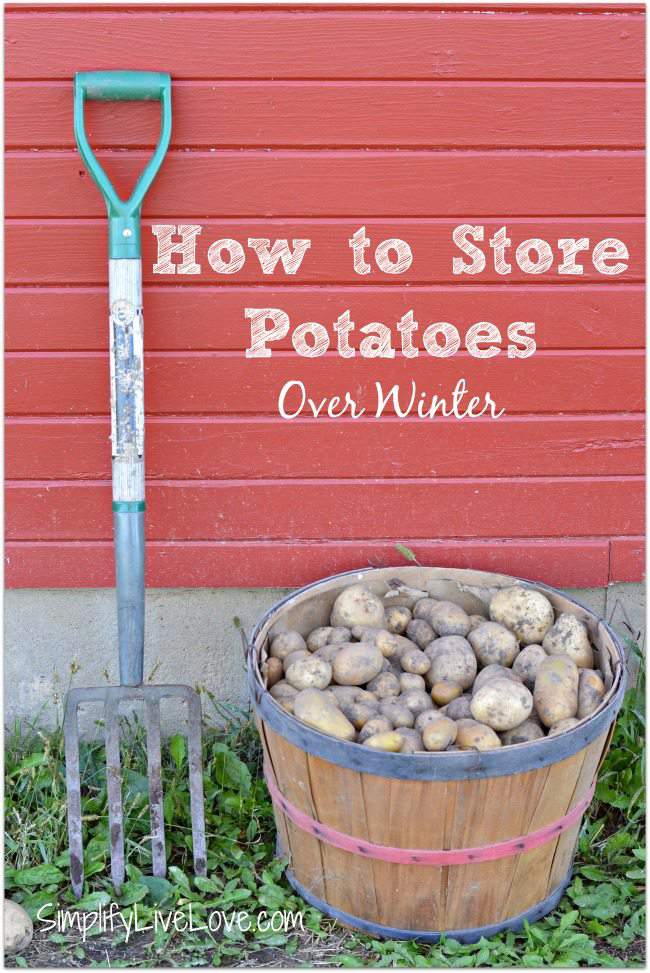 2014 marks the second year I have planted potatoes following the no-dig potato planting method. I first tried this method in 2013 after reading about it in my Rodale's Encyclopedia of Organic Gardening. Last year, I had an awesome potato harvest – well over 200 pounds. And this year, I ended up with about the same. I don't have quite as many to store this year because we've eaten more of them so far, but since many people have asked me how my potatoes fared last year, I thought it was time for a post!
My method of potato storage last year was really high tech. I threw all my potatoes together in wooden bushel baskets I found a while back at Goodwill (they're for sale on Amazon too, if you're looking for some) and then stored them in my barn kitchen. When I needed potatoes, I just grabbed some out of the baskets and cooked them. A few did rot, but for the most part, my family of 6 was able to eat most of them over the winter and spring with little spoilage.
Since then, I have been thinking maybe I should do a better job of storing my potatoes. So, I've done a bit of research and here's what I fount out.
How to Store Potatoes Over Winter
Plant the right type of potato
I planted four types of potatoes this year, and one criteria I always look for when choosing which varieties to plant is how well they store. Some potatoes, like Yukon Gold, are better keepers than other potatoes. For a comprehensive list of potatoes types and qualities, read this article from WSU, or read seed catalog descriptions too. That's what I do, and here's a list of my favorite free seed catalogs.
This year, I planted about 18 plants of each of the following potato varieties:
Yukon Gold
Kennebec
Purple Viking
Yellow Finn