These five poinsettia care instructions for growing poinsettias indoors will help you keep your lovely Christmas flowers looking beautiful all season long.
Poinsettia Care Tips for Beautiful Flowers
I love poinsettias during Christmas time, but I have had a horrible track record of keeping them alive. If you're wondering how to keep your own poinsettias beautiful during the whole Christmas season, you need these tips too!
Poinsettia Care Instructions – Buy a healthy plant
You can probably tell if the plant is healthy just by looking at it. Choose a plant that has vibrant green leaves with no brown spots. You'll want to get a plant with open flowers as poinsettias bloom very slowly. You'll also want to make sure the flowers are bright and pretty looking.
Do not let it get cold during transport from store to house
Poinsettias are very susceptible to cold. If you buy a plant during cold weather, make sure you cover it with a bag before you take it outside to keep it from getting shocked. Also, it's important that you don't leave it in an unheated car. If you have a lot of errands to run, make sure you pick up the poinsettia last and take it straight home. It's better for the plant to take the bag off as soon as possible.
How to water a poinsettia
Over-watering is often the number one killer of poinsettias so make sure you let the soil dry to the touch between watering. Don't forget to check to the bottom of the dish they're in to make sure they're not sitting in water for days on end. Poinsettias also like humidity, so if your house is dry, you might want to give them frequent mists of water.
Poinsettias need bright light
Growing poinsettias indoors is not hard, but they need a lot of light. The best place to keep them is near a south facing window. If you notice your poinsettia turning light green, you'll want to find it a spot that gets more light. It should also be kept relatively warm, with ideal temperatures in the 60-70 degree range.
Protect poinsettias from drafts in your home
Poinsettias are tropical plants and as such are very susceptible to cold drafts. Make sure that no part of it touches a cold window. You'll also want to keep it away from a furnace vent or a fireplace as well.
And that's it! Follow these steps and you should have beautiful poinsettias until Valentine's Day and maybe even beyond.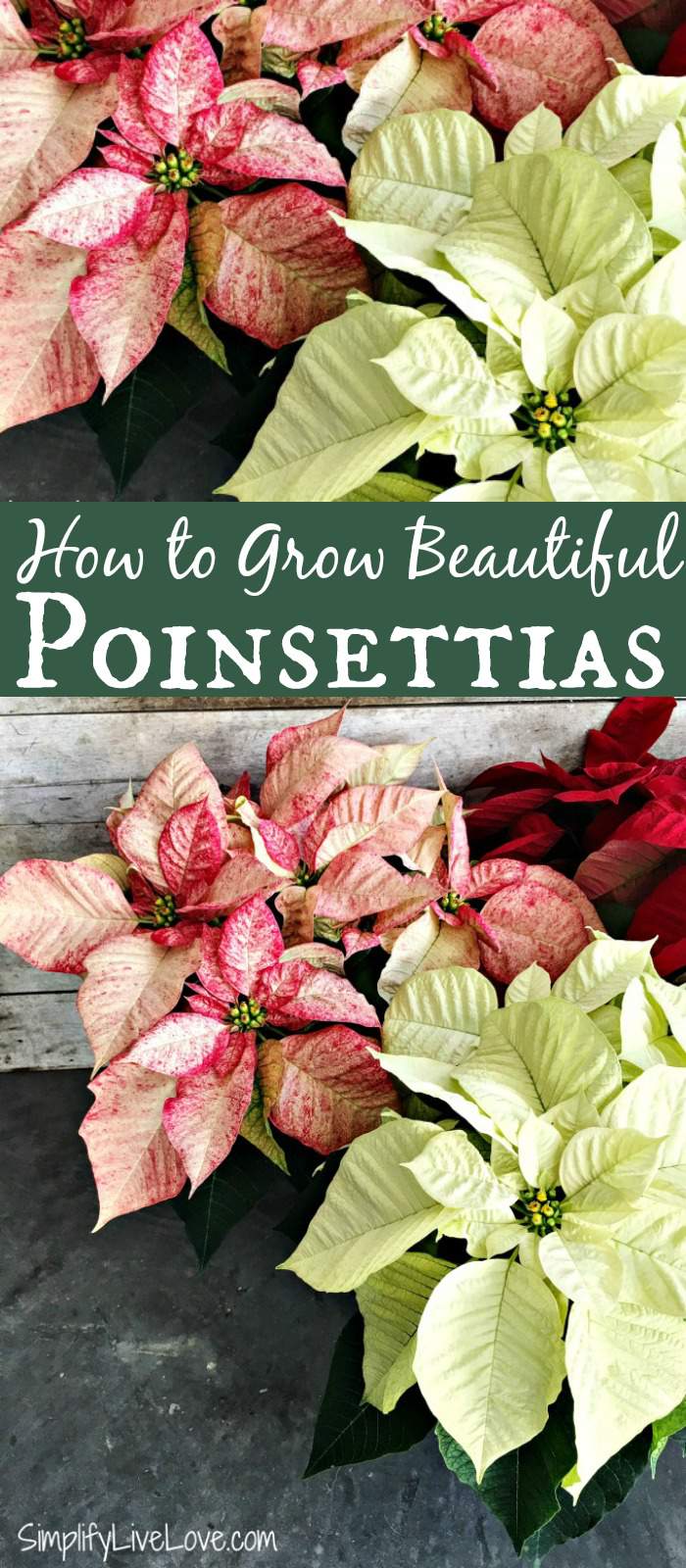 If you follow these poinsettia care instructions each year, your flowers will shine at home! Now the big question is, what do you do with your beautiful flowers after the holidays?
If you liked this post on growing poinsettias indoors, you might like these posts too:
Start a Family Tradition by Cutting Down Christmas Tree at these Iowa Tree Farms
10 Healthier Christmas Cookie Recipes – Refined Sugar Free
Homemade Christmas Decorations made with Natural Items
DIY Christmas Gifts for the Entire Family
12 Best House Plants that are hard to kill