Looking for a few new Valentine's Day books this year? This list includes Valentine books for toddlers, Valentine books for preschoolers, and Valentine books for older elementary children as well! Enjoy sharing these lovely books with  your kiddos this Valentine's Day.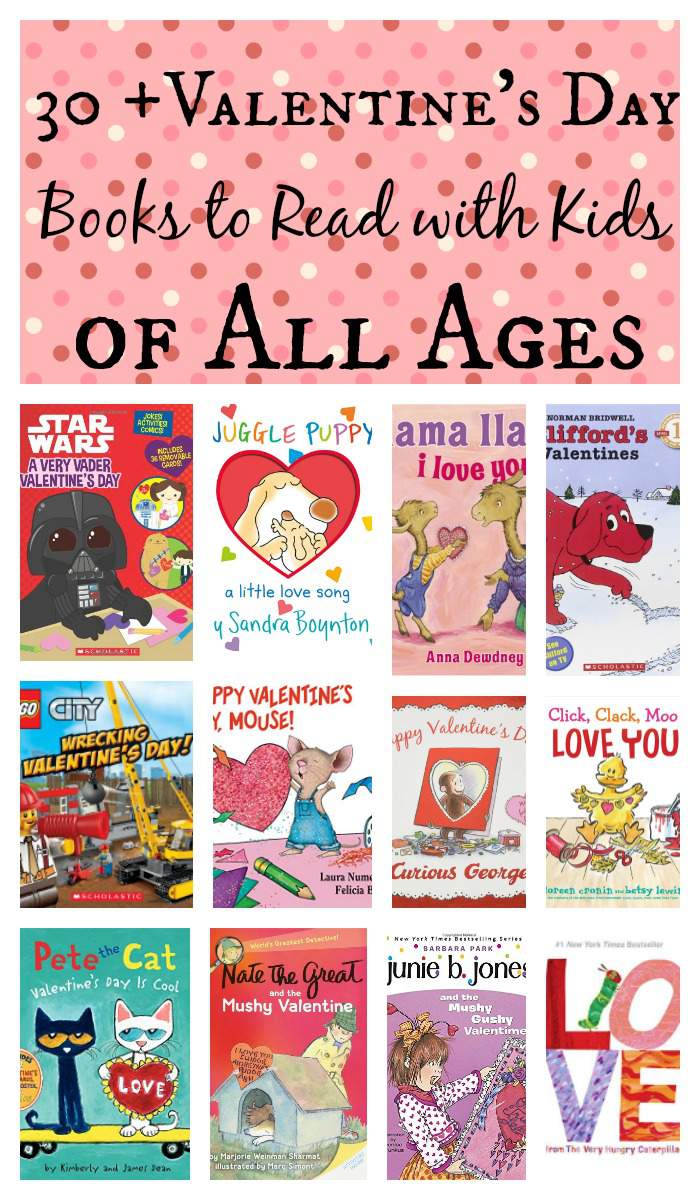 *This post contains affiliate links which means I earn a small commission on your purchase. Thank you for supporting my site.*
Valentine's Day Books
Here's a collection of Valentine's Day Books for kids of all ages. Check them out from the local library or add a few to your personal library. Do you have a favorite we didn't share? Let me know in the comments and I'll add it to the list! Enjoy these books with your kids!
Valentine Books for Toddlers
You will love this collection of  Valentine books for toddlers. They're all board books so you don't have to worry about destructive kiddos harming the books, but I'm sure you toddlers are model children and not destructive at all, right? 😉
Where Is Baby's Valentine?: A Lift-the-Flap Book 
Baby Touch and Feel I Love You
How Many Do I Love You: A Valentine Counting Book 
My Fuzzy Valentine (Sesame Street)
Valentine's: Lift-a-Flap Board Book
Valentine Books for Preschool
From Fancy Nancy to Pete the Cat to Berenstain Bears and Curious George, these books include some of my kids most favorite literary characters. You and your preschool age children (and early elementary as well!) will love the Valentine books for preschool on this list!
A Valentine for Ms. Vanilla
Roses Are Pink, Your Feet Really Stink
Pete the Cat: Valentine's Day Is Cool
The Berenstain Bears' Valentine Blessings
Love from The Very Hungry Caterpillar
Fancy Nancy: Heart to Heart
.
Happy Valentine's Day, Curious George
Pinkalicious: Pink of Hearts
Pete the Cat's Groovy Guide to Love
Clifford's Valentines (Scholastic Reader, Level 1)
Junie B. Jones and the Mushy Gushy Valentine
Nate the Great and the Mushy Valentine
Star Wars: A Very Vader Valentine's Day
Valentine Books for Older Elementary Kids
Valentine's Day is not just for young kids. My older elementary kiddos love to read about Valentine's Day too! Here are a few books that are more appropriate for older children. I'd love to hear if you have ideas not included on this list!
A Short History of Valentine's Day (Holiday Histories)
The Story of Valentine's Day
Saint Valentine
Valentine's Day (Holiday Histories)
Valentine's Day Jokes for Kids
200+ Valentine's Day : Knock Knock Jokes, Tongue Twisters, Riddles, & Short Stories for Kids
Spot the Differences: Valentine's (Puzzle Books for Kids Book 3)
If you liked this post on Valentine's day books, check out these posts as well:
Fun Learning Activities for Valentine's Day
Real Food Treats for Valentine's Day
Red Berry Yogurt Cake for Valentine's Day
Chocolate Chip Raspberry Scones