Homegrown tomatoes are the best!! And it's not that hard to grow them. To get your tomato seedlings off to the best possible start, you must know these five tips for planting tomato seedlings!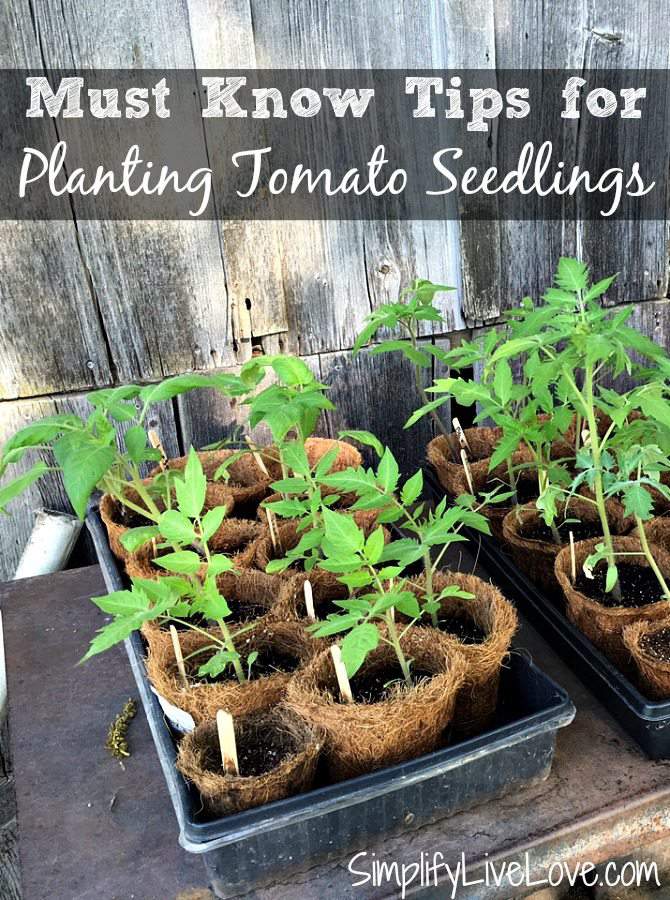 Have you planted your tomatoes yet? It's generally safe to plant them around your frost free date.  Our official frost free date (May 15) was marked with patchy frost and cold weather, so I delayed a week to give them a better start to life. I finally planted 15 tomato seedlings that I started myself on May 22. I planted Ten Fingers of Naples, Brandywine, Chocolate Pear, Solar Flare, Wapsipinicon Peach, Pineapple, and Blue Beauty. All of these are new to me varieties expect the Pineapple and the Wapsipinicon Peach, which I've grown before and love. I hope they do well for me!
5 Must Know Tips for Planting Tomato Seedlings
1.Dig a deep hole and pinch off the lower leaves.
I like to plant my tomatoes deep for a couple reasons. First, it's super windy out here in the Iowa Prairie and planting them deeply gives them better support from the wind. It  allows roots to develop all along the tomato stem which helps make the plant stronger. So, dig a hole deep enough that only the top leaves will be showing on the ground. Pinching off the lower leaves also encourages roots to develop too, so carefully pinch off the leaves before you put the seedling in the hole.
2. Support the stem as you cover it with dirt.
Be careful when you're covering the plant with dirt so you don't accidentally harm the little seedling. I like to support the stem with one had and fill the hole with dirt with the other hand. You don't want to break the stem as you cover it – I've done it and it makes me very sad. Make sure you cover the seedling up to the top leaves.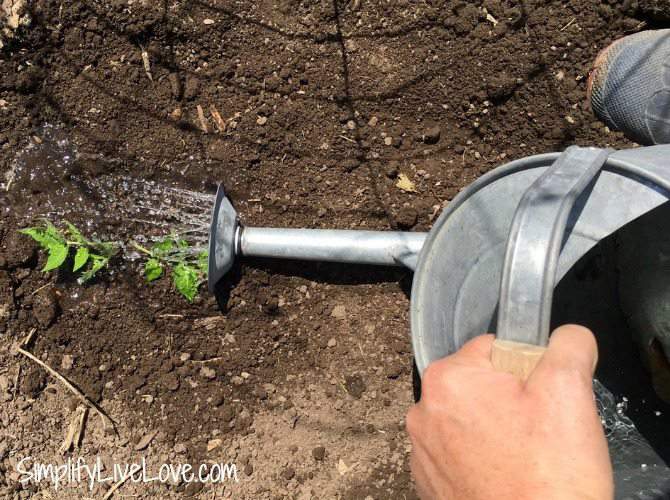 3. Water generously after planting.
Newly planted seedlings need a nice drink of water immediately after planting so make sure you water right away. I like to make an indent in the dirt around the plant so the water stays near the seedling instead of running away. You'll want to continue watering for a few days if you don't get a rain pretty quickly after planting.
4. Mulch right away.
Since you've gone through the effort of planting tomatoes, just go ahead and mulch them right away. I'm often tempting to skip this step and get to it later, but I've found later sometimes never comes. Mulching right away is a great way to keep down the weeds and it also helps keep them moist. I used old hay we got for free in this picture, but a better mulch is straw because it's weed free. My hay is very, very old, so I hope nothing will sprout from it. I could be wrong though, and end up seriously regretting the use of this old hay. I'll let you know if that's the case!
5. Add a support trellis or basket immediately.
Another thing to do right away is to add support. Tomatoes like to be supported and I know from experience that if I don't support them right away, I won't ever get back to it. Pretty soon I end up with a huge tomato jungle – and while I don't think that's a terrible thing, it does make picking the beautiful fruits more difficult and a lot of them end of smashed by my big feet.
After years of being frustrated with supporting tomatoes properly, I finally made these awesome tomato baskets last year. They are easy to make and easy to use! I highly recommend making your own if you're looking for an effective tomato cage. You can read the tutorial here.
And that's the start to a successful tomato season! Have you planted your tomatoes yet? I'd love to hear your ideas for success too. 
For more garden tips and tricks, check out these helpful posts: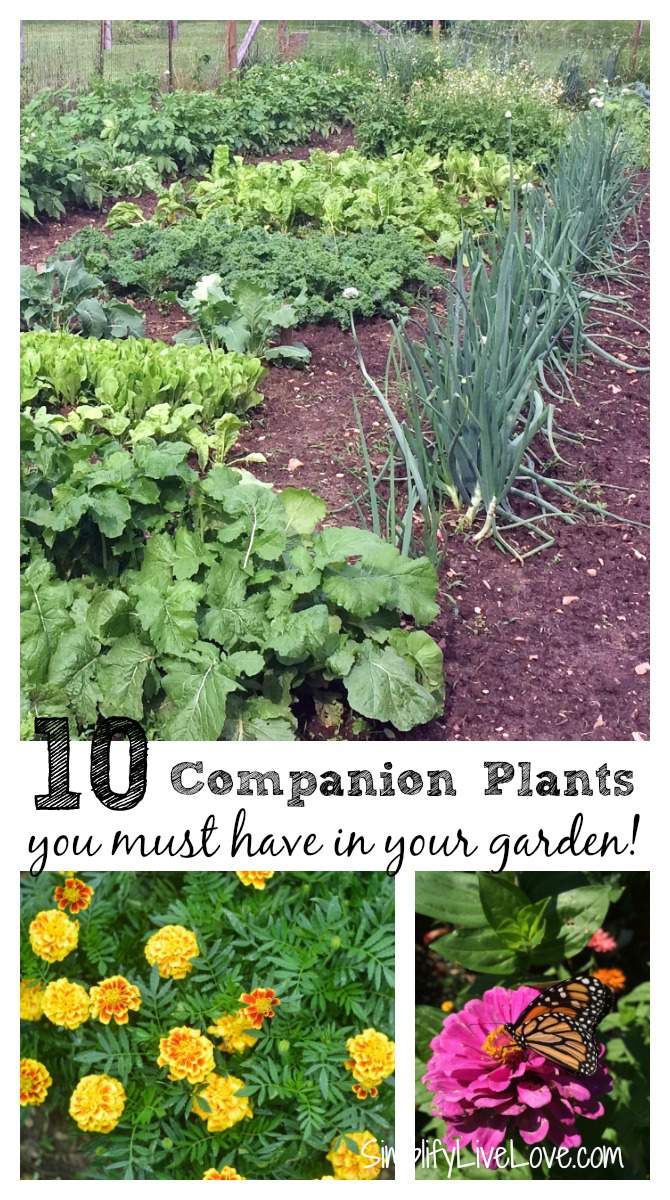 Companion plants you must have in your vegetable garden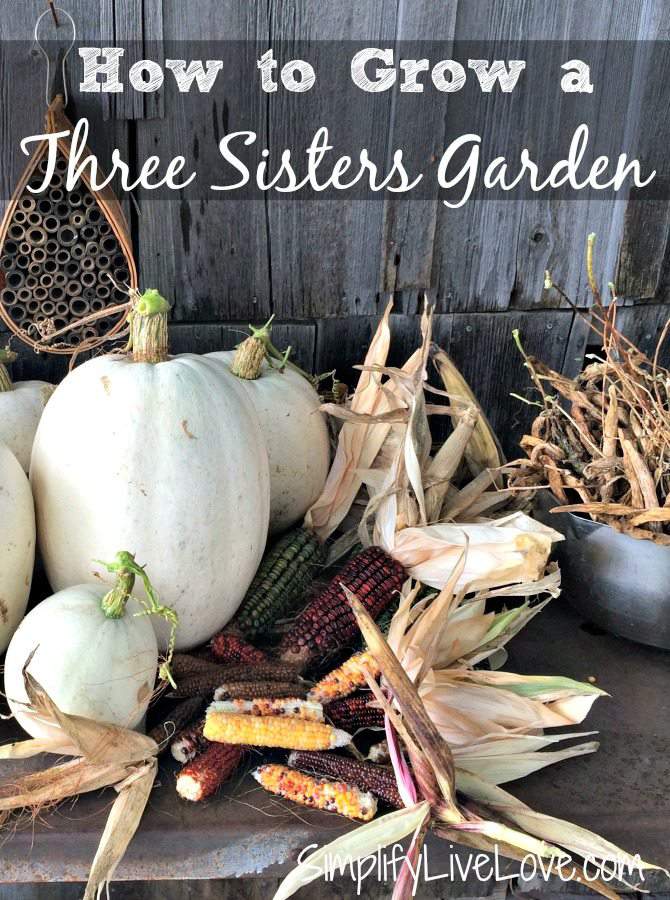 How to grow a three sisters garden
Tips for using volunteer plants in your garden