Homegrown tomatoes are the best!! And it's not that hard to grow them, but you can do a few things that make a big difference in growing successful tomatoes from the very beginning. To get your tomato seedlings off to the best possible start, you must know these five tips for transplanting tomatoes! It all starts with the transplanting.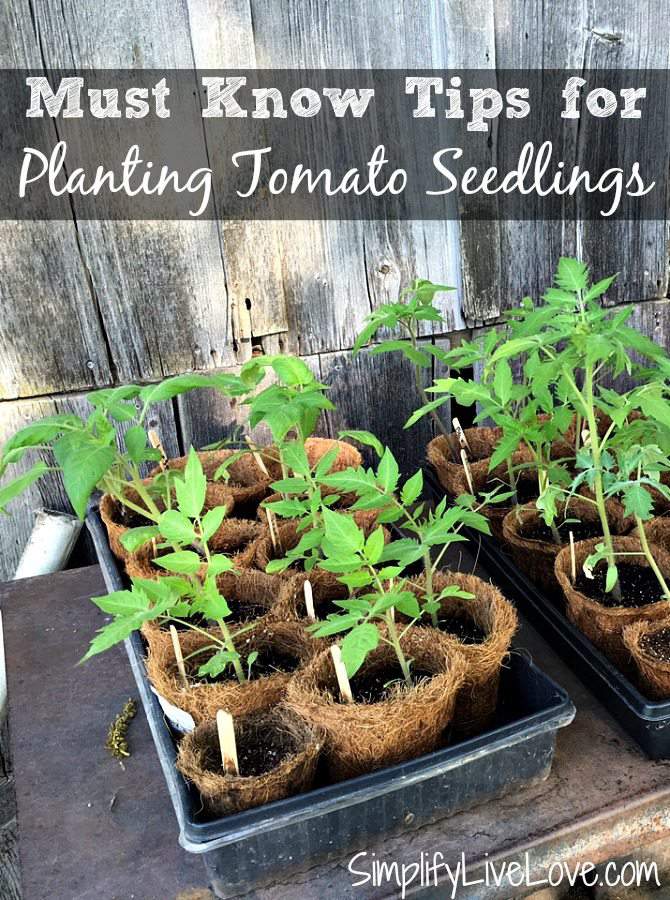 *This post contains affiliate links which means I earn a small commission on your purchase.*
Welcome back to Tuesdays in the Garden! Today, you're in for a treat. Not only do we have lots of great gardening tips to help you get your spring planting right, but we also have a few homemade gifts you can quickly put together, just in time for Mother's Day! Make sure to read to the end of the post and check out all the great ideas from my dear gardening friends.
5 Must Know Tips for Transplanting Tomato Plants
Have you planted your tomatoes yet? It's generally safe to plant them around your frost free date. Our official frost free date (May 15) is right around the corner, but I always check the long range weather forecast before deciding when to tansplant my tomato plants. Fro the last three years, we have had a killing frost after May 15, so quite often, transplanting tomato plants has to wait. If you're looking forward to transplanting tomato plants, too, make sure you read these must know tips!

1 .Dig a deep hole and pinch off the tomato plants' lower leaves.
I like to plant my tomatoes deep for a couple reasons. First, it's super windy out here in the Iowa Prairie and planting them deeply gives them better support from the wind. It allows roots to develop all along the tomato stem which helps make the plant stronger. So, dig a hole deep enough that only the top leaves will be showing on the ground. Pinching off the lower leaves also encourages roots to develop too, so carefully pinch off the leaves before you put the seedling in the hole.
Make sure to support the stem as you cover it with dirt. Be careful when you're covering the plant with dirt so you don't accidentally harm the little seedling. I like to support the stem with one had and fill the hole with dirt with the other hand. You don't want to break the stem as you cover it – I've done it and it makes me very sad. Make sure you cover the seedling up to the top leaves.
2. Wondering how far apart to plant tomatoes?
Make sure you give your tomatoes enough space to grow.
Dwarf tomato varieties only need to be about 1′ apart, with 2′ – 3′ between rows.
If you're staking your tomato plants, they'll need about 2′ of separation to grow, with 2′ – 3′ between rows.
Using large cages? They'll need to be about 3′ apart, and probably 4′-5′ between rows.
Want to let your tomatoes grow without support? You'll need a lot of room! About 3-4′ between plants, and 4′-5′ between rows.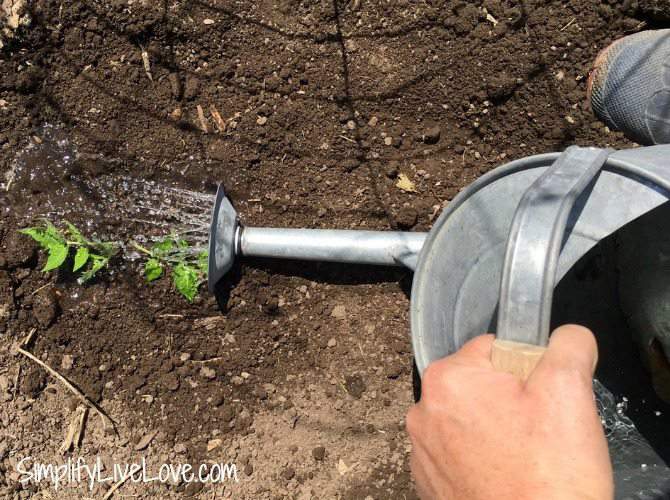 3. Water tomato plants generously after planting.
Newly planted seedlings need a nice drink of water immediately after planting so make sure you water right away. I like to make an indent in the dirt around the plant so the water stays near the seedling instead of running away. You'll want to continue watering for a few days if you don't get a rain pretty quickly after planting.
4. Mulch right away.
Since you've gone through the effort of planting tomatoes, just go ahead and mulch them right away. I'm often tempting to skip this step and get to it later, but I've found later sometimes never comes. Mulching right away is a great way to keep down the weeds and it also helps keep them moist. I used old hay we got for free in this picture, but a better mulch is straw because it's weed free. My hay is very, very old, so I hope nothing will sprout from it. I could be wrong though, and end up seriously regretting the use of this old hay. I'll let you know if that's the case!
5. Add a support trellis or basket immediately.
Another key to tomato success, is to add support right away. Tomatoes like to be supported and I know from experience that if I don't support them right after planting, I won't ever get back to it. Pretty soon I end up with a huge tomato jungle – and while I don't think that's a terrible thing, it does make picking the beautiful fruits more difficult and a lot of them end of smashed by my big feet. In years past, I used these homemade tomato baskets last year. They are easy to make and easy to use, but they take up a lot of space so you need a large growing area if you want to use homemade tomato baskets.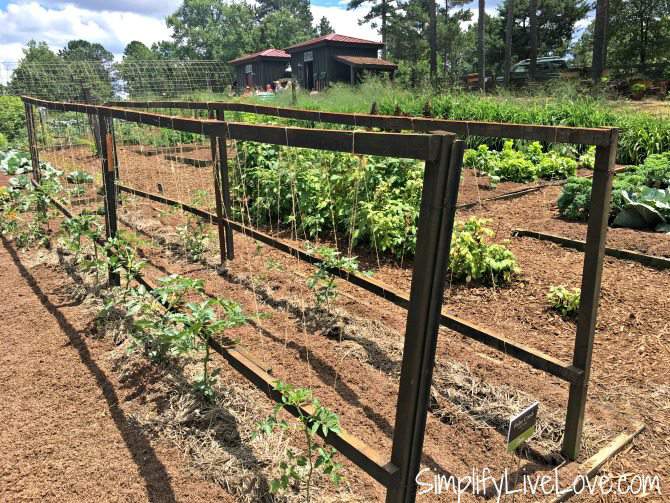 This year I am hoping to use these homemade support systems I saw a Moss Mountain Farms. I love that this tomato system takes up less room than my huge cages and I think it's awfully pretty too! Also, it's a way to grow more tomatoes in less space since you don't have to set the tomatoes so far apart. Do you have a favorite tomato trellis you like to use?
And that's the start to a successful tomato season! Have you planted your tomatoes yet? I'd love to hear your ideas for success too.
Tuesdays in the Garden
Want more garden tips from my friends from around the web. Make sure you click over to everyone's posts and check out what's going on in different parts of the country! We've got a couple homemade gift ideas that might be perfect for Mother's Day this weekend, as well as growing tips too!
Shelly from Frugal Family Home is sharing a mini green house idea for small spaces!
Patti from Hearth and Vine is sharing a cute DIY Gazing Ball – what a great gift is this?
Jami at An Oregon Cottage is sharing her homemade Salad Dressing Gift Basket
Diane from Homemade Food Junkie is sharing tips for growing strawberries in DIY towers
Angie the Freckled Rose is sharing tips for adding visual interest in your garden!
If you liked this post with tips for transplanting tomatoes, you might like these post too.
7 Methods of Natural Weed Control for a Weed-Free Garden
Companion plants you must have in your vegetable garden
How to grow a three sisters garden