This is a sponsored post written by me on behalf of Nationwide Mutual Insurance Company. All opinions are 100% mine. #MakeSafeHappen #IC #watersafety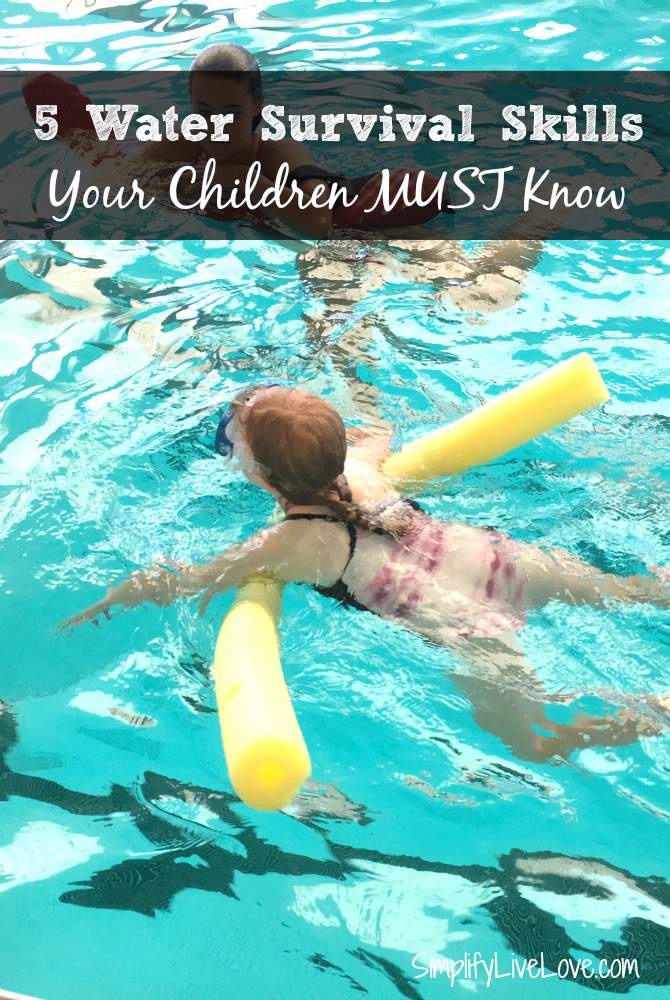 Sadly, almost 800 children drown each year, and half of them are under five years of age. Summer is the perfect time to make sure your kids know these 5 water survival skills as 2/3 of the drownings happen between May & September.
I'm pretty lenient when it comes to activities my kids participate in and I don't generally require them to do things they don't want to do. However, I have one exception to the rule: all four of my kids are required to take swim lessons and continue taking them until they pass the most advanced level. I've known too many people whose children have almost drowned or sadly, have drowned. While I understand that swimming lessons are NOT a sure fire way to prevent drownings, I still want to make sure that my kids are all strong swimmers.
I'm happy to report that two of my children have completed all six levels of their Red Cross Swimming lessons. One just passed out of Level 4, and my youngest passed out of Level 2 this summer. I'll be really happy when they're all done for good.
Even young kids can learn water survival skills that might mean the difference between life and death. Take a minute to make sure your children know these skills so they can get themselves out of a pool if they accidentally fall in.
5 Water Survival Skills your Children Must Know
Make sure your kids learn how to swim and can do the following. Honestly, they can learn to do this even before they learn how to swim. I've seen it first hand!
1. S
tep or jump into water over their head
2. R
eturn to the surface and float or tread water for one minute
3. T
urn around in a full circle and find an exit
4. S
wim 25 yards to exit the water
5. E
xit the water without using the pool ladder.
Additionally, parents can also take these three precautions this summer:
Supervise Actively – I know most of us are often on our mobile devices, but when water is involved, it's important to eliminate distractions like checking social networks or email. Also, always stay within arm's reach of young swimmers.
Reduce Risks – Install fences in swim areas, empty kiddie pools and tubs immediately after use, and provide swim lessons to children as young as one year old.

Several years I watched a good friend in Florida put her young kids through survival swim lessons. I thought she was so smart for having her children learn these life saving skills. All they learned was how to save themselves if they accidentally fell in the water. Even though they didn't have a pool at their house, almost all of their neighbors did. And I was so impressed to watch her toddlers learn how to get out of a pool.

Be Prepared – Learn CPR and First Aid and know the signs of drowning. Keep a phone close in case you need to call 911. When we think of drowning, we often think of a loud and flailing person. But that's not how drowning usually happens. Drowning is often silent. And it's quick. The following infographic lists common misconceptions about drowning. Take a few minutes to familiarize yourself with them so you are aware.
I still remember the day my husband hurtled himself in a pond to grab our three year old out of the water. It was the 4th of July, nearing dusk, and she had fallen off a floatie she'd been playing on close to the shore. Unfortunately, she had drifted a little too far out, into an area where she couldn't touch the bottom. Also, when she started swimming back toward her floatie, she was going in the wrong direction. I shudder to think what could have happened if we hadn't been paying attention.
I vividly remember my husband throwing his wallet and phone on the ground, kicking off his shoes, and running fully clothed into the water to grab her. She was so mad when he got her out. But the alternative of losing her in murky pond water at dusk is just too scary to contemplate. It's a parent's responsibility to watch their children when they're in the water. Even though there was tons of people playing in that pond, we were the only ones who saw her head to trouble and we're lucky we did.
For more information on drowning and water safety, please visit the Make Safe Happen website, the Nationwide Facebook or Twitter, and download the Make Safe Happen App. Many thanks to Nationwide for sponsoring this post and providing helpful tips, tools, and water safety resources for parents and caregivers.