I've partnered with California Almonds on this post and all opinions are my own. #PlantBasedLiving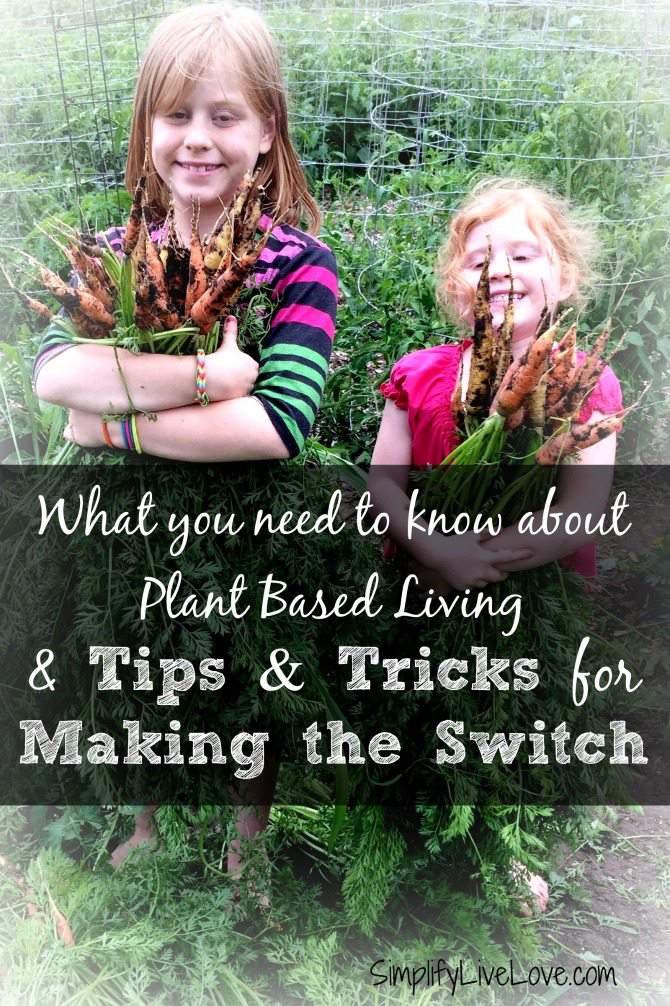 Plant based diets have a lot of potential benefits. They can be healthier for people and better for the environment too. We're not currently vegetarians, though I was one for several years in college, but I do make sure my family eats a lot of plant based meals. Keep reading to learn why you might consider adding more plant based meals to your own diet and then get tips and tricks for how to make that happen with your family.
What You Need to Know about Plant Based Diets #PlantBasedLiving
Plant based dies are often less expensive.
Quality meat is expensive. Really expensive. Quality veggies aren't necessarily cheap, but they are cheaper than meat. Additionally, I have a lot easier time growing my own organic vegetables than raising organic meat (and I've done both). It's not that hard to plant a small veggie garden or a fruit tree and the benefits are immeasurable! If you'd like to really keep the cost of your food down, consider adding a small veggie plot or container garden and enjoy free food all summer long.
Plant based diets are often healthier.

Studies show that following a plant based diet is associated with lower obesity and a decreased risk of cancer and cardiovascular diseases. Plant based proteins tend to be higher in fiber than animal-based proteins, with less saturated fat and higher levels of unsaturated fats. Choosing high-fiber sources that are low in added sugars like whole grains, vegetables, and fruits and including foods with heart healthy unsaturated fats like nuts, nut butters, avocados and olive oil helps to keep your triglycerides low and your blood pressure in check.
Plant based diets are better for the environment.
It requires fewer resources like water, chemicals, antibiotics, and growth hormones to grow vegetables than it does to produce meat and many academic and health institutions also recommend plant based diets to minimize food waste. And who wants that stuff in their food anyway? I prefer to do without the chemicals, antibiotics, and growth hormones in the food I feed my family.
Almonds, specifically, are a more sustainable source of protein as 6,500+ California almond growers use sustainable agricultural practices that respect the environment, including water conservation and waste management. Almond growers today use 33% less water per pound of almonds than they did 20 years ago, and since growing almonds actually produces three separate products (the nut itself, the hull which is used to feed livestock, and the shell which is used as livestock bedding and alternative energy), almonds make a great addition to a more sustainable plate. One ounce of almonds (about 23) packs 6 grams of hunger-fighting protein – and can used in different forms in everything from smoothies made with almond butter, to breads made with almond flour, or simply a handful for a smart-on-the-go snack.
You don't have to completely abstain from meat to eat more a more plant based diet!
As I've said, we're not vegetarians and I know you don't have to commit to full vegetarianism to eat a plant based diet. Listen, you just have to increase the amount of healthy grains & protein and fruits &veggies that you eat and decrease your meat consumption! It's not that hard. 😀
Tips & tricks for making the switch to a Plant Based Diet
If you'd like to incorporate more plant based meals in your family, here are my tips:
Add in Meatless Monday to your meal plan and try to eat at least one meatless dinner with your entire family per week.
Eat vegetarian for breakfast and or lunch at home if you're able, or in restaurants if you're not home. We eat a lot of beans and rice at lunch. Guacamole and hummus are also huge favorites in my house. It is possible to find delicious meatless options almost everywhere. Soup and salad is a big favorite of mine.
Stock your pantry with healthy staples like almonds and almond butter, olive oil, canned or dried beans and tomatoes, frozen veggies, old fashioned oats, and whole grains. Having ingredients on hand often means a quick and healthy meal at home instead of an expensive meal out.
Involve your family in a garden. I have an easier time convincing my family to eat vegetables that they've had a hand in growing and I really recommend getting your kids and other family members outside and in the dirt. There is something absolutely magical about harvesting produce you've grown yourself! And the first time you eat a meal that is 100% locally grown by you? Amazing!!
Eat smaller portions of meat. If you can't give up meat, or don't want to (heck I don't want to give it up either) cut down on portion size. Have you seen the recommended serving size of a piece of meat? 3 ounces?! It's really small. No one needs a 16 ounce steak or even a ginormous chicken breast. I generally cook only one pound of ground meat for my entire family of six people. I stretch it by adding in mushrooms or beans and no one goes hungry.6. Have quick and easy snacks like my 1 minute trail mix. By the way – you will love this 1 minute trail mix. All I did was dump almonds, dried fruit, chocolate chips, and pepitas to make a snack my family couldn't resist. I have to admit that dried montmorency cherries really gave this easy trail mix a delicious tang and I consider them my secret ingredient. But don't forget the almonds because they will help fill you up with heart healthy protein!
To learn more about plant based diets and California Almonds, check out Almonds.com. You can also follow California Almonds on Facebook, Twitter, Instagram, and Pinterest.
I hope I've shown you that it doesn't have to be hard, expensive, or all or nothing to add more plant based meals to your diet! I'd love to hear your thoughts and your tips and tricks as well! Please leave me a comment.