If you're looking for amazing places to visit in Iowa, you'll find lots of adventure at Iowa's many county parks. From boating, swimming, hiking, exploring, biking, and more, so there are so many fun things to in Iowa! Here's a sampling of the fun that awaits in Iowa!
*This post is sponsored by Travel Iowa for the #99Parks program. All opinions are mine.*
Get Out and Explore Iowa's County Parks!
We didn't have to travel far from home to have fun outdoor experiences with our family. Sometimes, a getaway in your own backyard is just what you need. We were excited to explore two lovely Iowa parks earlier this summer. We experienced stunning views, beautiful cabins, a fun boat ride on the Mississippi River, and so much more. If you haven't explored outside in Eastern Iowa, here are several adventures you shouldn't miss! Grab this Family Fun Car Activity Kit and hit the road in Iowa!
Rock Creek Marina & Campground in Clinton County
Rock Creek County Park outside Camanche (37 miles upriver from the Quad Cities) is great for families and kids of all ages. Home of the Mississippi River Eco Tourism Center, Rock Creek Marina is a lovely destination on the backwaters of the Mississippi River.
Younger children will enjoy exploring the Eco Tourism Center where they can crawl through a mock beaver's den, touch animal furs and live fish, and solve animal puzzles. The kitchen offers home baked goods and home cooked lunch specials! And they have lots of water rentals everyone will enjoy.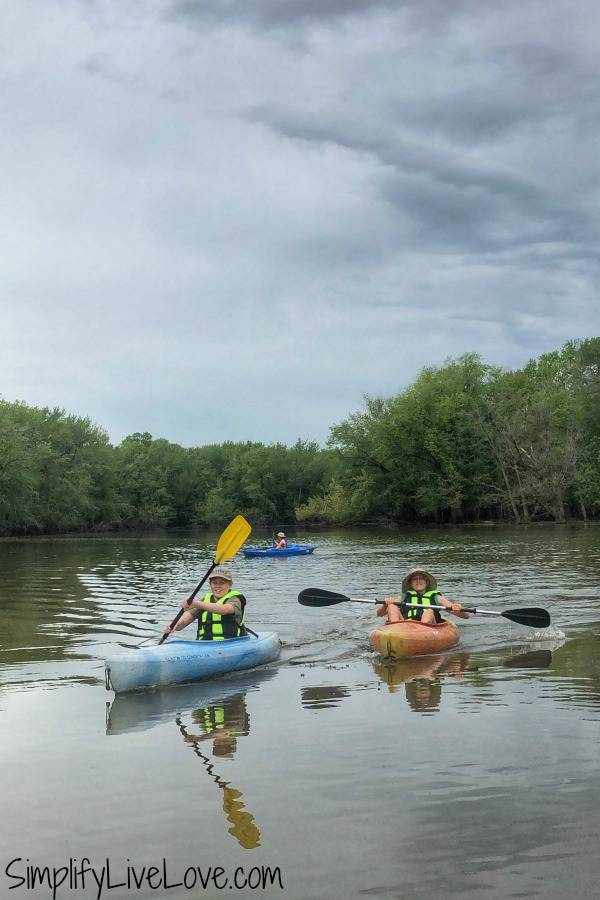 We loved exploring the Mississippi River backwaters while we were at Rock Creek Marina. We took at kayaks and paddle boats to explore the water. Rock Creek Marina also has hiking trails and plenty of great fishing spots too. Make sure to download this handy outdoor guide for kids to take along on your trip to Rock Creek Marina or any of Iowa's county parks!
One activity we were really surprised by was watching the bats on their evening flight to the river! Every evening, hundreds of bats wake up and head out for their nighttime breakfast, and they fly right over the road near the Rock Creek Marina campground. We had a lot of fun walking out to their flight path and watching them head for breakfast. So amazing and what a beautiful sunset!

Blue Heron Eco Sunset River Cruise
The real highlight of our time at Rock Creek Marina was the Blue Heron Eco River Sunset Cruise on a 26-passenger pontoon boat. Free and open to the public, everyone should jump on board the Blue Heron to learn about the Mighty Mississippi, its wildlife, ecosystem, barges, and most importantly, watch the sunset over the Mississippi River!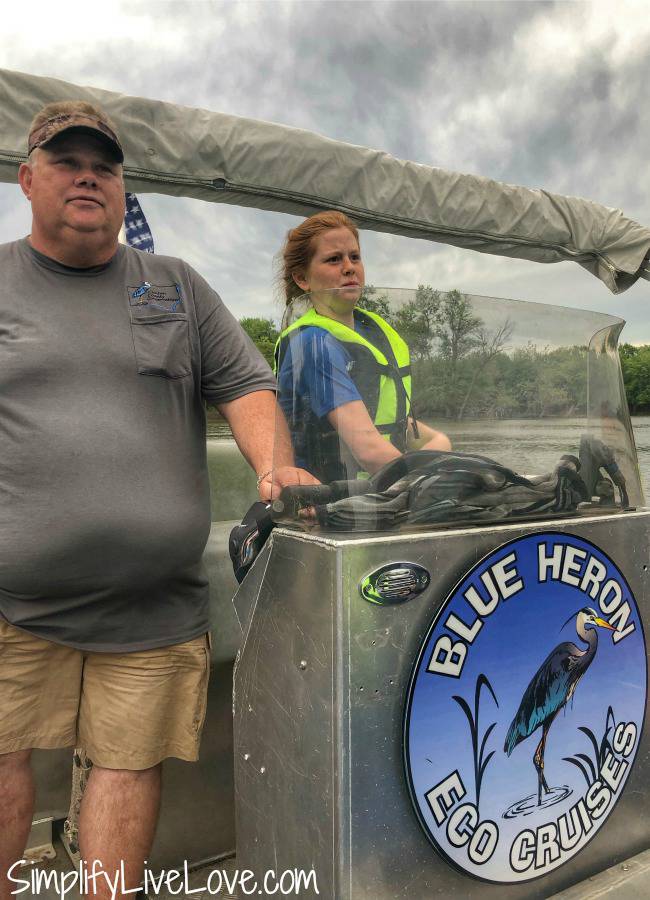 Led by informative and fun naturalists from Rock Creek Marina, this cruise happens every Thursday evening from May to October, weather permitting. Cruises are free but reservations are required. Learn more here!
Cabin Rentals at Rock Creek Marina
Not only does Rock Creek Marina offer camping, they also have cabins for rent. We stayed in the Pintail Cabin on our visit and appreciated the attention to detail that went into making this cabin ADA accessible. It has beds for four and a sleeper sofa for two more.
You will need to bring your own bedding, towels, and kitchen supplies as nothing in the kitchen is supplied other than appliances and a coffee maker. Rock Creek Marina also has smaller cabins and campsites for rent as well. Learn more about these Iowa cabin rentals here.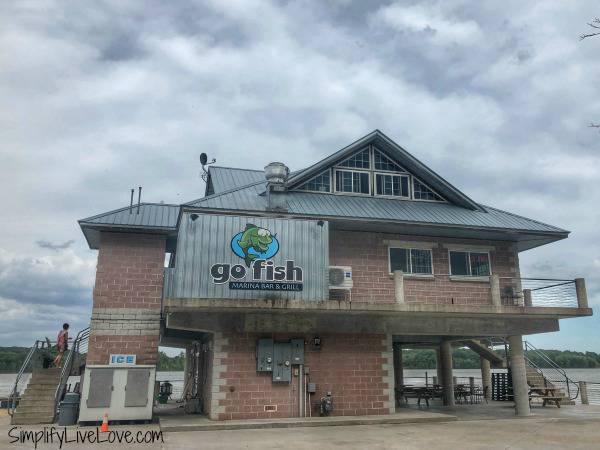 Go Fish Marina Bar & Grill
If you're looking for a place to eat while you're at Rock Creek Marina, we recommend the Go Fish Marina Bar & Grill in Princeton, Iowa. At 10 minutes from Rock Creek Marina, we found it to be a great close choice. We enjoyed sitting on the deck overlooking the Mississippi River while we ate. With a full service menu and fun drinks, you'll all find something delicious to eat here!
Scott County Park
Another one of Iowa's amazing county parks is Scott County Park. Located nine miles north of Davenport, Iowa, at 1280 acres there's plenty of fun places to explore here. It's only about a 20 minute drive from Rock Creek Marina, so you can hit them both in one long weekend!
We headed out to Scott County Park after spending a night at Rock Creek Marina. The weather was hot and the kids were looking forward to the Scott County Park Pool and ice cream at the Pioneer Village. Scott County Park also offers hiking and biking, nature trails, equestrian areas, and lots of lovely picnic spots as well.
Scott County Park Pool
My kids really enjoyed the pool at Scott County Park. Featuring an Olympic size heated swimming pool, water slides, diving boards, and a spray pad, the pool was the perfect place to cool off after a long day of exploring. We found the best time to go to the pool was late evening. Fewer people, lovely sunsets, and good natured lifeguards made our time at the pool one of the highlights at Scott County Park.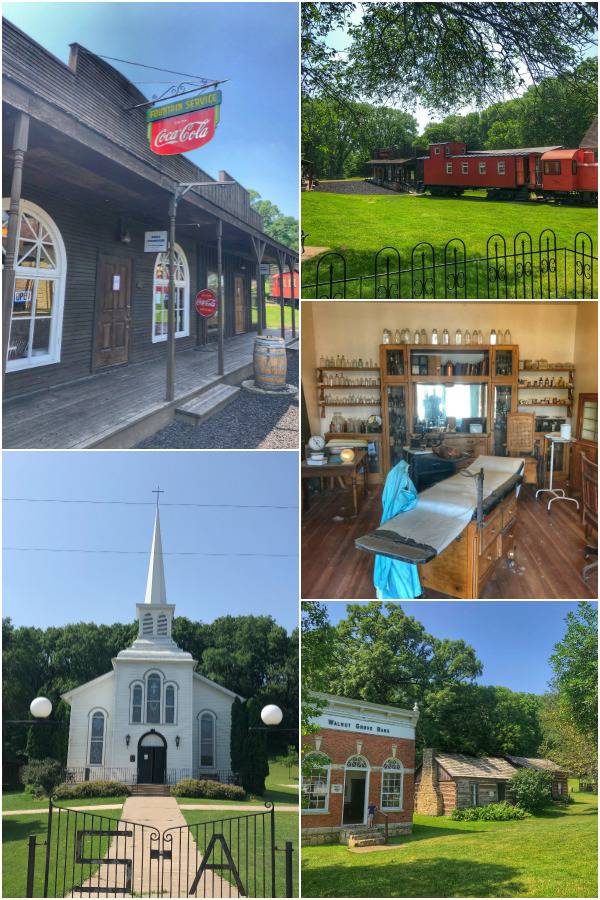 Dan Nagle Walnut Grove Pioneer Village
Step back in time at the Pioneer Village at Long Grove, just outside Scott County Park. Featuring log cabins, a historic church, and a small village, the Pioneer Village buildings all feature period furniture and accessories so you can see how people used to live. The dental and hospital clinics are always scary hits. If you time your visit right, you can see working demonstrations by blacksmiths and other craftspeople.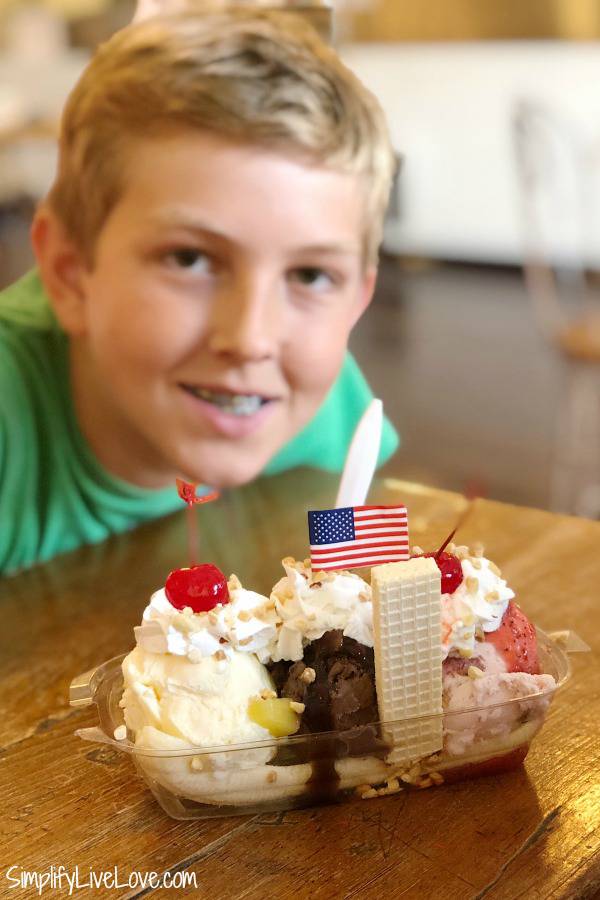 But the real draw to the village is the Walnut Grove Soda Fountain. Open on the weekends only, this old fashioned soda fountain / ice cream parlor is a must stop! The ice cream was cold, delicious, and very affordable – the perfect treat during really hot weather. Make sure to ask for the monthly ice cream special. I had the Train Wreck which included every topping they had and was surprisingly good! We also sampled the banana split and old fashioned sodas. Everything was delicious.
Buffalo Bill Cody Homestead
Another interesting and quick stop near Scott County Park is the Buffalo Bill Cody Homestead. Built in 1847 by Bill Cody's father to be the farm for a senator, the Cody family ended up living here instead. This limestone home has been restored and is furnished in period pieces as it would have looked when the Cody family lived here. The adults enjoyed this walk-through more than the kids, but two live buffalo on the grounds were a real treat!
Bald Eagle Cabin
Scott County Park also offers several really nice cabins for rent in Iowa! We were thrilled to stay in a brand new, cozy cabin on our trip. The Bald Eagle Cabin is a very nicely appointed cabin with comfortable beds for 10! You'll also need to bring your own bedding and towels to stay at the Scott County Park cabins, but this cabin was equipped with a fully stocked kitchen so you can leave your cooking supplies at home. Learn more about Scott County Park cabin options here.
Make sure to download the Family Fun Guide activity packs from Travel Iowa while you're planning your trip to Iowa's fun state parks! With lots of activities to get the kids moving outside, entertain them in the car, teach them about fishing, and Iowa trivia and wildlife information, there's something for everyone in these packs! Parents, you'll find the recipes and packing lists helpful too!
I'd love to hear which Iowa parks you've visited and what you loved most about them! Tell me about your Iowa favorite adventure!
If you liked this post on fun things to do in Iowa, you will like these posts full of more amazing places to visit in Iowa!
Unwind in Charles City at the Red Cedar Lodge
Visit the I-80 Trucking Museum and Rest Stop
Pella Tulip Time – Holland in Iowa