9 Amazing Reasons to Stay at the Historic Park Inn (Mason City, Iowa)
on Jul 22, 2022, Updated Aug 01, 2022
Here's why you must plan a trip to stay in the last remaining hotel designed by Frank Lloyd Wright, the Historic Park Inn in Mason City, Iowa. Perfect for art lovers, architect enthusiasts, and Frank Lloyd Wright scholars, you will enjoy so much about Mason City when you visit.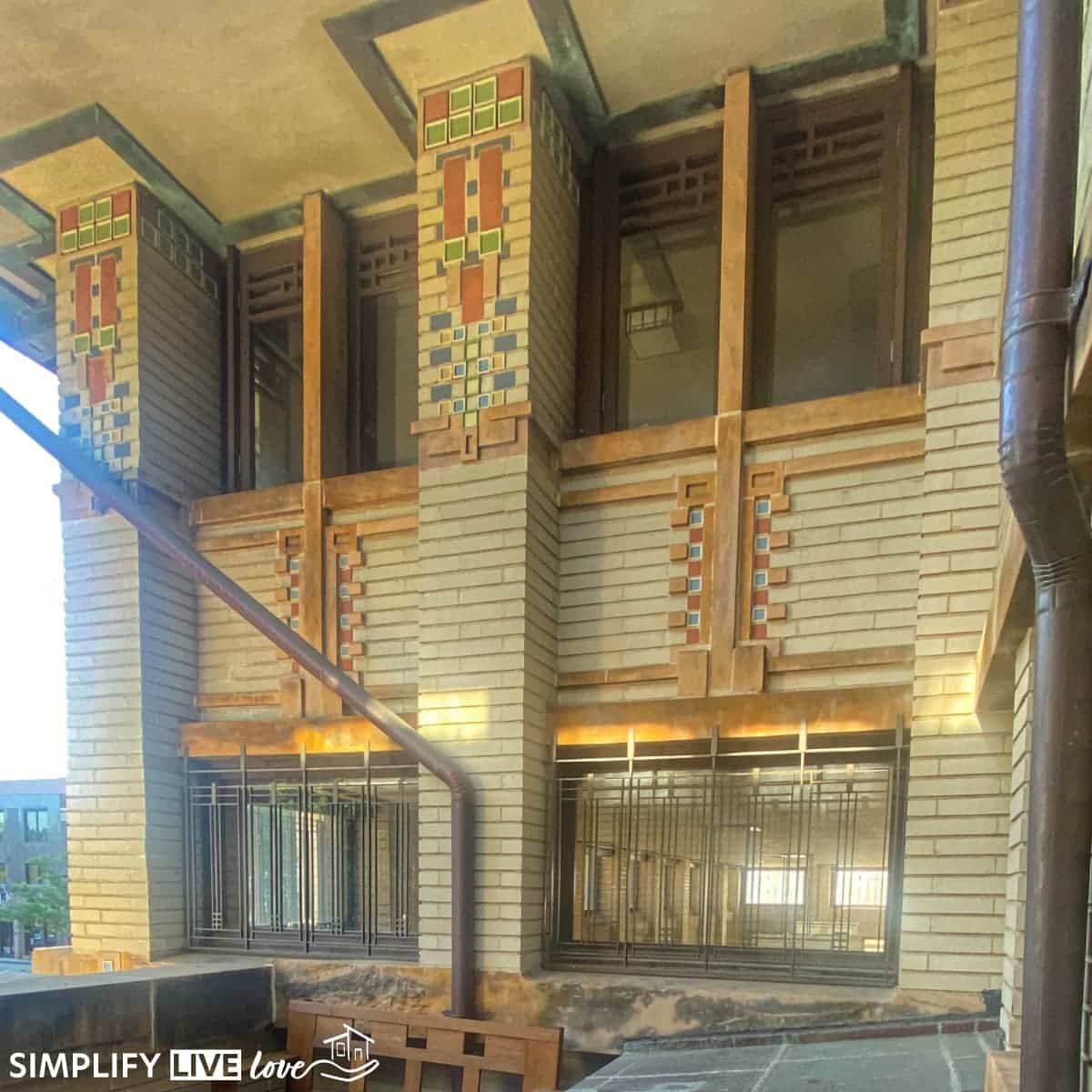 In 1957, world renowned architect Frank Lloyd Wright said, "The mission of an architect is to help people understand how to make life more beautiful, the world a better one for living in, and to give reason, rhyme, and meaning to life."
When you stay at the Historic Park Inn in Mason City, Iowa you gain a deep understanding of what that quote means.
Earlier this summer as part of the Midwest Travel Bloggers Conference 2022, I was treated to a stay at the Historic Park Inn Hotel in downtown Mason City, Iowa – the last remaining hotel designed by Frank Lloyd Wright.
I've been inside only one Wright designed buiding before – the Bachman Wilson House at Crystal Bridges Art Museum in Bentonville, Arkansas. I was struck by the simplicity of the Usonian design of the Bachman Wilson House, and also by its small size.
During my trip to Mason City, I learned that the Usonian design concept was Wright's attempt to build affordable housing during the Great Depression. As the wife of a home builder, I understand how challenging it is to build affordable housing. I was interested to learn that Wright thought about the concept way back when.
But I was most excited about my visit to Mason City because I wanted to stay at this hotel. Here's why!
9 Amazing Reasons to Stay at the Historic Park Inn (Mason City, Iowa)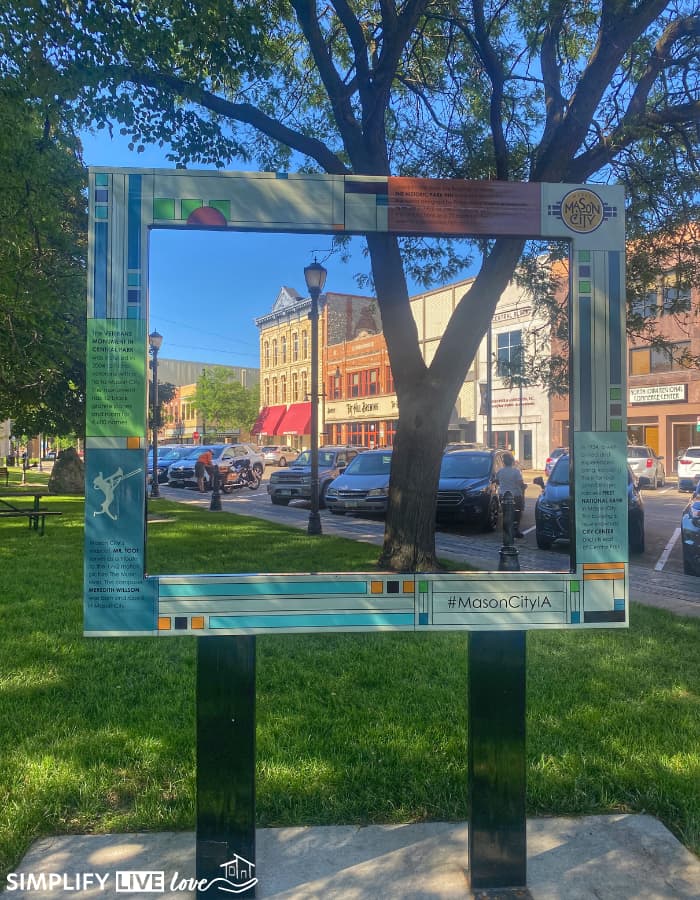 1. Convenient Location Between Des Moines & Minneapolis
This North Iowa town, the county seat of Cerro Gordo County, is known as one of the best cities for architect aficionados. Mason City is conveniently located between Des Moines and Minneapolis (a two hour drive from both cities), just off I-35. It's ten minutes from Clear Lake and about 3 hours from my home in Eastern Iowa.
2. To Stay at the Last Remaining Hotel Designed by Wright (in the world!)
What other chance do you have to stay at a Frank Lloyd Wright designed hotel? None – because this is the only one! Wright only designed six hotels, five which were built. But the Historic Park Inn is the only one left.
Included on the National Register of Historic Places, the Historic Park Inn was originally built in 1910. It was built as a multipurpose facility with an original cost of $155,000.
Wright designed the building to serve five purposes under one roof:
It was to house the City National Bank and the law offices owned by J.E.E. Markley and James Blythe, the two people responsible for bringing Frank Lloyd Wright to Mason City. It was also built to house retail shops, restaurants, and the Park Inn Hotel.
The original hotel consisted of 43 – 10×10 rooms. Each room had a single bed, dresser, sink, and they shared bathrooms. One original 10×10 room is left, but I did not see it.
The Park Inn Hotel opened for business in 1910 and was widely hailed for its design. In 1921, though, the effects of the farming crisis meant the building began to suffer. First, the bank went bankrupt.
Then in 1926, the building underwent a major remodel, and its style changed dramatically. Sadly, in 1972, the Park Inn Hotel ceased hotel operations and became apartments. The apartments didn't last long and the building was abandoned altogether. Where once a crowing glory stood – a dilapidated eyesore was left behind.
What do you do with a dilapidated eyesore? Some Mason City residents wanted to demolish it. Others wanted to sell it on e-bay.
In 2005, a group of motivated citizens formed the nonprofit group Wright on the Park and started fundraising for a major remodel. Six years and $18.5 million later, the hotel was fully restored and the Historic Park Inn reopened in the summer of 2011. It was a remarkable restoration and one that I hope you will learn about when you stay here!
The hotel now features 27 unique rooms, cubist lighting, inspired carpets, comfortable beds, and private bathrooms! I love staying at historic hotels and this has to be one of my favorites! I can't wait to go back to stay in a different room.
Check out another favorite historic hotel – the Hotel Julien in Dubuque hotel in this post!
3. To Learn About the Famous Architect, Frank Lloyd Wright
What better way to learn about Frank Lloyd Wright than to stay in a building he designed? The remarkable thing about this restoration was the level of attention paid to the details. Want to experience compression and lift first hand? Stay at this hotel.
Are you interested in historically accurate furniture? You will love the Gustav Stickley couch and the reproduction barrel chairs in the hotel common areas. And you'll also enjoy learning interesting details about Frank's life.
At 5'7," Frank Lloyd Wright was not a tall man. According to lore, he was a bit of a jerk and thought that anyone taller than 5'7" was a weed. (That makes me a weed.)
Unfortunately, Wright fell in love with the wife of a former client. When he took his lover to Europe instead of his own wife, he became shunned in many circles and was not welcomed back to Mason City. That means that while Wright did design the hotel, he never saw it completed. And it does not bear the iconic red FLW design stamp.
Instead, his co-worker and fellow architect, William Drummond, completed the original build. You'll learn these interesting tidbits about Wright and more when you stay at the Historic Park Inn!
4. See the Largest Collection of Prairie School Architecture in One Location
Who would have thought that the small north Iowa town of Mason City would have such a collection of architecturally significant homes? The Rock Crest – Rock Glen Historic District, within walking distance of the Historic Park Inn, is the largest collection of Prairie School Architecture in one setting in the world.
Walking about these neighborhoods is awe inspiring. I highly recommend taking a walking tour from Wright on the Park so you can get insider details about the owners, builders, and current status of the historic homes.
Book your walking tour of the Rock Crest – Rock Glen Historic District here. The cost is $10 per person. Private tours can be arranged.
Here are just a few of the amazing homes you can see on a walking tour of the Rock Crest – Rock Glen Historic District.
The Curtis Yelland Home designed by William Drummond (associate of Frank Lloyd Wright)
Joshua G Melson House
This beautiful home designed by Walter Burley Griffin is hard to see because it blends in so nicely with its surroundings. It's definitely one to stop and admire from afar!
The Blythe Home
Prairie School Design with a Mayan influence. I love the windows and the setting near the creek!
Rock Crest Usonian Home
Wright's take on affordable housing during the Great Depression. Apparently, this house has built-in permanent furniture and was the last historic home built in the Rock Crest neighborhood.
George C. and Eleanor Stockman House
This is the only Frank Lloyd Wright designed home in Mason City. Built in 1908, it served as home and medical offices for George Stockman. It was sold for $1 and moved from its original location when the Methodist Church wanted to expand its parking lot over the home in 1989.
According to Stockmanhouse.org, "The River City Society for Historic Preservation purchased the home and beautifully restored it under the direction of Mason City architects Bergland and Cram. Upon its relocation, the house was rotated so that its former North elevation now faces West."
5. Because You Appreciate the Arts
If you like art, you're in for a treat in Mason City. A highlight of walking around downtown Mason City is the 1.7 mile River City Sculptures on Parade loop. Featuring sculptures and murals by artists from around the country, kids will love this trail as much as adults!
From June to September each year, guests are asked to vote on their favorite sculpture to pick "The People's Choice Award." The winning sculpture will be purchased by the city to become the newest permanent addition to the sculpture walk!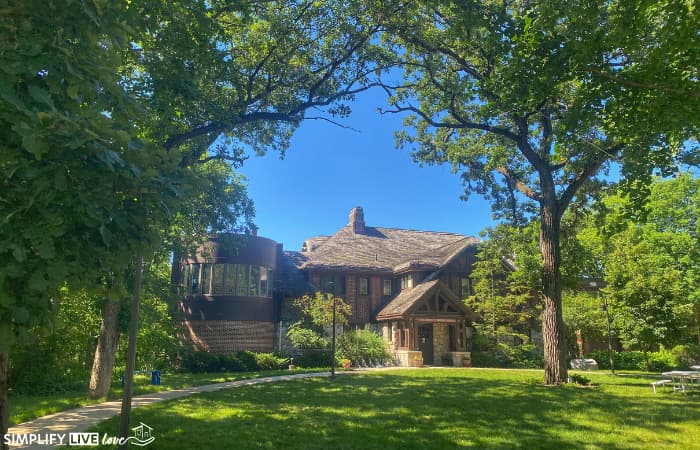 6. Visit Mason City, Iowa Because You Love the Sound of Music
Also a short walk from the Historic Park Inn, you'll definitely want to stop in at the MacNider Art Museum, especially if you're a fan of the Sound of Music! Located among an impressive Bil Baird (another talented artist from Mason City) World of Puppets exhibit, you'll find the original Lonely Goatherd marionettes from the Sound of Music!
Visiting the MacNider is a really fun thing for kids do in Mason City – with interactive exhibits and free admission. Your kids will really enjoy this stop!
303 Second Street SE, Mason City | 641.421.3666
7. Stay at the Historic Park Inn to Eat at Delicious Mason City Restaurants
You can find some really great food in Mason City! Here are a few of our favorite restaurants in Mason City, plus a few restaurants we've heard are really delicious from people we trust.
Northwestern Steakhouse
One of the best Mason City restaurants is the Northwestern Steakhouse. On Travel Iowa's 99 Restaurants to try list, this historic restaurant has been in business for 102 years and is one of the most iconic steak houses in Iowa.
If you go, make sure to have the steak and the spaghetti side. I love the Greek flare of this food and the steak cuts like butter. You won't be disappointed.
304 16th Street NW Mason City | 641.423.507
Blue Heron Bar & Grill
Another really good Mason City Restaurant to try is the Blue Heron Bar & Grill. Known for their Wish You Were in Vegas Bloody Mary, the Blue Heron Deluxe Burger, and homemade dressings, this restaurant hand cuts and batters all of their appetizers! Make sure to try the Fried Green Pepper Rings! Super tasty!
1401 N Federal Ave Mason City | 641.201.8561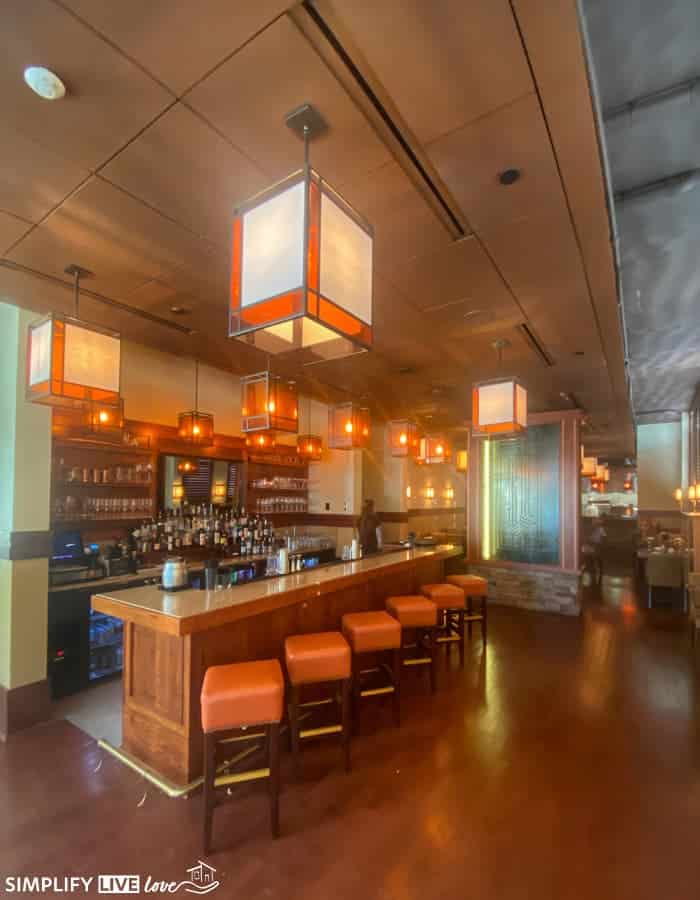 Markley & Blythe Tavern inside the Historic Park Inn
Located inside the Historic Park Inn, the menu is seasonally driven and sourced as much as possible by local farmers. We did not eat here, but I will fix that when we return to Mason City!
The Draftsman inside the Historic Park Inn
In the basement of the hotel, you'll find The Draftsman. If you like comfortable chairs, billiards, historic pictures, delicious charcuterie and fabulous drinks, you'll definitely want to head down there!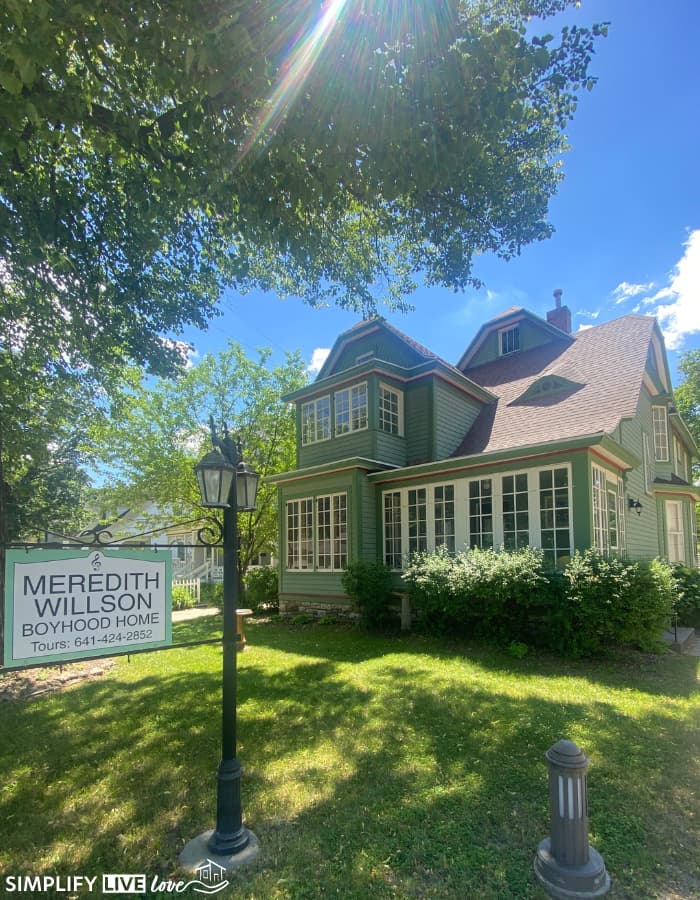 8. Say Hello to the Music Man – Meredith Willson
If you are a Meredith Willson fan (I will just admit that I live under a rock and hadn't heard of him before), you will definitely want to visit Music Man Square.
This huge indoor space features a replica city scape set in 1910 River City, complete with a museum dedicated to Meredith Wilson, an ice cream parlor, a movie theater and more. It's a great place to spend a hot summer day or a cold and rainy afternoon.
Accomplished musician, flautist, composer, and author of the Music Man musical, Willson studied at Juilliard and composed many famous songs including the Iowa Fight Song.
You also want to pop in next door at the Meredith Willson boyhood home. This cute Victorian style home reminded me so much of the home that I lived in during high school. I got side tracked and ended up walking ahead of the group – a faux pas on my part that got our group in trouble. Make sure to follow the rules when visiting this home. 😀
9. You Like Exciting Adventures and Comfortable Getaways
The best reason to visit Mason City, Iowa and stay at the Historic Park Hotel is because you like exciting adventures and comfortable getaways. You will certainly not be disappointed here. 🙂
Book your stay at the Historic Park Inn today! If you've been to Mason City, I would love to hear your thoughts!
If you liked this post on the Historic Park Inn in Mason City, Iowa, you will like these posts too:
Where the Music Died – Surf Ballroom & Buddy Holly Crash Site
Eastern Iowa Summer Bucket List Inspiration
Elkhart Lake, Wisconsin Weekend Getaway