Delicious Greek Steak Shish Kabob Sandwich Recipe
on Jun 08, 2018, Updated Oct 25, 2023
You don't have to dig deep into my blog archives to realize I really love Greek flavors! And this shish kabob recipe is another absolutely delicious and easy Greek inspired meal idea. Olives, feta, lemon, and oregano enhance just about any food, in my opinion and you'll find these flavors and plenty more in this quick and and easy recipe for a Greek sandwich made with steak shish kabobs.
*This post is sponsored by Ken's Dressings. All opinions are mine.*
The weather is heating up in Eastern Iowa and that means we're breaking out the grill. Grilling is a great way to keep the house cool. It's also fun to involve my husband in the cooking. However, this recipe is so easy that even if you can't get your husband out to the grill, you can absolutely make this quick Greek Sandwich yourself!
Turn this Shish Kabob Recipe in an Easy Greek Sandwich Tonight!
The first thing you need to do to make delicious steak shish kabobs is find the right steak. If you have an unlimited budget, the best beef cut for making tender shish kabobs is a filet mignon or a porterhouse. If your budget is a little bit tighter, I recommend using sirloin (it's what I use!) To save time, ask the butcher at your meat counter to cut the sirloin into 1″ cubes. They should be able to do that for you for free, and having the butcher cut the meat will save you time.
Marinating is the next big key to getting flavorful steak shish kabobs. A super easy way to marinate your meat is to use pre-made salad dressing! While it's not a lot of trouble to mix up your own marinade, using a pre-made salad dressing will save you time, and every minute counts when you're trying to feed a starving family!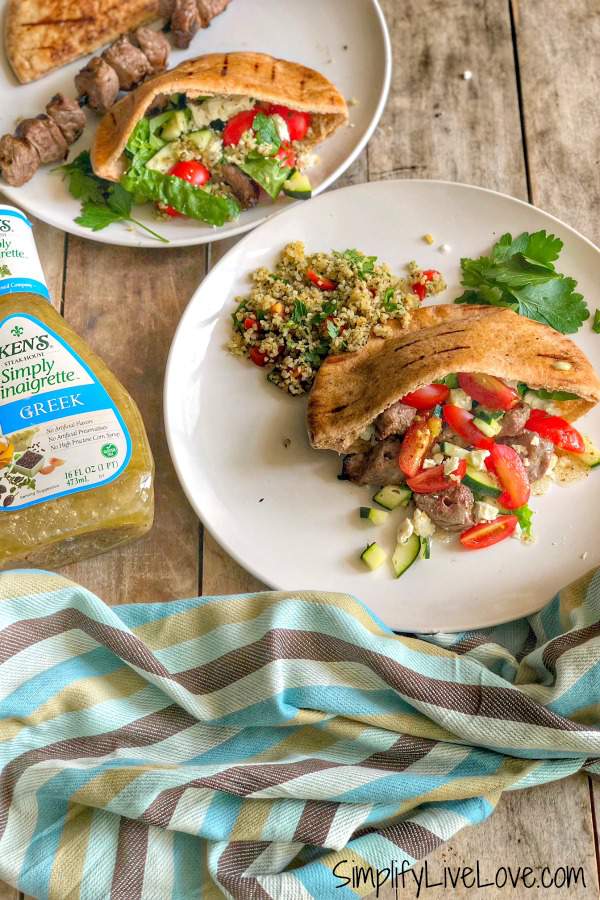 We really love Ken's new Simply Vinaigrette for marinating steak. The Greek version works very well in this recipe. And a quarter cup is all you need! If you're using a more expensive cut of meat, you can marinate more quickly – about a half hour. If you're using a less expensive beef cut, it's best to marinate your steak overnight for best flavors.
The Simply Vinaigrette Greek is the perfect marinade if you love Mediterranean flavors as much as I do! Ingredients include cider vinegar, garlic, and lemon giving the grilled beef for this Mediterranean sandwich a nice tang. My kids said these beef shish kabob were some of the best kabobs I've ever made! And that's a huge compliment coming from my children.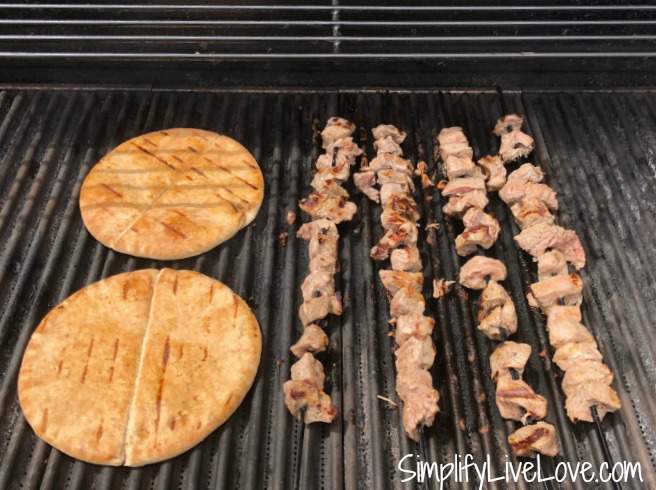 How to Grill the Steak Shish Kabobs
Fire up the grill and get it nice and hot. We use a gas grill so I just turn it on medium and close the lid to let it heat up. When the grill is almost hot, skewer the meat on your skewers. We use reusable metal skewers, but you can use whatever you want. If you use wooden skewers, soak them in water for 30 minutes ahead of time so they won't catch on fire. Now, put them on the hot grill and cook for about 2 1/2 minutes per side. That means you'll flip the skewers about four times. Brush a little dressing on the pita bread and heat for 30 seconds per side on the grill.

To assemble your easy Greek Sandwich:
Simply add steak, lettuce, feta, cucumbers, tomatoes and a drizzle of Ken's Greek Dressing to taste! That's it! Enjoy. Serve with olives, hummus, and fresh tabbouleh salad if you want. You can also skip the pita and just eat the ingredients deconstructed too!
Yield: 6
Make this Easy Greek Sandwich Shish Kabob Recipe Tonight!
Quick and delicious pita sandwich with Greek flavors. Made with grilled beef shish kabobs and loaded with veggies, this sandwich makes a great dinner or delicious lunch too!
Ingredients
2 lbs beef steak cut into 1 " cubes
3 pita rounds
1/2 cup feta cheese
1/2 cup halved cherry tomatoes
1/2 cup diced cucumber
Shredded Lettuce
Olives to taste
Instructions
Grill the Beef Skewers
Place steak cubes and dressing in an airtight container and marinate 30 minutes to 24 hours.
Heat the grill up to a medium heat.
Skewer the meat and grill for about 10 minutes, 2 1/2 minutes per side or until desired doneness is reached.
Assemble the Sandwiches
Brush a small amount of Ken's Simply Vinaigrette Greek Dressing on the pitas and heat on the grill for about 30 second per side.
Cut the pitas and half and fill with beef and your choice of lettuce, feta, cucumber, tomato, and more Ken's Simply Vinaigrette to taste.
Enjoy!
Nutrition Information:
Serving Size:
1/2 pita
Amount Per Serving:
Calories:

3118
Total Fat:

201g
Saturated Fat:

82g
Cholesterol:

802mg
Sodium:

2842mg
Carbohydrates:

110g
Sugar:

10g
Protein:

203g
Do you also love grilling in the summer? What's your favorite food to grill? Many thanks to Ken's for sponsoring this beef shish kabob recipe post! Please connect with them on their website, facebook, instagram, pinterest, and youtube.
If you liked this easy Greek Sandwich shish kabob recipe, you might like these posts too:
Greek Marinated Pork Loin for quick sandwiches
New Orleans Muffuletta Sandwich
Hot Oven Sandwich Perfect for the Freezer