Red Berry Yogurt Bundt Cake with Chocolate Cream Cheese Frosting?! Yes, please! You won't need a big slice of this rich cake, but you will love it.  Make it for your loved ones today. <3
*This post is sponsored by Nancy's Yogurt. All opinions are mine.*
Red Berry Yogurt Bundt Cake with Chocolate Cream Cheese Frosting
The combination of butter and yogurt make this cake almost pound cake like rich, yet keep it nice and moist. It's not a dry cake at all, nor is it hard to make. If you're looking for a recipe for a special dessert or breakfast or to take to coffee … give this one a try!
I hope you enjoy this recipe that I made in partnership with Nancy's Yogurt. You know we are big Nancy's Yogurt fans. Two weeks I bought 4 – 64 ounce tubs of their Organic Whole Milk Plain Yogurt from Azure Standard, and would you believe it's already gone? My family absolutely devours the yogurt.

You guys probably know that I don't make desserts that often, but when I do, they have to be rich, delicious, and include some sort of berry and / or chocolate. This cake is spot on and my family loves it.
Red Berry Yogurt Bundt Cake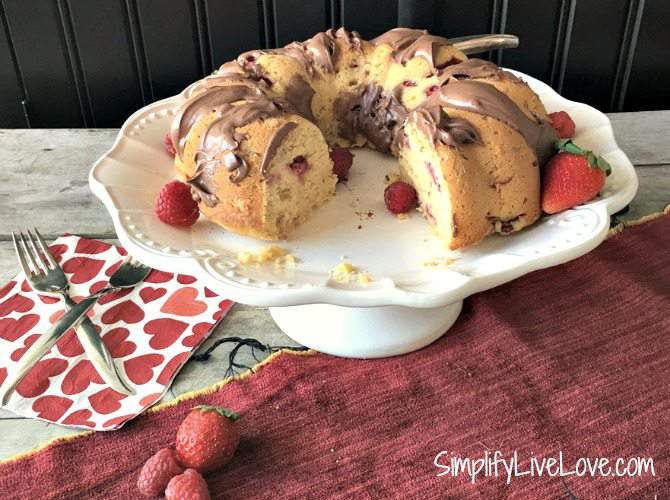 Ingredients
2 1/4 cups all-purpose, unbleached flour
1/2 teaspoon baking soda
1/2 teaspoon salt
zest of 1 lemon
1 cup butter, softened
3/4 cup sugar, I used organic raw sugar
3 eggs
2 tablespoons lemon juice
2 cups fresh red berries - strawberries, raspberries, currants if you can find them
3 tablespoons unbleached flour
Chocolate Cream Cheese Frosting
1/3 cup cocoa powder
1 cup powdered sugar
3 tablespoons milk or whipping cream
Instructions
To make the cake
Preheat oven to 325 and grease and flour a bundt pan.
Mix the flour, baking soda, salt, and lemon zest together in a large bowl.
With a stand mixer, cream butter and sugar until it's nice and fluffy. Add the eggs and lemon juice and mix well.
Gently mix in yogurt.
Mix the berries with flour so they won't bleed all over your cake and gently fold them into the batter.
Pour into a prepared bundt pan and bake at 325 for 50-55 minutes, or until a toothpick comes out clean.
Cool cake in the pan for at least 15 minutes. Then run a knife all along the edges and invert the bundt pan to release the cake.
To make the frosting
Beat cream cheese until fluffy, then add cocoa powder and powdered sugar. Add in milk or whipping cream until you reach the desired consistency.
Drizzle over the completely cooled cake. Enjoy!
Keep this cake refrigerated.
Nutrition Information:
Amount Per Serving:
Calories:

698
Total Fat:

3g
Carbohydrates:

148g
Protein:

34g
What's your favorite type of dessert to make?
SimplifyLiveLove is a participant in the Amazon Services LLC Associates Program, an affiliate advertising program designed to provide a means for sites to earn advertising fees by advertising and linking to amazon.com.