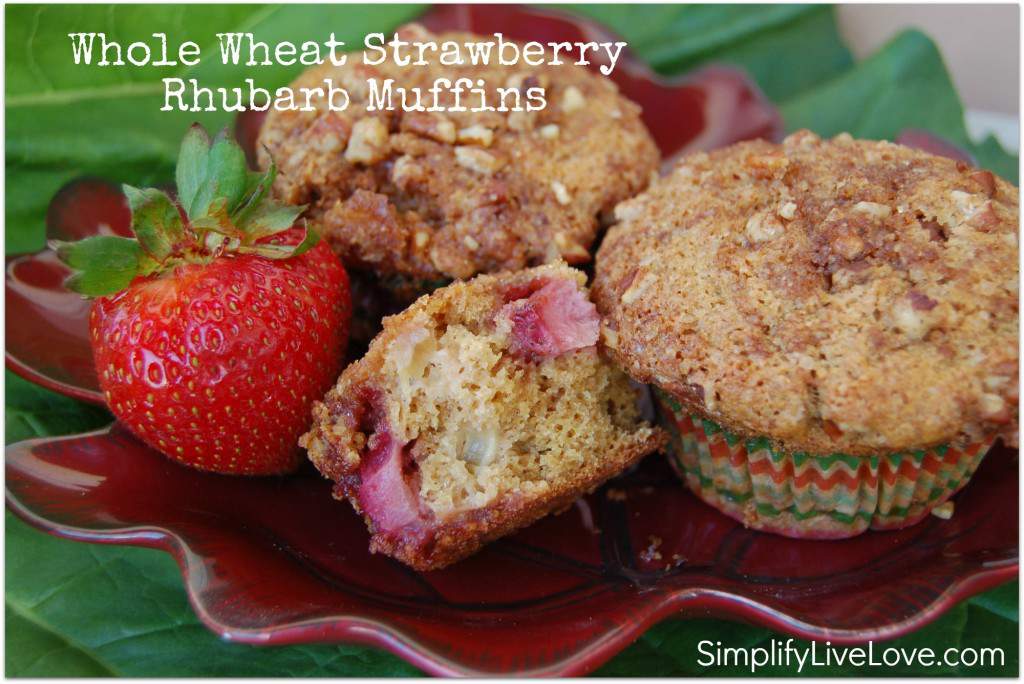 One of my favorite books is Barbara Kingsolver's Animal, Vegetable, Miracle: A Year of Food Life
. This book chronicles the author's year of eating only local food and is inspiring on so many levels. Eating locally can be very challenging – especially for fruit loving families who want to continue eating fresh fruit year round. Fresh fruit isn't really available in Iowa in the winter – but it is available a lot sooner in the spring than I thought if I consider rhubarb! And I love rhubarb. Best of all, if you're not shy and don't mind asking people, it's often free for the taking even if you don't grow your own!
Whole Wheat Strawberry Rhubarb Muffins
These muffins are delightful – tart and sweet at the same time, and they have a nutty crunch I love. YUM! I adapted this recipe from A Taste of Home. I suggest you double it, if you want your muffins to last!
Whole Wheat Strawberry Rhubarb Muffins
Ingredients
2-3/4 cups whole wheat flour (I use freshly ground hard white wheat)
1-1/3 cups packed brown sugar (I use one heavy cup raw sugar)
2-1/2 teaspoons baking powder
1/2 teaspoon baking soda
1/2 teaspoon ground cinnamon
1/4 teaspoon salt
1 egg
1 cup buttermilk
1/2 cup coconut oil
2 teaspoons vanilla extract
1 cup chopped fresh strawberries
3/4 cup diced rhubarb
Topping:
1/2 cup chopped pecans
1/3 cup packed brown sugar (I use raw sugar)
1/2 teaspoon ground cinnamon
1 tablespoon cold butter
Instructions
Preheat oven to 400 degrees. Prepare muffin pans.
In a large bowl, combine the first six ingredients. In another bowl, whisk the egg, buttermilk, oil and vanilla. Stir into dry ingredients just until moistened. Fold in strawberries and rhubarb. Fill greased or paper-lined muffin cups two-thirds full.
In a small bowl, combine the pecans, brown sugar and cinnamon. Cut in butter until mixture resembles coarse crumbs. Sprinkle over batter.
Bake at 400, for 18-20 minutes, or until an inserted knife comes out clean.
Enjoy!
If you like rhubarb, you might also like these recipes:
Do you like rhubarb? What's your favorite way to cook it?