5 Homemade Gourmet Vinegar Flavors to Make Easily at Home
on Oct 02, 2017, Updated Oct 24, 2023
These 5 Homemade Gourmet Vinegar Flavors to make easily at home are a great way to use up the fresh herb bounty you may have growing in your garden. Not only are they delicious and beautiful, but they're also super easy to make and are great gifts as well! Get a jump start on the gift giving season with this easy DIY!
Look at these beautiful gourmet vinegar flavors you can make easily at home! I have seen them for sale in so many gourmet stores for outrageous price tags, but you don't need to spend the money! Made with just about any type of vinegar you can buy at the store and fresh herbs from your garden, they're SO easy to make! They keep for 4- 6 months on your counter top or in your fridge – but they won't last long because they are delicious!
The flavor varieties for homemade gourmet vinegar are endless. Use whatever herbs and edible flowers you have growing in your garden and a high quality vinegar. Think apple cider vinegar, white wine vinegar, red wine vinegar (although it's hard to see the herbs in the dark vinegar), and champagne vinegar. Then head out to your garden if you have one, or the store if not, and grab some fresh herbs and spices. I combined everything in Clear Glass Beverage Bottles and closed them up with the included White Metal Plastisol Lined Lug Caps.  
5 Homemade Gourmet Vinegar Flavors to Make Easily at Home
Homemade gourmet vinegar can be used to liven up so many dishes. Use them in homemade salad dressings, to marinate meat, in fruit salads and other desserts, and in veggie dishes too. The options are endless. Here are the five different vinegar varieties I made to get your creative juices flowing!!
1. Gourmet Greek Garlic Herb Vinegar –
Fabulous for meat marinades and homemade salad dressings (like this creamy roasted garlic salad dressing) and delicious on roasted veggies too!. Combine two sprigs fresh oregano, one sprig fresh basil and one garlic bulb (separated into cloves and peeled) in two cups red wine vinegar.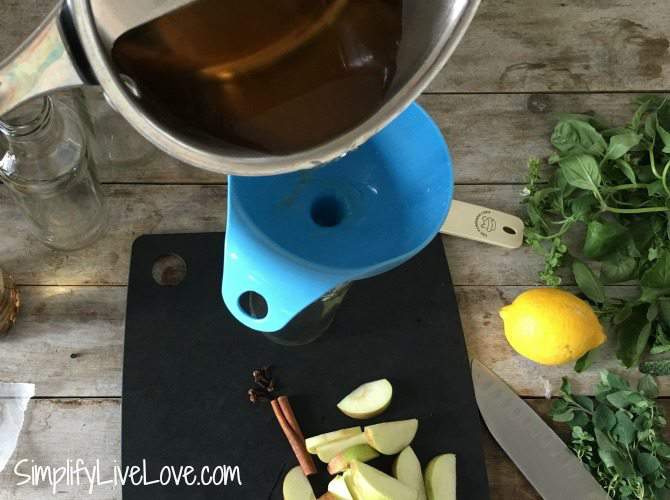 2. Gourmet Apple Cinnamon Vinegar –
Great for fruit salad and salad dressings. Combine 1 chopped apple with a handful of cloves and two cinnamon sticks in two cups apple cider vinegar.
3. Gourmet Marigold Vinegar –
Did you know marigolds are edible flowers? They are! Marigolds have a spicy, citrusy flavor and a marigold vinegar is nice addition to meat marinades and homemade salad dressings. Combine one cup marigold flowers with two cups champagne vinegar.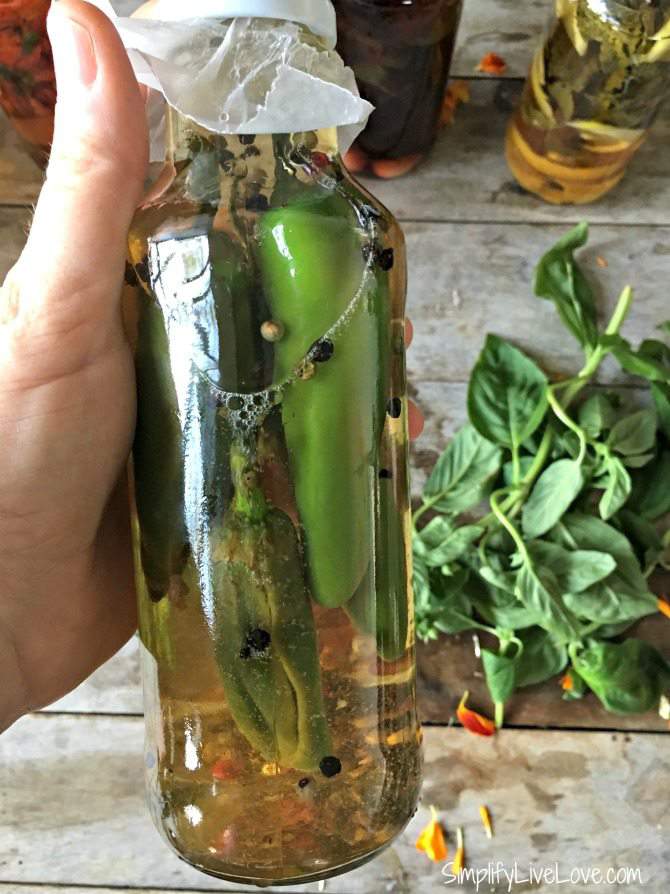 4. Gourmet Hot Pepper Vinegar –
Great for dipping sauce, homemade salad dressings, and meat marinades too! Combine one tablespoon peppercorns with five or six jalapeno peppers. Make sure to slit the peppers before adding them to the jar to really release their juices. Combine with two cups white wine vinegar for a delicious combination.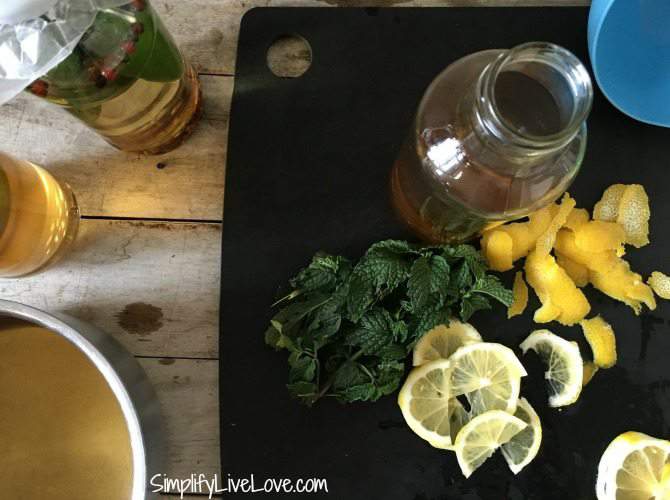 5. Gourmet Citrus Mint Vinegar –
Another great vinegar for fruit salads or as a meat marinade (especially for lamb). Combine two springs fresh mint with zest of one lemon (spirals if you can! And hats off to you!) plus several lemon slices in two cups apple cider vinegar.
In addition to vinegar and herbs, you'll also need these supplies for your homemade gourmet vinegar:
Glass beverage jars. You can use these cute glass flip-top jars or any other type of jar, including canning jars you may already have on hand.
You'll also need a funnel to assist in getting the vinegar in the jars. Because of the acidity of the vinegar, you will need to put a layer of wax paper between the vinegar and the lid if you use a  metal lid.
Printable instructions for the gourmet vinegars to make easily at home
5 Gourmet Vinegars to Make Easily at Home
Easy to make herbed gourmet vinegars make great homemade gifts and are a wonderful way to use up your garden bounty of fresh herbs!
Ingredients
2 cups vinegar of choice: red wine vinegar, white wine vinegar, apple cider vinegar, or champagne vinegar
Several springs fresh herbs, fruits, edible flowers, garlic, and or spices
Instructions
Sterilize glass containers by boiling for 10 minutes.
Heat vinegar to just below boiling.
Add herbs, fruits, spices, etc to jar.
Pour heated vinegar into the jar. Shake to combine.
Store jars in cool, dark spot for 3-4 weeks, gently shaking the jar every week to help the flavors meld.
After the desired flavor is reached, strain the vinegar to remove add-ins. Discard the herbs, vegetables or fruit. Pour strained vinegar into clean sterilized jars and cap tightly. A few sprigs of fresh herbs, fruit or spices can be added for a decorative touch.
Store in the fridge for 4-6 months.
Notes
NOTE: If flavored vinegar molds or shows signs of fermentation such as bubbling, cloudiness or sliminess, it should be discarded immediately.
Nutrition Information:
Serving Size:
1
Amount Per Serving:
Calories:

500
Sodium:

1400mg
Carbohydrates:

80g
Protein:

40g
Now that you see how easy it is to make your own gourmet vinegars at home, what varieties will you make?