Many thanks to Nancy's for sponsoring this post. If you like to maximize your time in the kitchen, you must make this lasagna recipe with cottage cheese. You'll end up with one lasagna for dinner the day you make it, another lasagna for the freezer, and enough sauce for a third meal of oven baked spaghetti – or plain ole spaghetti if you prefer! AND…you will sneak in a few veggies on your unsuspecting family. What are you waiting for? Get the ingredients and make it today!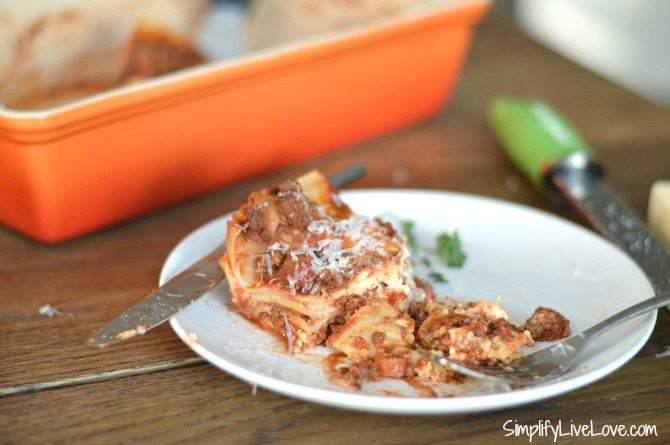 Over the years of cooking mostly from scratch, I have found that it's not too much harder to make a couple meals at a time than it is to prepare just one. It involves a little extra chopping and a few more ingredients, but for not too much longer than it takes to prep one meal, I can prep multiple at once. And having ready-to-go-meals in the freezer has saved us from expensive and unhealthy restaurant food more times than I can count!
Lasagna Recipe with Cottage Cheese
I've got a few items on my revolving menu that work really well for batch cooking and I enjoy sharing these recipes because I appreciate how much they simplify my life. Lasagna is one recipe that I always try to double because it really only adds a few more minutes to the process to make two lasagnas instead of just one. I know you will enjoy this recipe that yields enough for three meals with only one prep.
The majority of the work for this recipe is making the sauce, and that's mostly because I sneak in hidden veggies on my unsuspecting family and have to spend some time chopping. It annoys me that my kids balk at a recipe if they actually see mushrooms or things that resemble veggies, but they do. So I just hide them and they love my sauce anyway. I start this sauce around lunch time to save time in the busy evening hours, but you could also prep everything the night before and let the sauce simmer in the slow cooker all day if you're pressed for time during the day. I highly recommend starting any type of pasta sauce earlier in the day so it can simmer for last two hours. Letting tomato sauce simmer is key to a rich, flavorful pasta sauce you will love.
Yield: 3
Make Ahead Lasagna Recipe with Cottage Cheese & Secret Veggies
Make this rich homemade pasta sauce with secret veggies and then turn it into two lasagnas and of baked spaghetti. Eat one meal the day you make it and add two meals to your freezer for not much more effort than you would have spent on dinner prep alone!
Total Time
3 hours
40 minutes
Ingredients
For the sauce
3 lbs lean hamburger
2 large onions, finely diced
6 cloves garlic, crushed
2 cups carrots, finely diced or grated if you need to hide it from picky eaters
6 ounces fresh mushrooms, chopped in minuscule (unrecognizable) pieces if you have picky eaters
3 - 28 ounce cans crushed tomatoes
1/2 - 6 ounce can tomato paste
1 cup red wine (optional)
4 TBS Italian seasoning
1 TBS salt
1 tsp pepper
For the lasagna
16 ounces shredded mozzarella (2 - 8 ounce bricks)
2 - 16 ounce containers Nancy's Cultured Cottage Cheese
4 eggs
1 tsp dried parsley
1 1/2 - 12 ounce boxes of lasagna
1/2 cup shredded Parmigiano Reggiano
Instructions
To make the sauce
Over medium heat, brown all of the hamburger. My meat is really lean so I always cook the veggies along with it as it browns. If your hamburger is not as lean, you may want to saute the veggies separately from the meat so you can drain off any fat before adding the sauteed veggies.
When the meat has finished cooking, add the tomatoes, wine, and seasonings. Bring sauce to a boil, then reduce heat and simmer.
After the sauce has simmered for at least an hour, taste the sauce and add any additional seasoning you may need.
Continue simmering for at least another hour, if you have time, longer if you want.
Assemble the lasagna
Preheat oven to 375.
Mix cottage cheese, mozzarella cheese, eggs, and parsley. You can skip the eggs if you want, but they help bind the cheese and keep it from oozing out all over your pasta when you serve it.
Spread 2 cups sauce over the bottom of two 9x13 oven & freezer safe dishes. Add 2 cups cheese mixture, then cover with 3 or 4 lasagna noodles, depending on the size of noodles that you use. No need to cook the noodles ahead of time, even if they say no boil. There's enough sauce in this recipe that they cook up just fine.
Repeat until you have added four layers of noodles and end with 2 final cups of sauce. Then finish with 1/4 cup of grated parmesan cheese, more if you'd like. More cheese is always good, right?
Bake lasagna uncovered for 40 minutes. Then let rest 10 minutes before cutting.
Do not bake the second lasagna. Instead cover it with plastic wrap and then aluminum foil and freeze. To prepare it, remove from freezer and let thaw. Then bake at 375 for 40 minutes. Or, if you don't have time to thaw it ahead of time, you can bake it from a frozen state, but it will take at least an additional 30 minutes to bake.
You should also have a sufficient amount of prepared sauce left over as well. Place it in a freezer safe container and freeze it too.
A note on using cottage cheese instead of ricotta.
Ricotta is the traditional choice of cheese in lasagna and I sometimes use it. I have found, though, that I actually prefer using cottage cheese. It's not as expensive as ricotta, it has a lower fat content, and it's not as dry. I like my lasagna to be saucy and delicious, and I have better luck getting that kind of lasagna when I use cottage cheese instead of ricotta. I have to admit, I used to make fun of people who used cottage cheese in lasagna, but I have seen the light, and I honestly now prefer to use cottage cheese in lasagna!!! 😉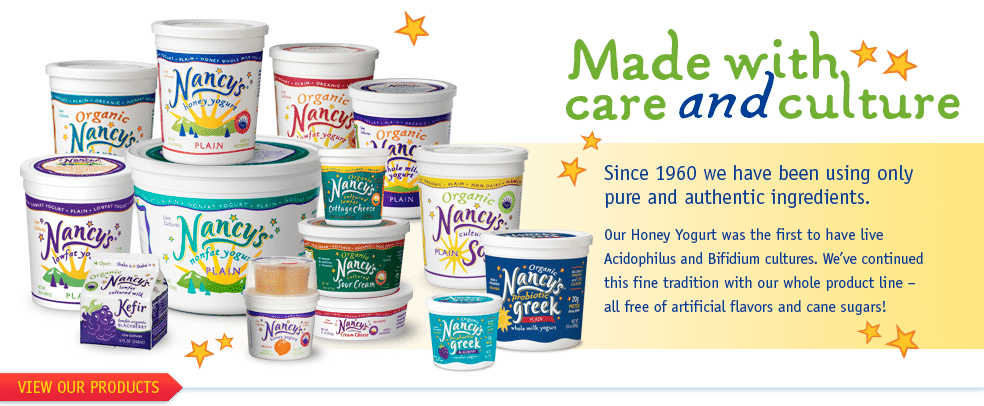 Giveaway from Nancy's Yogurt!
I'm excited to partner with Nancy's Yogurt (an Oregon based creamery) for a giveaway! Actually, I've got three giveaways going on and you can enter them all! The first giveaway is for a $50 Nancy's Prize Pack that includes a Nancy's T-shirt, Tote, Recipe Cards, Post-Its and Assorted Coupons (valued at $50). I've also got two more giveaways, one on Instagram, and another on Facebook, for (5) Free Nancy's Coupons (valued at $20) each! Be sure to enter the giveaway here via Rafflecopter, and then head over and enter the other giveaways too. Good luck!
a Rafflecopter giveaway