A quick easy and frugal DIY – How to Make Wool Mittens from Upcycled Sweaters. This quick project is fun to do with kids and give away!
Aren't these wool mittens super cute?! They are also very easy! If you're an expert sewer, you can probably look at the picture below and just make them. I'm not an expert sewer, unfortunately, and this simple project actually took me a little bit of practice and thought (not too much, though). I got the original idea here, from Martha Stewart. 🙂
If you're not sure how to felt wool, check out this video on how to felt sweaters. You'll need this skill to make these cute mittens.
How to Make Wool Mittens from Upcycled Sweaters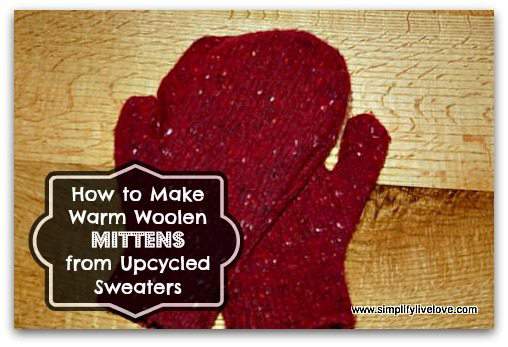 First, trace the hand you want the mitten for to make a pattern.
Add a 1/4 inch for your seam allowance and cut out the pattern. Then, pin it to your felted wool and cut out two pairs. You can use the same pattern for both hands. No need to make two patterns.
After you have two sets of mittens (4 total pieces of felt), sew two of them together wrong sides together. Then, turn them right side out and try them on!
Hopefully, they fit perfectly. If not, adjust as necessary. Repeat with the other two pieces of felt and put on your new mittens!

Now if I can figure out how to make the coordinating hat, I'll be happy… 🙂
Are you making any Christmas presents this year? I'd love to hear about it!