In the ongoing effort to make life run more smoothly, I'm sharing a new prep ahead weekly meal plan that's perfect for fall. If you're looking for ways to simplify getting a healthy and delicious meal on the table QUICKLY, this post is for you!
*This post contains affiliate links. Thank you for supporting my blog.*
Prep Ahead Weekly Meal Plan
For some reason, making and sticking to a weekly meal plan is something I seem to struggle with most of the time. Winging it doesn't really work that well, am I right? Hopefully this make ahead weekly meal plan will be as beneficial to you as it will be to me. 🙂
How a prep ahead weekly meal plan helps me:
Makes sure I have all ingredients on hand.
Reminds me to pull meat out of the freezer to thaw ahead of time.
Helps me save money by buying ingredients when they're on sale.
Helps me minimize food waste by using everything in my fridge.
Reminds me of quick tasks I can complete in the afternoons or mornings to make meal prep time easier.
How does having a weekly meal plan help you? Can you think of any more benefits?
Monday:
Beef sheet pan meal with root veggies (recipe coming this week) and brussel sprouts with bacon & parmesan. Prep ahead tasks: cut brussel sprouts in half, marinate beef chunks.
Tuesday:
Taco Tuesday using our favorite freezer friendly taco meat recipe! My kids' favorite meal of the week. Prep ahead tasks: make sure to have cooked beans on hand to help stretch the ground beef. Make taco seasoning if you don't have any on hand. Wash / prep veggies & cheese.
Wednesday:
Roasted Tomato & Butternut Squash Soup with Broccoli, Feta & Sunflower Salad and Crusty Artisan Bread. You can use your own homemade roasted tomato sauce for this recipe, or any of your favorite jarred sauces. Prep ahead tasks: chop veggies, make the artisan bread. Roast butternut squash.
Favorite kitchen tools that help me prep ahead
Thursday:
Salmon Street Tacos made using Homemade Blackening Seasoning & No Fuss Instant Pot Pinto Beans. Prep ahead tasks: thaw salmon. Make seasoning if you don't have any handy. Make pinto beans.
Friday:
Family Pizza and game night – try your hand at a DIY Pizza Bar or serve up these family favorite pizzadillas.
Saturday:
Beef Laab – Spicy Thai Beef Salad with steamed rice. Prep Ahead Tasks: cook rice in rice cooker or Instant Pot.
Sunday:
Pork Chops on the Grill. Fried Apples-n-Onions. Prep Ahead Tasks: chop apples and onions and store in fridge. Make sure you pork is thawed and ready to for the grill.
More posts to help you save time & money in the kitchen
15 Healthy Make Ahead Freezer Meals
Homemade baking mix recipes to help you cook from scratch
15 Ways to save money on organic food
5 Practical tips to help you start cooking from scratch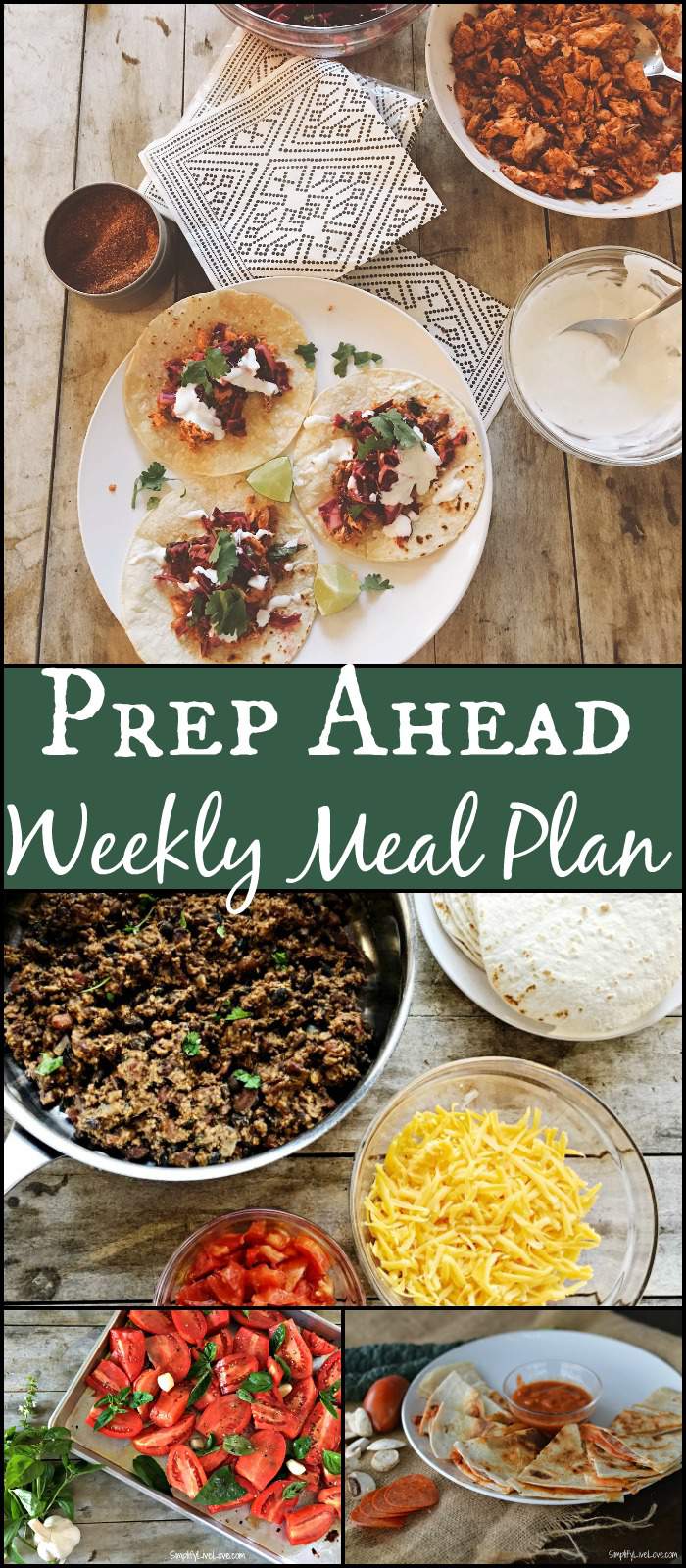 I love to hear from my readers! Leave me a comment and share a win or an area of household management where you are struggling!
SimplifyLiveLove is a participant in the Amazon Services LLC Associates Program, an affiliate advertising program designed to provide a means for sites to earn advertising fees by advertising and linking to amazon.com.