It's fun watching the weather change. While it's back to hot and humid out here in Eastern Iowa, I KNOW the weather will change. Soon, we'll be enjoying crisp fall air, falling leaves, and apple pies.
We're making fall goals this year to make sure we do some fun things with the kiddos. It's so easy to get stuck in the rat race and forget to enjoy life. If you need inspiration for fun fall activities, here's a long list of ideas you should accomplish this fall.
50+ Fall Bucket List Ideas Every Family Should Try
Go to a pumpkin patch with your family. If you're in Iowa and need recommendations, here are some of our favorites!
Go apple picking – again, here are some great apple orchards to visit around Iowa.

How about a weekend drive in the crisp air to check out the fall leaves? It looks like peak fall color will be delayed to October for much of the US this year, but be sure to hit the road soon!

Make a fall recipe using pumpkins or apples, like these delicious pumpkin scones.
Check for fall activities at a local county park! Need inspiration in Iowa? Here's a post with lots of ideas.

Ask your kids if they'd like to help plant spring flowering bulbs. Let them pick out some beautiful flowers they might like to help plant!Rake a pile of leaves and then jump in it with the entire family.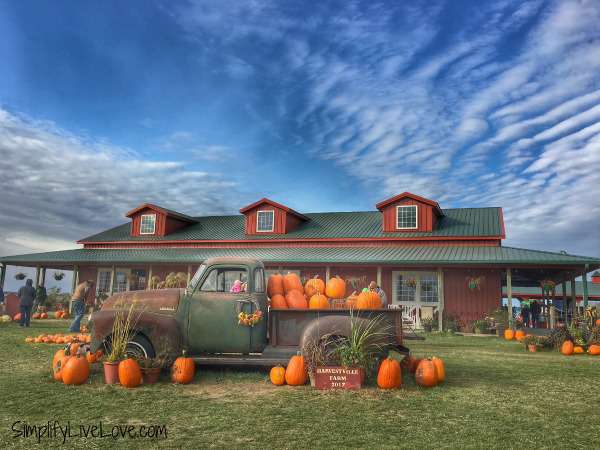 Go to your local high school football game.

Tailgate in your garage.

Have friends over for breakfast.

Create a fall scape on your front porch using pumpkins and mums. Then keep those mums looking great with these tips.

Get lost in a corn maze!

Buy a pie pumpkin and make a homemade pumpkin pie from scratch.
Leave the cell phones at home and go on a nature walk together as a family.

Host a bonfire and eat s'mores.

Make hot chocolate over a campfire.

Pop popcorn the old-fashioned way – on your stove or over a campfire.

Go on a hay rack ride.

Enjoy a fall themed drink like pumpkin spice lattes, hot apple cider, or a local fall beer brew.
Try on Halloween Costumes just for the fun of it. If you get really crazy, make your own costumes while you're at it.

Gather pine cones and acorns. Fill mason jars and make a pretty fall tablescape for your home.

Read the book

Leaf Man

by Lois Ehlert and make your own leaf art – together as a family.

Go to one last farmer's market and buy a new fall squash to cook for dinner.

Find some spooky stories and tell ghost stories at dark.

Go outside after dark and look at the stars. Compare them to the summer stars and see if you notice a difference!
Carve a pumpkin. If you don't want to use knives, here are several fun non-carving pumpkin decorating ideas too!

Save the pumpkin seeds and roast them in your oven.

Decide on one homemade gift idea for Christmas and get a jump start on your gift ideas.

Have a dance party and dance to the Monster Mash.

Go geocaching.

Pull out a map and head to a town nearby that you've never been to before.
Take a family photo among the changing leaves.

Make a wreath out of sticks.

Watch a family friendly movie – Ghost Busters, Harry Potter, Hocus Pocus, The Addams Family. What would you add?

Make a cornhusk doll.

Complain about daylight savings time. LOL

Collect leaves and make leaf prints by painting the leaves and pressing them Host a on paper.
Make a scarecrow.

Play flashlight tag outside.

Learn about the

Day of the Dead

and watch Coco to celebrate.

Think of something fun trick for Halloween and then make sure to demonstrate it when you go trick or treating.

Visit a haunted house and get scared out of your mind (or as much as you can handle)

Make (or just eat) candy apples.
Bob for apples

Find a fall festival to attend – balloon festival, renaissance fair etc.

Gather food for the local food bank.

Start a gratitude jar with your family.

Plant radishes in a pot and harvest before winter! Here are several ideas for quick growing fall plants you can still harvest before winter!

Host a Harvest Share Party and invite friends to share and trade their bounty.

Eat a candle-lit harvest themed meal outside.

Bake family deserts while making a scrapbook of the recipe and its history in your family.

As a family, reflect on the most fun fall activities and create both a winter and a summer bucket list too!
Creating a fall bucket list is a great way to stay connected as a family, learn about the changing seasons, and get outdoors off electronics. What fun fall activities would you add to our list?