There are so many fun, festive things to do in Pella, Iowa at Christmastime! If you want to experience a European Christmas market, decor, and traditions without the hassle of going overseas, Pella is the place for you. You definitely need to plan a trip to this quaint Iowa town during the holidays. You will not be disappointed!!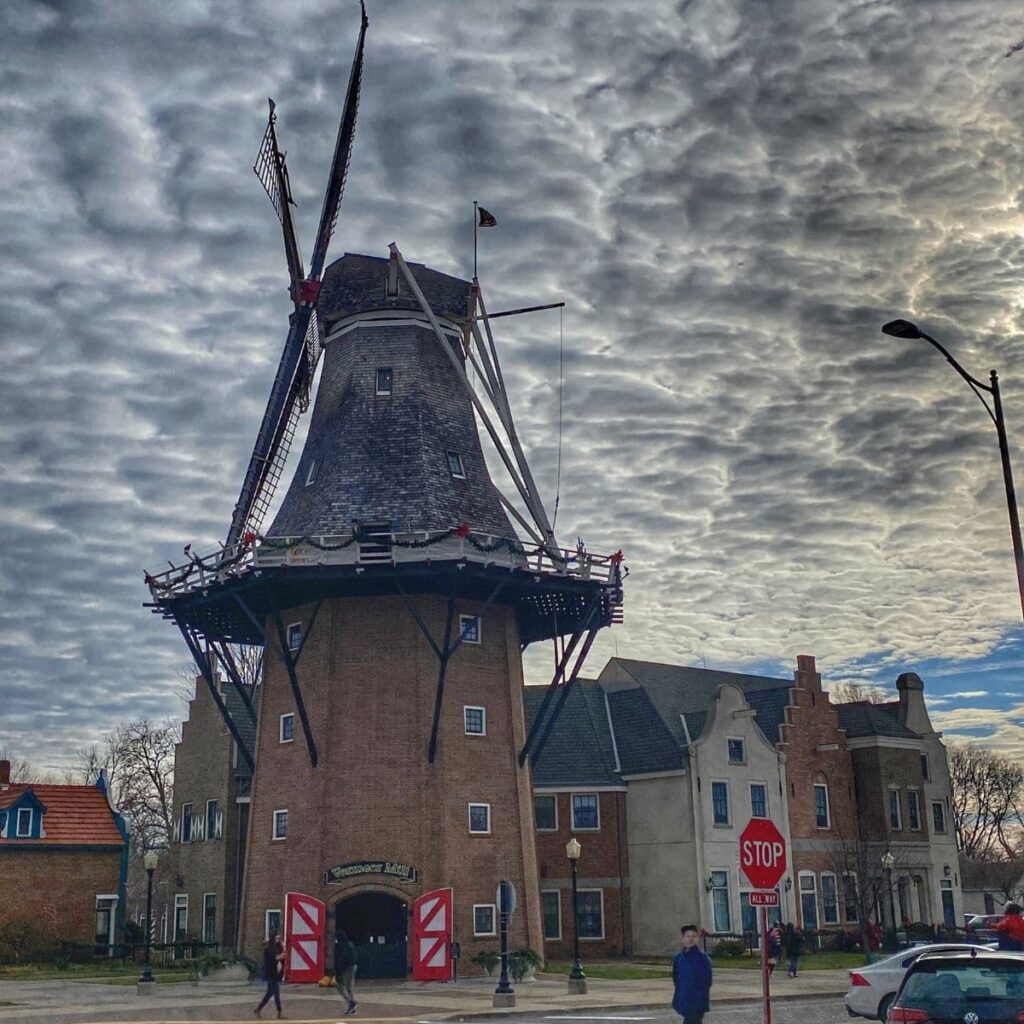 My trip was sponsored by Visit Pella. All opinions are mine.
Experience a Bit of the Netherlands Right in Iowa!
Located off Highway 163 in Central Iowa about 50 minutes southeast of Des Moines, is the cute town of Pella. Here you'll find a rich European heritage alive and well.
Pella's a small town located in Marion County with about 10,000 people and a proud Dutch heritage. Visiting Pella, Iowa is like stepping into a European village without having to fly, deal with TSA, or even foreign languages.
Imagine getting in your car for a short drive and ending up in an entirely different country only a short time later. There aren't many options for quick and easy foreign travel in the Midwest, but it is possible in many parts of Europe.
I have so many stories of quick day trips to foreign countries when I lived in Germany as a child. It sometimes makes me a little sad that I can't give my kids the same experiences. But I recently found out that we can experience something similar here in Iowa too with a quick trip out to Pella!
Filled with quaint buildings, fun shops, delicious bakeries, meat shops, restaurants, and the Vermeer Windmill – the tallest working grist windmill in the United States, it's easy to see why people like to visit.
Many people head to Pella for their annual Tulip Time Festival in May, but Christmastime is another great season to plan a visit.
History of Pella
Pella was founded in 1847 when Dutch Minister Dominie Hendrik Scholte and 800 of his followers left the Netherlands in search of religious freedom and settled in the area. Many American towns have lost their European features over the years, but not Pella. Instead, Pella has embraced and expanded on its Dutch Heritage to turn it into the most European looking town in Iowa.
Pella is most famous as the home of Pella Windows and for the annual Tulip Time Festival. Hosted since 1935, this festival has changed in scope and offerings over the years. It's currently a 3 day festival that draws over 150,000 people and features over 200,000 tulips! If you haven't been, you need to plan a trip to attend Tulip Time. It is such a fun festival!
The Dutch Fronts Architecture Program started in the 1960s and helped make downtown Pella look Dutch by restoring and enhancing store-fronts into the tall, narrow architecture style common in Holland.
In 2001, the Molengracht Plaza, complete with an authentic Dutch-style canal, brick walking paths, Dutch-style buildings, and many lovely flower beds, was finished. Finally, the Vermeer Windmill and its interpretive center were completed in 2002!
For many years, Pella has looked uniquely Dutch. Even the Casey's Gas Station and the Pella McDonald's have a decidedly Dutch feel to their architecture! So a visit to Pella does seem a bit like traveling to a quaint European country.
Things to do in Pella Iowa at Christmas Time
During the holiday season, Pella really embraces its unique Dutch heritage and transforms into something out of the story books. It only stands to reason then, that Christmas is a lovely time to visit Pella! Here are just a few of the fun things to do in Pella, Iowa during the holidays!
Take a look at Pella's Christmas Brochure for all details, including times and dates.
Pella Historical Village Christmas
Make sure to stop in at Pella's 22 building Historical Village! The Historical Village, Vermeer Windmill, and Wyatt Earp House are very conveniently located right next to each other. Experience the lovely buildings all decked out for Christmas. Visit Wyatt Earp's Boyhood Home and take a tour of the Vermeer Windmill.
Historical Village | Address: 507 Franklin Street, Pella
Kerstmarkt – Christmas Market
New for 2021 was the Kerstmarkt – the Dutch version of the Christmas Market. Inspired by the outdoor holiday markets famous across Europe, the Kerstmarkt includes local vendors, food, drinks, and live music. It's coming back – hopefully bigger and better in 2022 and you won't want to miss it!
Kerstmarkt | Molengracht Plaza, 700 Main Street, Pella
Sinterklaas Arrival Parade
Who's Sinterklaas?! Sinterklaas, or Saint-Nicolaas, is a legendary Dutch figure based on Saint Nicholas, the patron saint of children. In the Netherlands, Sinterklaas fills children's shoes with treats and goodies on December 5th.
You can also watch Sinterklaas' arrival in Pella via boat during a short children's parade!
Take a Horse Drawn Carriage Ride
You can take a horse drawn carriage or wagon ride on many Fridays and Saturdays in November and December. We were thrilled to ride in the Surrey Carriage pulled by two beautiful Percheron horses from Plume Hill in Newton.
I got to ride up front with the driver so he had to answer all of my questions. I always look for the percherons at the Iowa State Fair so I was thrilled to see them in Pella!
Watch a Christmas Movie at the Pella Opera House
The historic Pella Opera House hosts a lot of fun music events as well as the Festival of Trees during November and December. They also have movie showings, so you'll want to consider timing your visit to take in a holiday event at the Pella Opera House too!
Pella Opera House | 611 Franklin, Pella
Pella Christmas Tour of Homes
I love walking through historic homes and learning not only about the history of the home, but also about the people who lived there. We were excited to tour the Scholte House Museum and the Historic Rock House on the 2021 Pella Christmas Tour of Homes. Both houses were decked out in lovely holiday style and the hosts were so forthcoming with all the details I love to hear!
Eat a Dutch Letter or Saint Nick Cookie
There are several Dutch bakeries where you can find a Dutch Letter or a Saint Nick Cookie. If you're in Pella, I think you should try them both!
Jaarsma Bakery | 727 Franklin Street, Pella & Vander Ploeg Bakery | 711 Franklin Street, Pella
Try Traditional Dutch Food
If you've never had Stamppot, Oliebollen, or Poffertjes – you'll definitely want to try all of them when you're in Pella. Staampot is a mashed potato bowl, oliebollen are fried dutch pastries, and poffertjes are like little pancakes. All are great! We tried them at #Dutchfix near the Molengracht Plaza. Also very highly recommend their french fries and dipping sauces! Very delicious!
#Dutchfix Downtown | 621 Franklin Street, Pella
Shop in the Cute Stores
There are so many shops to explore on Franklin Street! We really loved the fun Christmas decor at Blush, grabbing a homemade croissant at the Bread Board, and a coffee at Smokey Row. You'll also want to check out Ulrich's Meat Market and take home some Dutch bologna.
Take Home Some Gouda Cheese
You'll definitely want to take home some traditional Dutch cheese as well! Frisian Farms makes a traditional artisan Gouda in their Cheese House.
They also offer samples at the Kerstmarkt. We loved them all! If you're a cheese fan, you can tour or watch as they make their cheese too!
Frisian Farms Cheese House | 2098 Fisher Ave, Leighton (off Hwy 163 between Pella and Oskaloosa)
Listen to the Klokkenspel
I have always been fascinated with the Dutch language. Since grew up speaking German, I se a lot of similarities between German and Dutch. I like to pretend that I can understand Dutch, but I really can't.
While you're in Pella, you want to listen for the Klokkenspel, which sounds an awful lot like the German Glockenspiel. Both terms refer to the chiming of bells and the Klokkenspel plays Monday through Saturday at 11 am, 1 pm, 3 pm, 5 pm, and 9 pm.
Where to Stay in Pella
Pella has lots of places to stay if you're in need of accomodations. We stayed at the Grand Stay Hotel and Suites just a bit out of town. The Amsterdam Hotel is located right in the heart of Pella off the Molengracht Plaza, if you're looking for a boutique hotel in downtown Pella. And the little Historic Rock House is also a vacation rental on airbnb when it's not part of the tour of homes.
We really recommend visiting Pella. You'd have fun anytime of the year, but a holiday visit is certainly special. Make sure to download the visitor's guide from Visit Pella so you can plan your trip to this cute Iowa town!
I'd love to hear your experiences of Pella during the Holidays! Have you been?
If you're looking for more unique Iowa Travel experiences, I recommend the following:
Art, History, Culture & More in Dubuque, Iowa
Outdoor Adventure in Fort Dodge Iowa
7 Beautiful Eastern Iowa State Parks