Springfield Missouri offers a lot of really entertaining and educational things to do. Springfield has long been a destination on my list of places to take my kids and we finally did it.
We didn't manage to see everything, and I'm ready to head back there again soon. If you follow me on Instagram, you probably know we were there as I posted during our trip. If you don't follow me on Instagram, what are you waiting for?! It's my favorite way to connect with my readers.
I'm excited to share the fun things we did on the trip: visit Wilson's Creek National Battlefield, eat at Lambert's Cafe, head over to the Bass Pro Shop, and then drive out of Springfield to Mansfield, to tour the Laura Ingalls Wilder Rocky Ridge Farm and Baker Creek Seed Store & Village, as well.
5 Fun Things to do with Kids in the Springfield Missouri Area
We had a great time at the Wilson's National Battlefield. Not only did we learn more about the Civil War than I have ever learned before, but the kids really enjoyed hiking around the area and seeing authentic cannons that were actually used there during the Civil War.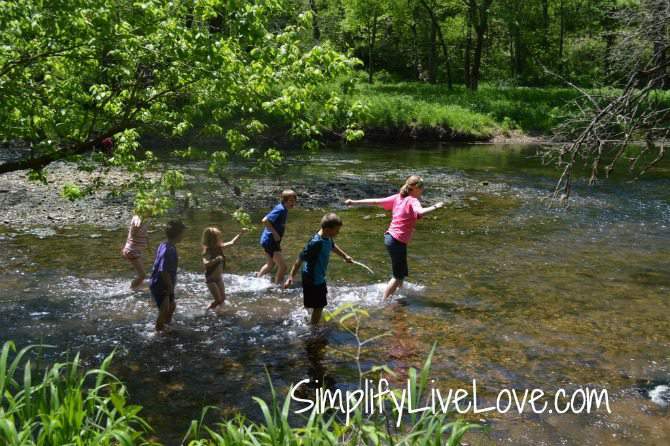 The Visitor's Center was our first stop. Here, the kids picked up a Junior Ranger Program Booklet and we all watched a movie about the role Wilson's Battlefield played during the Civil War. The video was very interesting, but it was a tad scary for my five year old.
At once point during the video she whispered to me, "Mom. But we just came from Springfield and it was all okay there!" I had to do some pretty quick explaining that all of the events the video mentioned happened a long, long time before we we there, and no war was currently be waged there.
We learned such interesting facts about Missouri's role in the Civil War. While Missouri was officially part of the Union, it was hotly contested as many of its citizens sided with the South.
Did you know that the first Union General killed during the Civil War died here? Or, did you know that Missouri had the third most number of battles of any state during this time?
I had no idea, and I lived in Missouri for eight years, and graduated from both a Missouri high school and college! We really enjoyed our day at Wilson's Battlefield.
We spent a good part of the day there between the Visitor's Center, hiking, and touring houses on the driving path. I highly recommend a visit to this amazing part of American Civil War history.
2. Eat at Lambert's Cafe – The ONLY home of throwed rolls…
If you've never been to Lambert's Cafe – I highly recommend stopping in. It's a family-style restaurant, famous for its delicious comfort food and also for the rolls they throw.
It was the perfect place for our seven rowdy children as it's loud and food always ends up on the floor. We didn't have to worry about them a bit.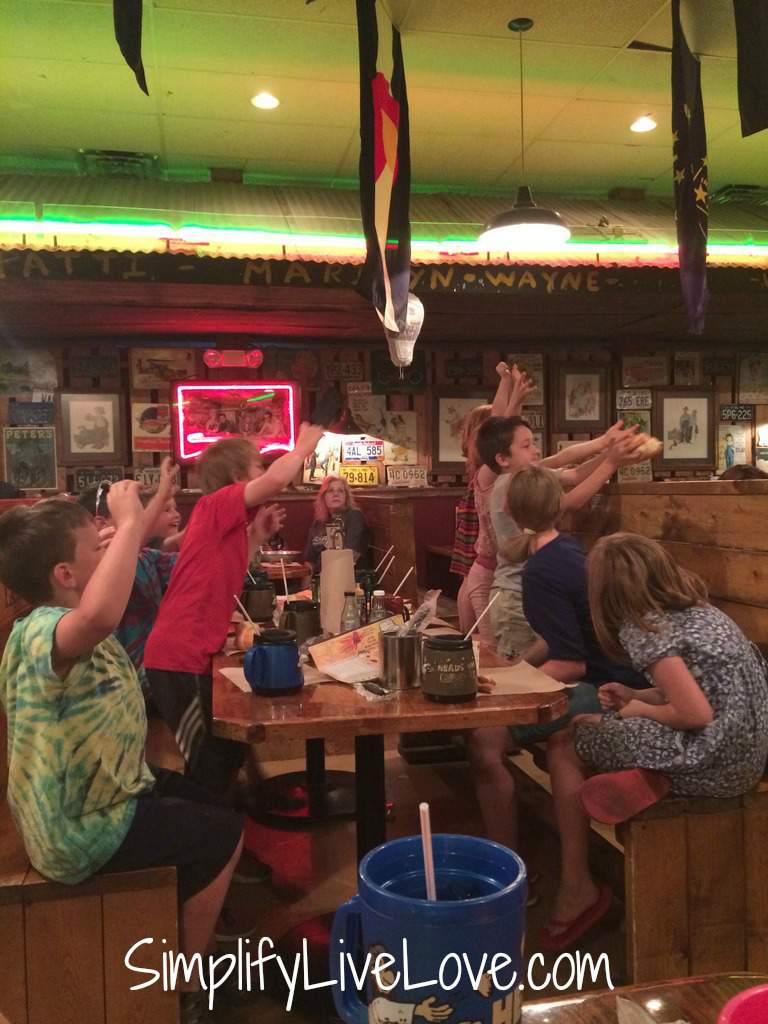 Yes, please to the throwed rolls! Restaurant employees push a huge cart of delicious, home-baked rolls which they serve by throwing them at you. Better catch them, or they end up on the floor ( if they end up on the floor, you don't have to eat them of course :D).
If you go to Lambert's, and I highly recommend that you do, go hungry. They serve HUGE portions, and in addition to throwing you all the rolls you want, they also serve pots of fried okra, tomatoes & onions, fried potatoes, and more – just in case the portions they serve aren't big enough. Which they totally are.
We loved the family friendly nature of this restaurant as well as their food. A must stop on your way through Springfield.
It might seem a little strange to include a store on my list of fun activities to do with kids, but we really love the Bass Pro Shop in Springfield, Missouri. It's the biggest Bass Pro (except I do believe they are in the process of opening or just opened a bigger one somewhere in Texas), and the kids love walking all over this store. There are live fish to see, tons of taxidermy to take in, and of course the Marine Center (named after us of course…).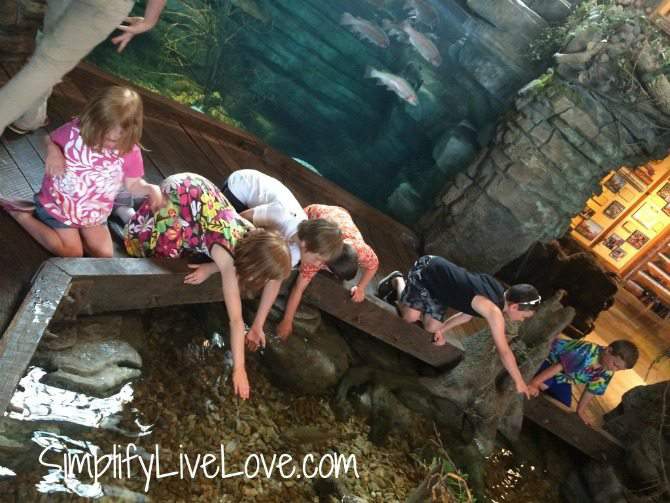 Bass Pro Shops also recently started a kid's club which all of my kids were thrilled to sign up for. They gave them a nice box and a bunch of information cards about animals.
The cards kept my kids occupied during our driving time and I really appreciated that! They'll have a new set of cards available each month, so if we happen to get back to another Bass Pro Shop, we can collect the next set of cards.
Rocky Ridge Farm is not really in Springfield. It's actually in Mansfield, about 50 minutes east of Springfield. It really was the reason for the trip. Mansfield is a pretty small town, and a trip there is best staged from Springfield, in my opinion.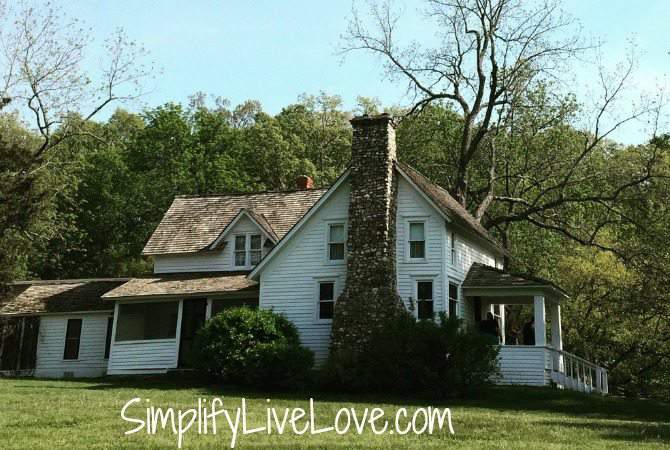 Rocky Ridge Farm was the adult home of Laura Ingalls Wilder. She and Almonzo built moved there with their young daughter Rose after all of their terrible setbacks during their early marriage. I can't tell you how many times I have read the Little House on the Prairie series.
If you don't own the boxed set of Little House books, I highly recommend buying it. In my opinion, these nine books belong in every American's library. I'm a huge fan and because I remember visiting Rocky Ridge Farm when I was young, I was so excited to take my kids.
When Laura died in 1958, her daughter Rose essentially closed the doors to the house and left everything the way it was – down to the mail on the table and shawl hanging on the chair. The house is so, so interesting to see and very fun to tour due to all of the personal effects that are still there.
If you go to Rocky Ridge Farm – make sure you also see the stone cottage Rose built for Laura and Almonzo. It was the first house in the area to have electricity as Rose paid the city of Mansfield $3,000 to put up electrical poles. It's a gorgeous home and also the spot where Laura first wrote her books. Laura and Almonzo lived there for eight years before moving back to their beloved wooden house.
They sold this farm and it was only reacquired by the historical society in the 1990s. Check the schedule to make sure you can see both homes when you visit as you won't want to miss either one.
While we were on this tour, I learned about Laura's new annotated autobiography Pioneer Girl and am very excited to start reading it! I never knew the controversy surrounding her Little House series and can't wait to learn how her reality differed from what she portrayed in those books.

Visiting Baker Creek, also located outside Mansfield, is another place that has long been on my to-do list because I love the seeds I order from them every year for my gardens.
This year we were lucky enough to head out to their Spring Planting Festival and we were not disappointed. This great festival was very family friendly and had a lot of activities for the kids to do.
The prizes for the kids' games included only organic candy which made me very happy.
Baker Creek Pioneer Village was a lot of fun with buildings to visit, delicious food to buy, and awesome music entertainment. The kids enjoyed climbing on the covered wagon and looking at the animals.
Face painting, hunting for real money in a huge sand pit, shooting ping pong balls with squirt bottles – all these old fashioned activities really kept the kids entertained.
The only downside to our day at Baker Creek was I really wanted to tour the gardens and learn more about their seed selling business. There were so many people there – many more people than I ever imagined would be. So I guess now, I just get to go back!
Of course there are many more things to do in the Springfield area. We couldn't get everything in during our three days there, but we sure did enjoy the activities we chose. I'd love to hear if you have been to any of these places and about other places you'd recommend in the area! Please comment with your thoughts.