Fall mums are an awesome addition to your fall decor! If you'd like to keep your mums alive and beautiful all season, you need to know how to care for mums in the fall. These five tips are all you need to know for beautiful, long lasting mums this fall.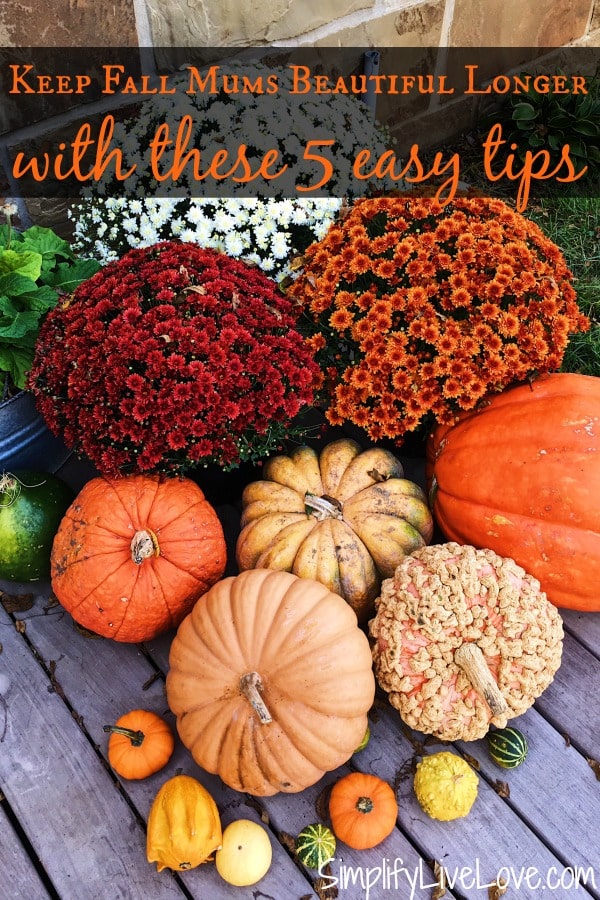 *This post contains affiliate links. Thank you for supporting my site.*
I love decorating with fall mums – available in many colors and varieties, mums are a great addition to your outdoor fall decorating scheme. The have long lasting blooms and look great in pots and landscape as well! Check out all of these pretty ways to decorate with mums from Midwest Family Living! Like most things in life, a little effort will keep your mums looking their best all season long!
How to Care for Mums in the Fall
Re-pot fall mums after you get home
It's important to give your mums room to grow. Most mums you buy at the store are totally root-bound so make sure to check your mums and put them in a pot at least twice their current size if you want them to keep growing all season.
Place your fall mums in an good location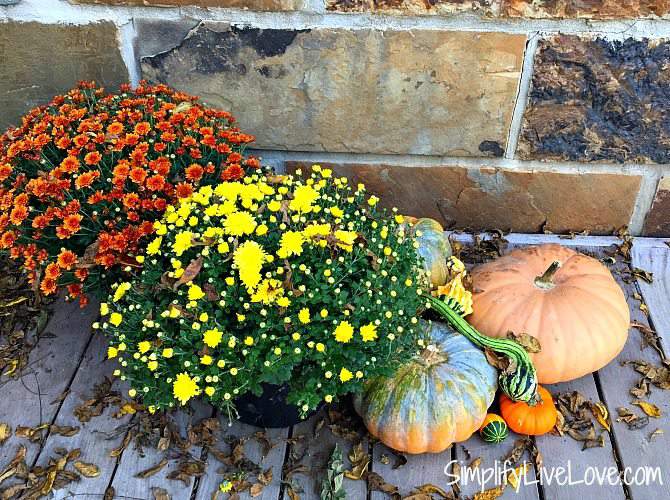 Mums need at least six hours of sunlight a day, so skip shady locations and make sure to place mums in spots that get plenty of sun! Remember that as the days become shorter the position of the sun changes. A spot that was sunny in the summer may no longer be sunny. Just be mindful of the changing sun position during the fall. If you get your fall mums early in the season, you may need to move them to a new location as fall progresses.
Make sure your fall mums get enough water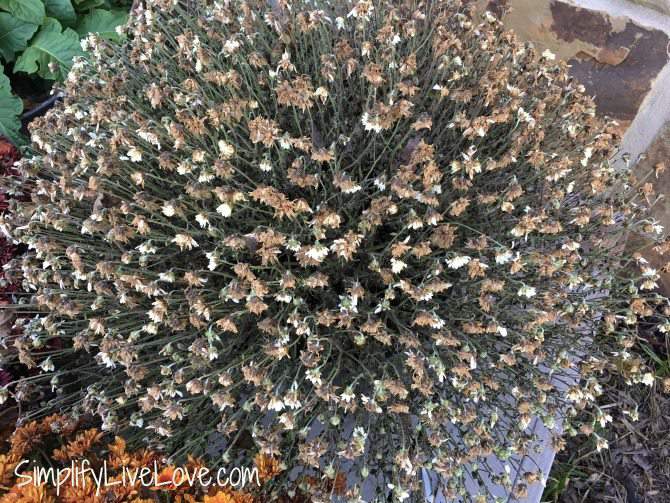 It's very important not to let your mums dry out or they might just die on you like the one above. Then again, it's also important not to over water them either. How much water is enough but not too much? That's the million dollar question. Just make sure the dirt stays moist, but not drenched. 😉
Don't forget to deadhead to keep fall mums alive
I know deadheading is no fun, but if you want your mum to re-flower – you have to get rid of the dead ones first. Grab a trusty pair of snips and cut away while listening to your favorite music or chatting with a dear friend. Or just use your fingers. Honestly, I think the easiest way to deahead mums is just to pinch off the dead flowers with my fingers. You have to be careful or you will kill the baby buds that might be lurking under the dead flowers, waiting for their chance to shine!
Cover or bring them inside if it's going to freeze overnight.
Continued cold weather will kill your mums so watch the forecast. If a freak frost is in the forecast, either cover your mums or bring them inside over night. This practice doesn't work long term, but it can help your mums last a few more weeks if you want to prolong their lives!
More posts on fall gardening & plant care you may like:
How to start a fall vegetable garden now
How to cover a raised garden bed to extend your growing season
Types of heirloom garlic to plant this fall
Fun ways to decorate pumpkins without carving