This recipe for Easy Homemade Roasted Tomato Sauce makes a delicious sauce. It's perfect for serving over noodles, turning into soup, or using in any recipe that calls for canned tomato sauce. You'll love how easy it is to make your own roasted tomato sauce!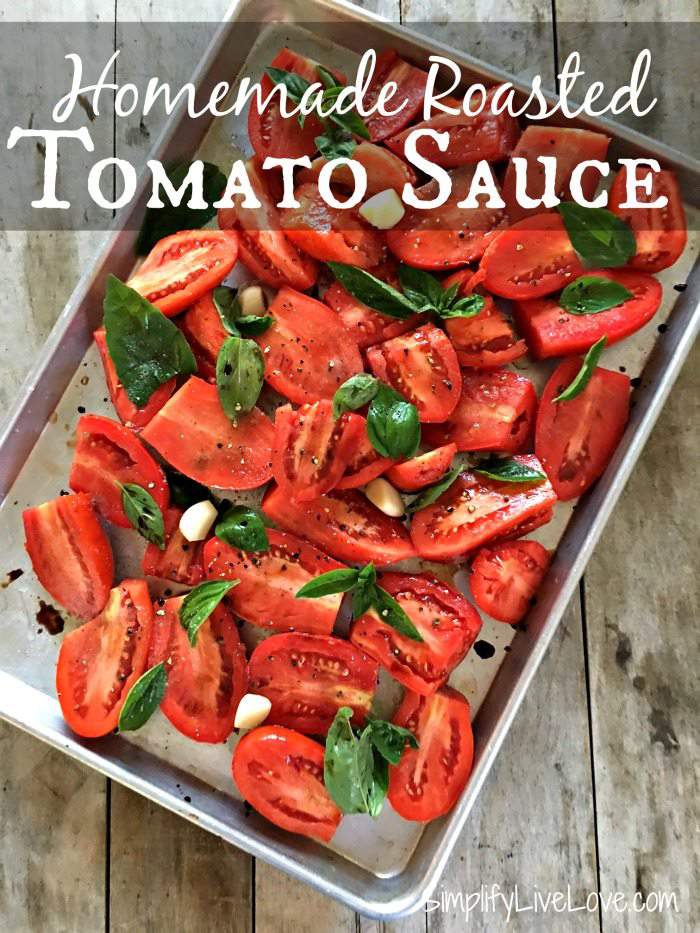 *This post contains affiliate links. Thank you for supporting my site.*
I first shared this post in 2012 and it's been a popular post. I make this recipe a lot during the gardening season, so it's high time I updated it with more specific cooking instructions and beautiful photography. Enjoy this "new post."
Easy Homemade Roasted Tomato Sauce
I love to can tomatoes, but it takes an awful lot to make canning worthwhile, in my opinion. So, when I have too many tomatoes to eat, but not enough to can, I make this recipe. It's also a great recipe to preserve though, so sometimes I make it even when I have tomatoes coming out the ear! I just turned an almost full 5 gallon bucket into this recipe. It made enough sauce for 2 meals and 6 quarts for my freezer. Perfection.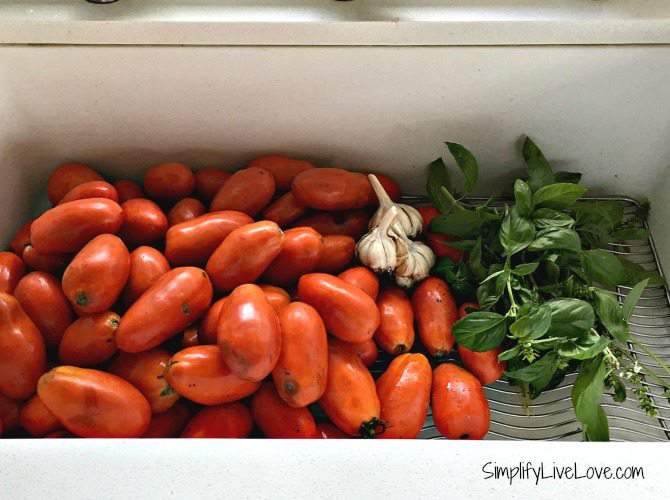 One thing I love about this recipe is it uses produce I generally have an abundance of in my garden: fresh basil, paste tomatoes, and garlic. In addition to those three main ingredients, you only need pantry items to make a fabulous sauce. High quality olive oil and balsamic vinegar, and salt and pepper. That's all you need to make this easy homemade roasted tomato sauce.
You can use whatever tomatoes you want, but a good quality paste tomato works best in the sauce because they aren't as watery. To make this sauce, simply halve or quarter your tomatoes (cut off bad spots and take out the stem – I just cut off the top of the tomato). Put everything on a high rimmed baking sheet or in a 9×13 in pan. You don't want to end up with a mess in your oven! Bake for 1 hour at 425.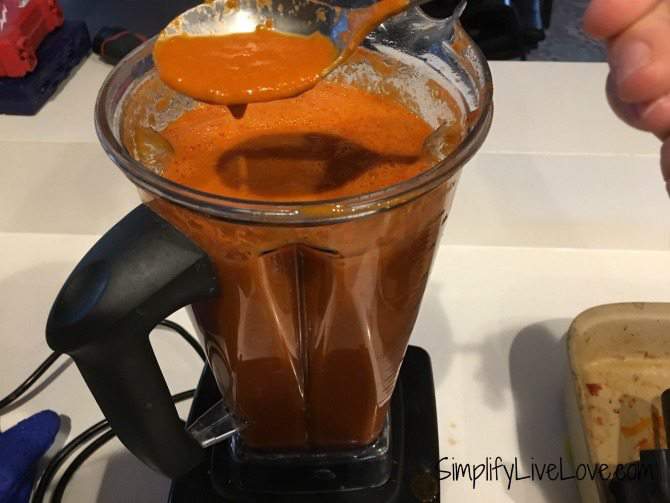 Let the tomatoes cool for 15 minutes, and then process in your blender. I love my Vitamix! If you love smoothies and making your own soups and sauces, I highly recommend the Vitamix.
Yields 4 quarts sauce
Easy, Homemade Roasted Tomato Sauce
Delicious roasted tomato sauce perfect for freezer or using up excess garden tomatoes.
10 minPrep Time
1 hrCook Time
1 hr, 10 Total Time
3 based on 1 review(s)
Ingredients
10 cups Fresh tomatoes, preferably Romas, but cherry tomatoes work too. Halved or quartered.
5-6 fresh garlic cloves
1/2 cup packed fresh basil
1/4 cup high quality EVOO
Drizzle of Balsamic vinegar
2 tsp REAL salt
Cracked pepper to taste
Freshly ground pepper
Instructions
Preheat oven to 425 degrees.
Wash tomatoes and cut them in half (or quarters for large tomatoes) - leave cherry tomatoes whole.
Put tomatoes in a 9x13 baking dish or a high rimmed cookie sheet.
Peel garlic cloves and place them whole on the tomatoes.
Add fresh basil, salt & pepper, oil & vinegar.
Bake for 1 hour.
After they have roasted, let the tomatoes cool a bit.
Put them in a blender and pulse a few times until combined.
Season with more salt & pepper to taste.
Enjoy on your favorite pasta.
7.8.1.2
175
https://simplifylivelove.com/easy-homemade-roasted-tomato-sauce/
This sauce results in a rich, creamy pasta sauce. It's awesome as a quick, meatless lunch, or great to use as a base for any sauce. It also makes a fabulous roasted tomato soup! After we've eaten a serving, I put the leftovers in glass canning jars and freeze for another day!
Do you make roasted tomato sauce? I'd love to hear your thoughts!
What can you make with Homemade Roasted Tomato Sauce?
Lasagna Soup, Delicious One Pot Soup
Make Ahead Lasagna with Cottage Cheese & Hidden Veggies