This recipe for creamy lemon caper salmon pasta comes together in under 30 minutes and is as healthy as it is delicious. If you like lemon caper sauces and salmon, try this recipe tonight!

Many thanks to Nancy's Yogurt for sponsoring another healthy dinner time solution. All opinions are mine.
Creamy Lemon Caper Salmon Pasta
This recipe comes together pretty quickly. Simply cook pasta according to package directions and set aside. Pan fry the salmon, and make your sauce! Easy peasy. You could probably cook the sauce in the same pan as the salmon after the salmon is ready, but I cooked the sauce and the salmon separately. Feel free to reduce dishes by using the same pan. 🙂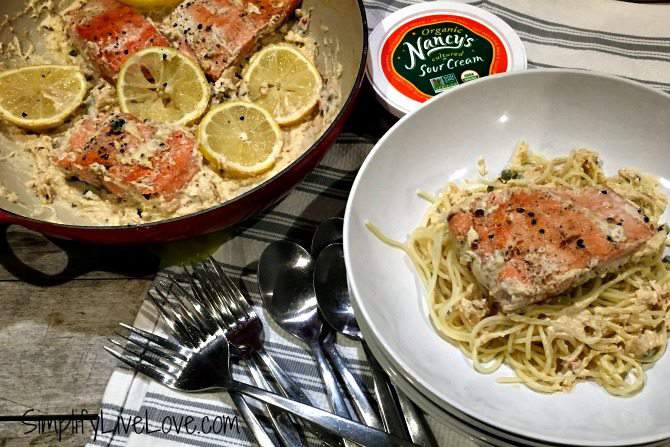 Here's why you should feel good about eating this recipe!
Did you know that lemons, sock-eye salmon, cultured sour cream, and capers all have beneficial properties? Lemons are rich in immune boosting vitamin C and flavonoids and help fight infections like the flu and colds. Sock-eye salmon is full of heart healthy omega 3s which boost immunity. Fatty fish also helps keep your heart and cholesterol healthy and decreases inflammation. Because of these healthy properties, the American Heart Association recommends consuming fatty fish like salmon twice a week.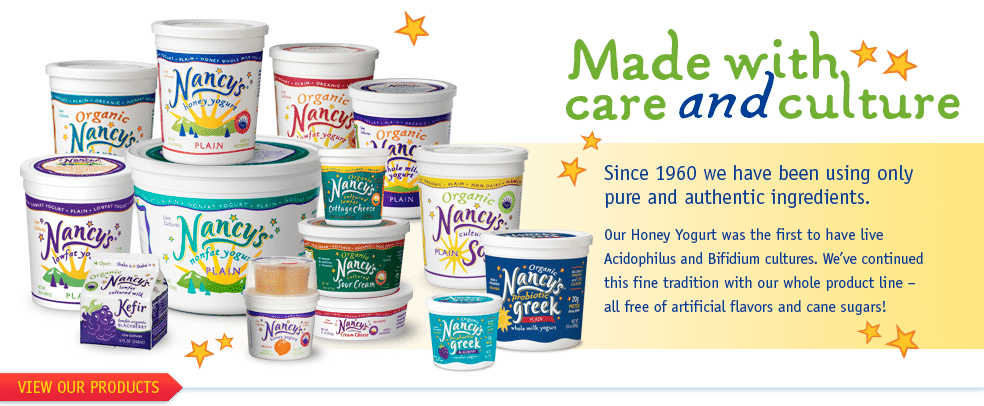 Nancy's organic cultured sour cream includes calcium and probiotics which also help boost the immune system. It's made with fresh, organic milk from local family farms and is free of additives, thickeners and preservatives. It's also gluten free and certified Kosher.
Finally, capers which are often found in Mediterranean diets, are rich in flavonoids, calcium, and iron. Even a small amount of capers provides a quick nutritional punch with anti-inflammatory and anti-bacterial properties. They're pretty high in sodium, though, so omit if you're on a low-sodium diet.
Okay! Let's get busy cooking!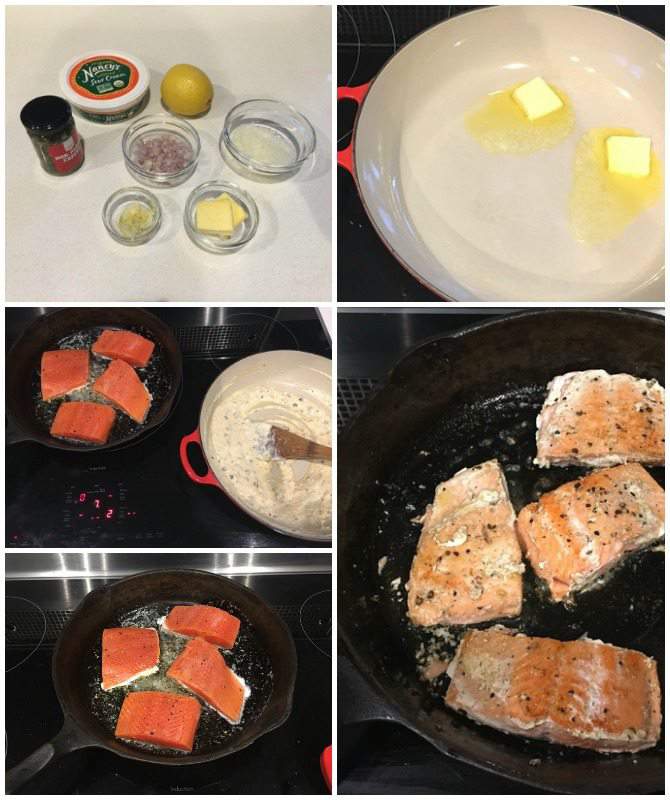 Saute the salmon in butter for about ten minutes and make the sauce. The sauce also comes together really quickly after the shallots are diced and the garlic is minced. Once everything is cooked, toss the pasta with the sauce. I used regular ole organic spaghetti, but you use whatever type of pasta you want. Gluten-free would be great or zoodles would also be quite delicious with this sauce and salmon. Once everything is cooked, plate the pasta and top with salmon. Enjoy!
Yield: 4 servings
Creamy Lemon Caper Salmon Pasta
A heart healthy main dish meal that comes together really quickly. Perfect for busy week nights.
Ingredients
For the sauce
1 shallot, finely diced
3 cloves garlic, minced
2 TBS butter, preferably organic
4 TBS shredded Parmesan cheese
2 TBS milk, preferably organic
juice of half a lemon
1/2 tsp lemon zest, if desired
salt & pepper to taste
1 TBS capers
For the salmon
4, 4 ounce salmon fillets, preferably wild caught Alaskan sock eye
2 TBS butter, preferably organic
salt & pepper to taste
1/2 lb spaghetti or fettuccine noodles (or other noodles of your choice), cooked according to package directions
Instructions
Cook noodles according to package instructions.
Melt 2 TBS butter in your favorite pan over medium heat and cook the salmon until done, 8-10 minutes. Start with the salmon skin side down and flip halfway through the cooking time. Add salt and pepper to taste.
Saute shallot and garlic in melted butter over medium heat until the onions are golden and fragrant. Reduce heat to low and add sour cream. Whisk in Parmesan cheese and milk. Add freshly squeezed lemon juice and lemon zest, then cook over low heat for 1-2 minutes. At the end, add the capers and salt and pepper to taste. Toss the pasta with the sauce.
Plate the pasta and top with salmon. Garnish with lemon slices and fresh parsley, if desired.
Enjoy!
Nutrition Information:
Amount Per Serving:
Calories:

340
Total Fat:

15g
Carbohydrates:

5g
Protein:

44g
Again, many thanks to Nancy's for sponsoring this post! Please connect with them on facebook, twitter, and instagram!