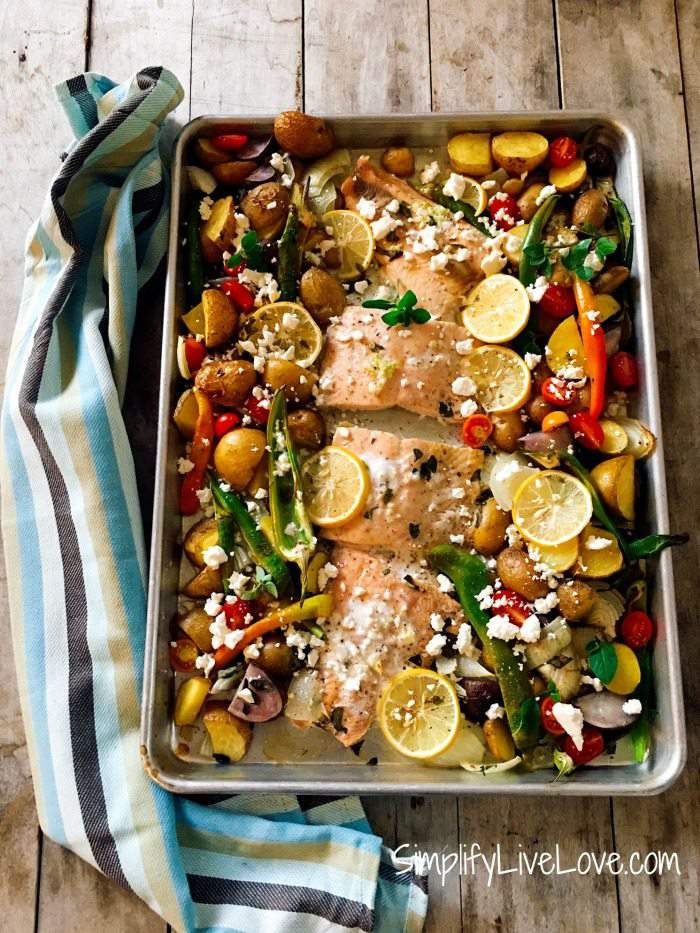 This delicious Greek Salmon Sheet Pan Dinner combines all of my favorite flavors and makes a delicious meal. With a quick prep, it's great for busy week nights too! And best of all, it's kid approved at my house, even with the kids who don't care all that much for salmon.
*This post contains affiliate links. Thank you for supporting my site!* 🙂
Welcome back to the next to last Tuesdays in the Garden for the year! It's hard to believe we're almost finished with another gardening season. Especially since I have YET to harvest a single ripe tomato. It's true! 🙁 But I have harvested a nice crop of garlic, potatoes, peppers, and herbs, so from that harvest, this dish was created – and it is DELISH! Check at the end of the post for more farm-to-table recipes form the Tuesday gang. They all look fabulous.
Busy Week Night Greek Salmon Sheet Pan Dinner
I've been incorporating a lot more salmon recipes into our diet because of all the health benefits! The other day after staring at all of the potatoes in my kitchen (I grow a lot of potatoes!) and wondered what to do with them. I thought about the Greek Chicken Sheet Pan Meal recipe I shared a while back and decided to try one with salmon. Hence, busy week night Greek Salmon Sheet Pan Dinner was born. And it is a keeper! :-)I love sheet pan meals because they come together pretty quickly and my family seems to enjoy them. After one small prep I can have an all inclusive meal on the table with little effort. The cooking time on this sheet pan meal is a little longer because the potatoes take longer to cook than the salmon. Even so, it's still pretty easy to put this sheet pan meal on your table.
Here's how to make this delicious Greek Salmon Sheet Pan Dinner!

Pre-heat oven to 425 and prep potatoes and onions by slicing. Combine them in a bowl with 1/4 cup olive oil, salt and pepper, and then spread them on a sheet pan. Bake for 25 minutes.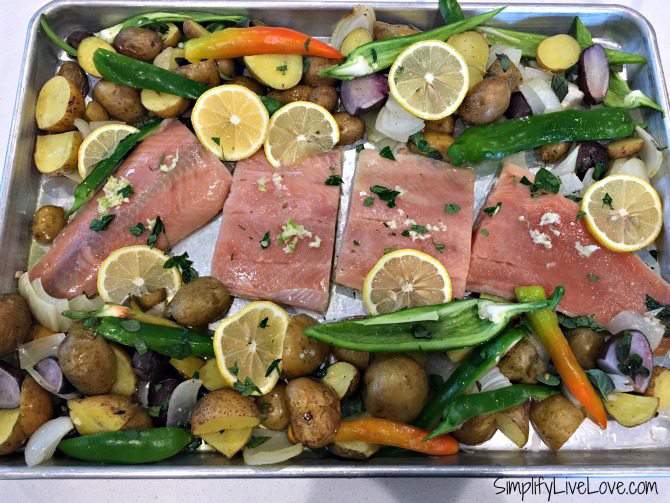 Add the salmon and other veggies, top with crushing garlic and remaining olive oil from potatoes. Bake for 8 more minutes. By the way, not all salmon is created equally. If possible, buy wild caught salmon (preferably Alaska sock-eye) over farm raised salmon. Wild caught salmon has a better fat ratio, fewer contaminants, and more nutrients.
Finally, add tomatoes and feta cheese. Top with juice of one lemon and bake for 5 minutes more. That's it! Enjoy!!
Yield: 4-6 servings
Busy Week Night Greek Salmon Sheet Pan Dinner
Ingredients
1 lb wild caught Salmon
2 lb baby potatoes, halved or quarterd
1 onion, sliced into wedges
1/4 cup olive oil
salt and pepper to taste
2 garlic cloves, sliced
1 lemon, sliced
4 small peppers
2 TBS fresh oregano, sliced
1/2 cup cherry tomatoes
1/4 - 1/2 cup feta cheese
juice of 1 lemon
Instructions
Preheat oven to 425. Combine potatoes, sliced garlic, onions, olive oil, salt and pepper until the veggies are coated.
Put the veggies on a sheet pan and bake for 20-25 minutes.
Move the veggies to the side and add the salmon, peppers, sliced lemon, and oregano. Pour any remaining olive oil from the potatoes on the salmon and top with crushed garlic. Bake 8 minutes.
Add tomatoes, feta cheese, and top everything with the juice of one lemon. Bake 5 more minutes.
Enjoy!
Nutrition Information:
Serving Size:
1
Amount Per Serving:
Calories:

2198
Total Fat:

96g
Saturated Fat:

29g
Cholesterol:

318mg
Sodium:

1554mg
Carbohydrates:

225g
Sugar:

36g
Protein:

125g

Tuesdays in the Garden
Be sure to check out the other fall inspired Farm-To-Table Recipes! Just click the link or photo to take you to each blog post.
Patti at Hearth & Vine – Cooking Collard Greens!
Diane at Homemade Food Junkie – Stuffed Squash Blossom Stir Fry
Shelly at Frugal Family Home – Ginger Garlic Green Beans
From Angie at The Freckled Rose – 15 Fall Inspired Garden-to-Table Recipes
Jami at An Oregon Cottage – Harvest Vegetable Ham Bone Soup
What's your favorite recipe with salmon? Have you tried a sheet pan meal yet? Let me know what you think!