7 Must Know Tips for Hiking with Kids This Summer!
on Jun 06, 2018, Updated Mar 04, 2020
This summer is supposed to break record high temperatures, but that doesn't mean we should stay inside. Even if you aren't adventurous, make this the summer to go hiking with kids. Here are a few tips to get your kids outside and having fun even when they'd rather be inside on electronics!
*This post is sponsored by Merrell. All opinions are mine.*
7 Must Know Tips for Hiking with Kids This Summer!
1. Keep it fun
Your kids will enjoy hiking most if you find interesting trails for them to hike. My kids prefer trails in and around water most of all, so that's what we look for when deciding where to hike with our kids. Trails that have interesting geologic features, vegetation, or wildlife will also be more fun for your kids so keep that in mind when looking for hiking locations.
2. Bring snacks and water bottles
You can bet your kids will be hungry and thirsty even if the trail is short and they just ate. Having water bottles and quick snacks can mean the difference between an enjoyable hike or an annoying time. So make sure you have a few things to ward off hungry and thirst when you go hiking with your kids!
3. Trust your kids
According to a recent article in the Wall Street Journal, American kids are increasingly overprotected with little independence or autonomy. Unfortunately, overzealous parenting styles can cause real harm to our kids making them dependent and anxious. One way to help them be more independent can be on the hiking trail.
Trusting them to make good decisions on the trail can be hard as we watch them scramble up rocks and jump around, but it's important to have a little faith that your kids will be just fine! Let them scramble. Let them choose their own path. Encourage them to be safe and trust that they will.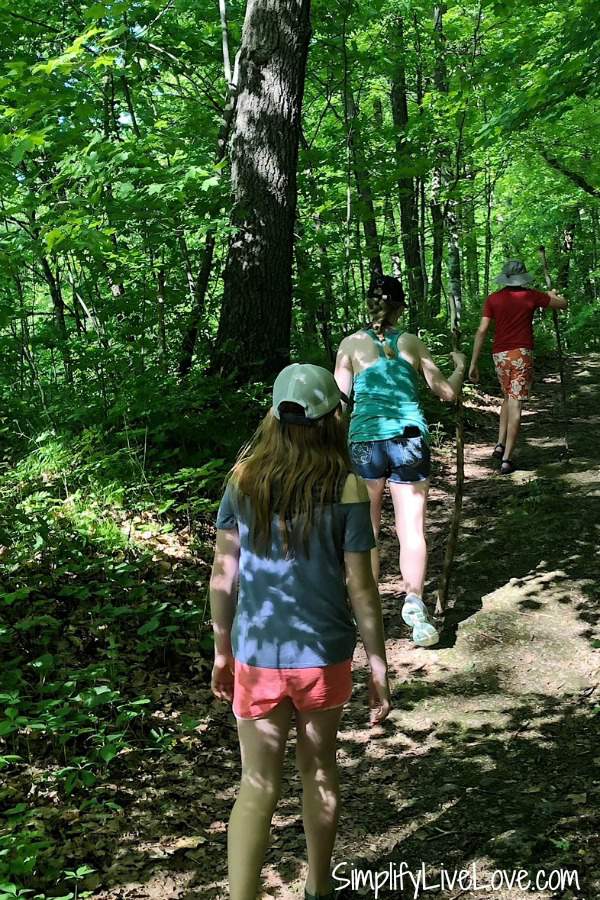 4. Be positive
If your kids are anything like mine, they're always yelling, "Look at me!" Don't be afraid to tell them they're doing a great job. Positive reinforcement makes all things more enjoyable. Smile at your kids and let them know how fast and strong they are. Help them have confidence in their hiking abilities even when you want to scream and look away.
5. Leave no trace
There's nothing worse than trails covered with trash. Not only is it a great idea to teach kids not to litter, it's awesome to take it one step further and pick up trash as well. We always make a habit of picking up trash on the way back. It's not hard to do, especially if you stuff a small bag in your pocket before setting out on the trail.
It's empowering for kids to know they can make a difference through very small actions. Pack it in, pack it out is a great motto your kids can embrace when hiking. There's more to leave no trace than picking up trash though. Leave the vegetation alone, stay on the trail, and fill in any holes your kids may dig. All of these things are easy ways you can leave no trace when hiking with kids.
6. Be prepared for mishaps
While I don't want to schlepp all the things all the time, there are a few things I try to have on hand when we hike. Bug spray. Sunscreen. Small first aid kit. We never know what will happen when we hike with kids, but rest assured something minor will happen almost every time. Being prepared for the inevitable makes hiking with kids much more enjoyable.
7. Dress for success
Make sure your kids are dressed properly. We like to have hats along always. Not only do they help protect from the sun, but they're also good at keeping ticks out of hair. I know you don't want your kids to come home with ticks.
The other big consideration for hiking is proper foot attire. Since my kids like to hike around water and climb more than anything, water shoes with good traction make a lot of sense.
My kids prefer to explore water with shoes on, but they also like to climb, so we need a multi-purpose shoe for hiking. We found the Merrell Hydro 2.0 sneaker sandal to be a great multipurpose hiking shoe for kids. Not only is this cute sneaker sandal great for hiking trails, but it's also fabulous for water exploring. It's made from lightweight recycled materials that dry quickly so feet don't stay waterlogged. We also like the closed toe that offers more protection than an open toe sandal. Plus it's cute and comfortable! What more could you want in a kid's hiking shoe?
I hope these tips inspire you to get outside and hike with your kids this summer. I know firsthand that the electronic struggle is real. But hitting a hiking trail with your kids can be a fantastic way to bond with the entire family. And keeping the kids off electronics for an even a couple hours is a very good thing.
Do you have a tip for hiking with kids? Please share how you plan to get out and about with your kids this summer!
If you liked this post on hiking with kids, you'll like these too:
Natural ways to prevent tick bites
What to do if you are bitten by a tick