It doesn't have to be hard to groom your dog, but it's best to get off on the right foot. Here are the most useful tips I've found for grooming Great Pyrenees puppies so they're more tolerant as adults!
*This post contains affiliate links which means I earn a small commission on your purchase.*
One reason I love Great Pyrenees Puppies beyond the practical usefulness of this working breed, is that they are relatively easy to care for. Their beautiful fluffy white fur looks like it may take hours and hours of care each day, but it really doesn't. Overall, Great Pyrenees Puppies are pretty easy to groom, but there are a few tips and tricks to taking the best care of these lovely dogs so keep reading for tips on taking care of ears, eyes, teeth, nails, and coat.
5 Useful Tips for Grooming Great Pyrenees Puppies
Your Great Pyrenees puppy will be easier to groom if you start grooming her from a young age to condition her to love the attention. I have found Great Pyrenees puppies to be very easy going and accepting of grooming – much easier to care for than other breeds we have raised such as Labs & Goldens.
I recommend starting a Puppy Kindergarten of sorts when you first get your puppy. Take a few minutes each week to sit with your puppy and speak kindly to her while gently petting and touching her teeth, ears, and nails. Get her used to the grooming tools by touching her with them, and if she's skittish at all, just touch her – don't actually use them. If you start when your puppy is young, she will get used to the grooming you will need to do as she ages. We used to raise puppies for Guide Dogs for the Blind and Puppy Kindergarten was a weekly ritual that both handlers and puppies really looked forward to! It was a time to connect with the puppies and relax a bit. See if you can't implement something like this into your dog training regimen – it's a really helpful tip for easy grooming.
Clean Great Pyr's Ears
Great Pyrenees Puppies should have their ears washed once a month to help avoid problems. Using an ear solution like will help your dog avoid wax build up and maintain a pleasant odor. If you notice a strong or foul odor while cleaning her ears, your Great Pyr might have ear mites or an infection and might need to see the vet. To clean your Great Pyrenees Puppies' ears – simply pour a small amount of Ear Rinse on a cotton ball and wipe around inside her ear being careful not to go too far into the ear canal.
Must-Know Grooming Tips for Great Pyrenees Dogs!
Take care of their eyes
Sometimes Great Pyrenees Puppies can get weepy eyes with a reddish discharge that can stain their coat. If this happens, simply clean your dog's fur with dog tear remover. Keep cleaning until his fur is lovely white again.
Here's how to brush pyrs' teeth
I know you want to hear this, but you should brush your Great Pyrenees' teeth. Like in humans, overall good dental care is indicative of health and well being, so once a month, get out the doggie toothbrush and the meat flavored toothpaste and give your dog's teeth a good scrub. If you notice lots of yellow on the teeth or puffy gums, you might want to have him checked out by a vet.
That fur though!
So many people ask me if my Great Pyrenees' fur is hard to care for. And honestly, it's not. Granted, Nora is a working, outdoor dog, but she blows her coat only once a year in late summer and that's pretty much it. We do brush her once a month and remove any burrs or other offensive things we might find in her coat, but overall, she sheds so much less than other breeds we've had and we very rarely find our black clothes covered in offensive dog hair! We have a variety of brushes, but our favorite is the rake pictured above.
Great Pyrenees puppies actually require very little bathing as their coat is naturally resistant to dirt – but that doesn't mean they don't love the dirt!! We bathe Nora only rarely, when her coat naturally takes on a bit of yellow color or she comes in contact with something super smelly. It's recommend that you bathe your Great Pyrenees only once a month or less, because more often bathing removes some of the natural oils that make their fur so wonderfully resistant to most yuck.
Make sure to clip your Great Pyrenees' nails & claws
Great Pyrenees Puppies are unique for a lot of reasons, but one big difference between them and other breeds is their double dew claw on back paws. Great Pyrenees were originally mountain dogs and this double dew claw  helped them climb. Since it rarely comes in contact with the ground, it needs a good clip at least every few months or it can grow backwards and get stuck in their paws. NO good! We like clippers like these because they have a guard to help you clip only a small amount. Make sure you do have styptic powder on hand to stop any bleeding you may accidentally cause. Bleeding dog nails are no fun.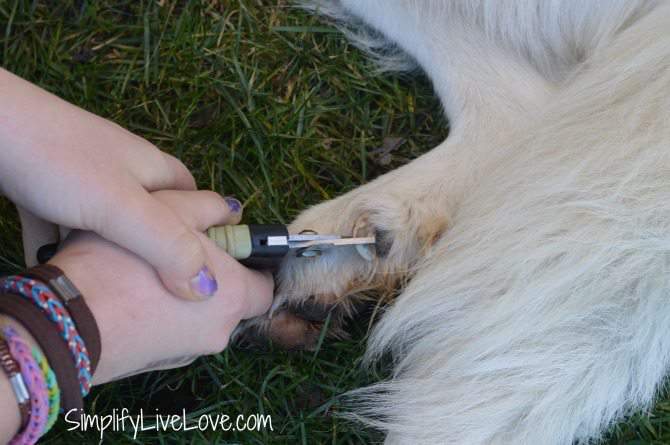 Your vet may try to get you to remove the dew claws, but every reputable Great Pyrenees owner I've ever talked to says DON'T DO IT!! Our dog still has her dew claws and they cause zero issues. If there ever is a problem with Nora's dew claws, we will deal with it. For now, we just clip them every few months and all is well. I do recommend that you find a sturdy pair of nail clippers for dogs, and as I said previously, getting your Great Pyr puppy used to having his nails clipped early on will insure that he doesn't fight you on this process.
While these tips are specifically written for Great Pyrenees Puppies and Dogs, they can be adapted to work with most any dog breed! The key here is to start your grooming your puppies when they're young so they will be receptive to this important care as they age.
If you liked this post on grooming Great Pyrenees, you might like these too:
 I'd love to hear about any dog grooming tips you may have!
SimplifyLiveLove is a participant in the Amazon Services LLC Associates Program, an affiliate advertising program designed to provide a means for sites to earn advertising fees by advertising and linking to amazon.com.