Want all the fresh from-scratch lasagna flavors in a fraction of the time? Try delicious and hearty instant pot lasagna soup, one of my favorite one-pot meals on the table in about 30 minutes.
From Scratch and Delicious Instant Pot Lasagna Soup
At 6 pm the other night, my kids said they wanted me to make lasagna for dinner. I love making lasagna, but it's not a meal I can start at 6 pm if I want to feed my family before 8 pm. While I can't make lasagna from scratch in a hurry, I can make a quick lasagna soup in my instant pot!
I know what you might be thinking. Lasagna does not sound good as a soup, Michelle. I understand where you're coming from, but please believe when I say this is absolutely delicious. Even my super skeptical kids actually like this soup.
In fact, my eldest daughter even said she thinks it taste like Chef Boyardee canned raviolis. You know what? I'll take it. LOL!
I love that Instant Pot lasagna soup is a quick and easy meal I can make in a hurry! It's hearty, delicious, and filling. If you want all the flavors of lasagna from scratch, but don't have the time on hand to make it happen, try this delicious instant pot recipe instead!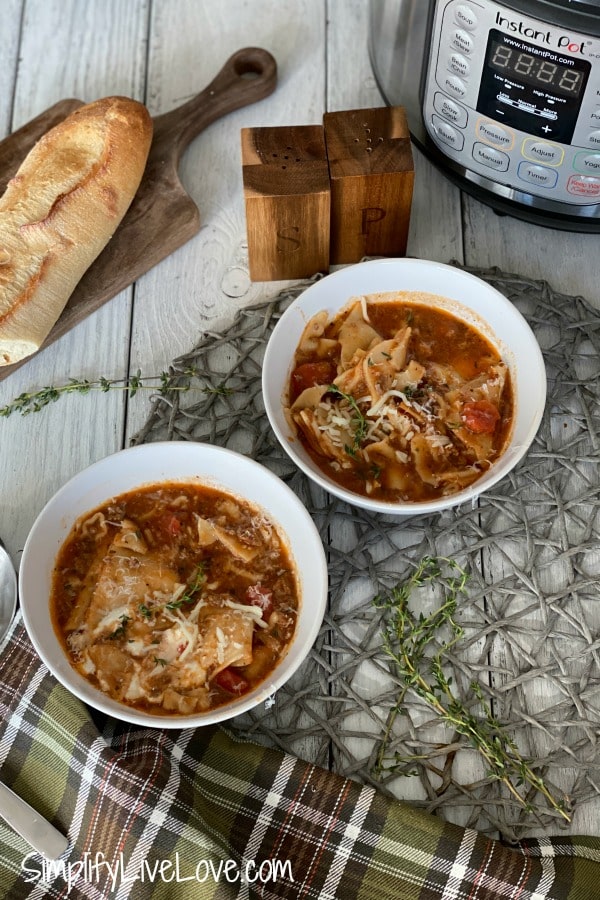 Let's Make this One Pot Lasagna Soup in the Instant Pot
Put the oil in your instant pot and heat it using the sauté function. Once it's hot, add beef and cook until it's mostly browned, about 5 minutes. Add the onion and garlic and cook for 2-3 minutes longer until the onion is fragrant and translucent.
If possible, I recommend using organic ground beef. I source mine from a farmer right down the road, but if you aren't that lucky, I highly recommend checking out Butcher Box. I've personally tried Butcher Box and think it's a great way to get 100% grass-fed beef, heritage breed pork, and free-range organic chicken delivered right to your door! Use my affiliate link to get free bacon for life!


I use my 8-qt Instant Pot for all my recipes. I used to have a smaller 6 QT version, but I love the 8 qt even more. For my family of six, it just gives me a little more capacity.
Now add chicken broth, tomatoes, seasoning, and noodles. You can cancel the sauté function first if you want, but I leave it on as it helps heat everything up before I start the pressure cooking.
What type of noodles works best in lasagna soup?
For the noodles, I recommend breaking up lasagna noodles, or using any thicker noodles – rotini etc – that takes at least ten minutes to cook. Don't use quick cooking noodles or they will over-cook in the instant pot and turn to mush. That's a yucky thing to have happen.
Stir to combine. Put the lid on the instant pot, lock into place, and make sure the pressure valve is set to sealing. Cook on manual high for four minutes. It will take about 15 minute for the pressure cooker to come to pressure.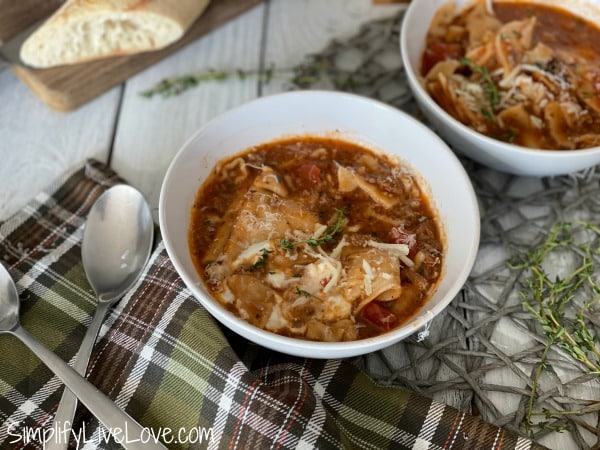 While the noodles are cooking, mix the cheeses together in a separate bowl. Spoon desired amount into soup bowls, top with soup and enjoy all the goodness of lasagna in about twenty more minutes!
After the 4 minutes are up, naturally release pressure for 5 minutes, then manually release the rest.
Carefully open the instant pot. Ladle soup into bowls and add a couple tablespoons of the cheese mixture, and enjoy!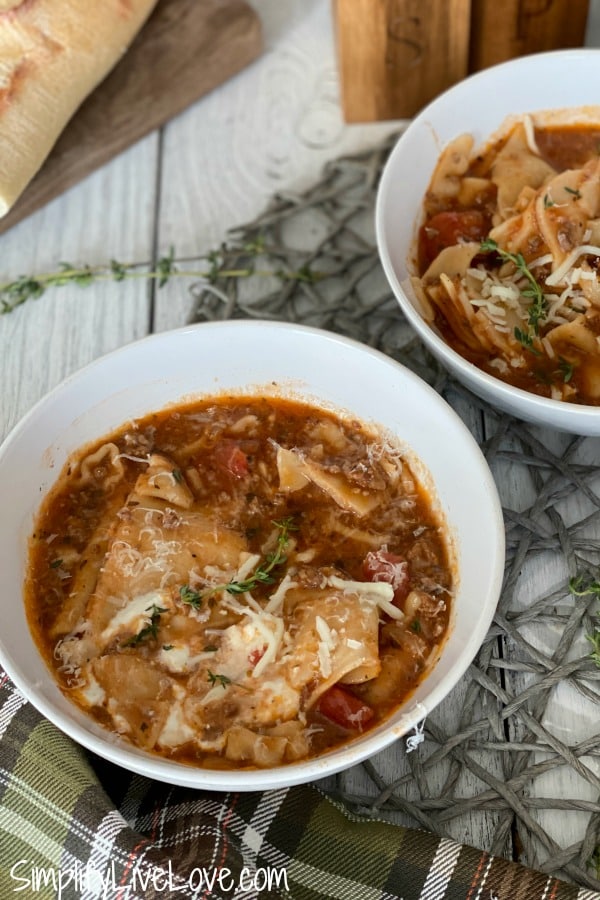 Yield: 8
Hearty & Delicious Instant Pot Lasagna Soup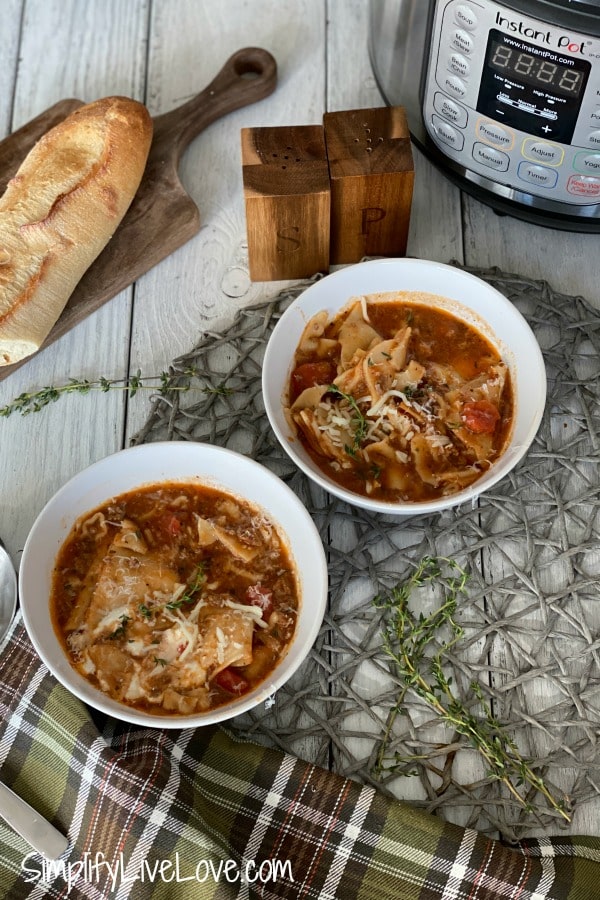 Quick, easy, and delicious one pot meal made right in your instant pot- on your table in about 30 minutes.
Additional Time
15 minutes
Ingredients
1 tablespoon high heat oil, avocado oil is my go-to
1 pound ground meat, ground beef or Italian sausage or a mix of the 2
½ yellow onion, diced
2 cloves garlic, crushed
6 cups chicken broth
1 14.5 ounce can tomato sauce
1 14.5 ounce can diced tomatoes
2 tablespoons tomato paste (ketchup works in a pinch too!)
1 teaspoon dried oregano
1 teaspoon dried basil
1 teaspoon dried parsley
½ teaspoon dried thyme
1 teaspoon salt
½ teaspoon pepper
8 ounces noodles
Cheese Filling
8 ounces ricotta cheese
1/2 cup shredded Parmesan cheese
shredded mozzarella cheese, if desired.
Instructions
Heat oil using sauté function of instant pot, then add beef. Cook until mostly browned, about 5 minutes.
Add onions and garlic and cook for 2-3 more minutes.
Drain off excess grease, then add all remaining ingredients except the cheese.
Lock the lid on place, make sure the pressure valve is set to vent, then cook on manual high for 4 minutes.
Naturally release pressure for 5 minutes, then manually release remaining pressure.
Carefully open lid away from you so any steam doesn't hit you in the face.
Pour soup into bowls and add 1-2 tablespoons cheese mixture.
Grate fresh parmesan cheese and add salt and pepper to taste.
Enjoy!
Notes
If you'd like, you can use a jar of marinara sauce instead of the tomatoes. You might want to reduce amount the seasoning if you do that.
You can also use cottage cheese in place of the ricotta cheese if you want.
Nutrition Information:
Yield:
8
Serving Size:
1
Amount Per Serving:
Calories:

436
Total Fat:

25g
Saturated Fat:

10g
Trans Fat:

1g
Unsaturated Fat:

13g
Cholesterol:

92mg
Sodium:

1493mg
Carbohydrates:

19g
Fiber:

3g
Sugar:

6g
Protein:

33g
Nutritional data is not always correct and varies depending on how much cheese you put in each serving.
If looking for more instant pot recipes? Here are a few of my favorites!
More Instant Pot Recipes You Will Love
Have you tried lasagna soup? What do you think?
SimplifyLiveLove is a participant in the Amazon Services LLC Associates Program, an affiliate advertising program designed to provide a means for sites to earn advertising fees by advertising and linking to amazon.com.