A Bite of New Orleans: Central Grocery Muffuletta Recipe
on May 29, 2018, Updated Oct 25, 2023
Treat yourself to a taste of New Orleans with this Hot Muffuletta Sandwich Recipe! It's quick to make and delicious to eat. Best of all, you can make these sandwiches in advance and freeze them! Add these ingredients to your shopping list and enjoy the wonderful flavors of New Orleans you'll experience with my take on the Central Grocery Muffuletta Recipe.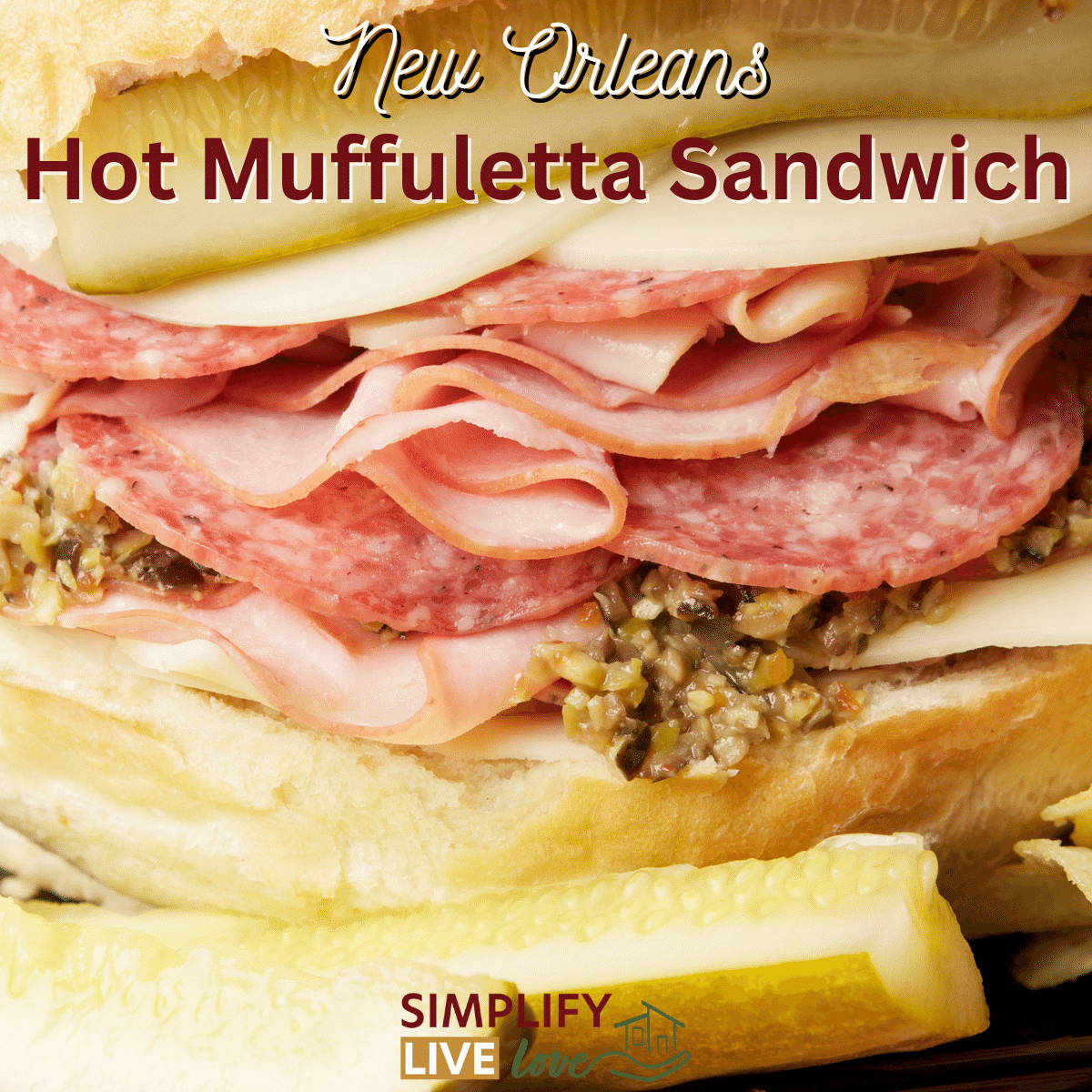 New Orleans is famous for its culinary traditions and cultural diversity. The iconic muffuletta olive sandwich is a true New Orleans tradition. Made with sesame bread, Italian cold cuts, and homemade olive salad, this sandwich is great for busy families.
New Orleans Hot Muffuletta Sandwich Recipe
It's that time of year when life goes absolutely bonkers for me. My four kids run track, play spring ball and have lots of music lessons so nights and weekends fill up. Every year I think our schedule will be less hectic, but it never is. We run on easy recipes like this one during these busy seasons.
To survive this crazy season, I really rely on the homemade food I keep in my freezer. Otherwise, it's ball park popcorn for dinner almost every night. Been there, done that, don't judge. Since I started cooking freezer friendly recipes, though, it's so much easier to have a dinner ready on very busy nights. Freezer sandwiches are a family favorite, and this Muffuletta is absolute perfection.
Muffalettas are undeniably delicious. The flavor ranges from savory and salty to slightly briny. Assembling Muffalettas takes minimal cooking or kitchen skills. Bond with your family by letting the kids help make the sandwiches.
Central Grocery Muffuletta Recipe
I first tried this sandwich at Central Grocery a few years ago when I was in New Orleans for Shiftcon, a wonderful conference I go to every year. If you get the chance to try the original, I highly recommend it!! If it's not possible to get to New Orleans, though, never fear. It's easy to make something very similar to the Central Grocery Muffuleta Recipe. Here's what you need to know:
This sandwich is made on Italian bread with Italian meats and cheeses, but the icing on the cake so to speak, is the Italian olive salad. I love the olives on this sandwich. So good! I can't find a great olive salad in my Iowa grocery stores, but I've found it's very easy to make my own. And it only takes a few minutes if you get the right ingredients.
To make an olive salad, I use pre-sliced green olives with pimentos, add in a few spices, fresh garlic, and three tablespoons of vinaigrette. The longer you can let the salad sit for the flavors to really come together, the better it will be. But I've made it only a few minutes ahead of time before and it's still good.
After you make the flavorful olive salad, all you need to do is find the right bread, meats, and cheese, and get layering! I like to heat the final sandwich in the oven to get the cheese all melty. This step is different from Central Grocery Muffuletta recipe – they instead smash their sandwich for several hours with a heavy pan! I don't personally do that, but if you want to, be my guest!
Printable Hot Central Discount Muffuletta Recipe
Yield: 4 -6 servings
New Orleans Hot Muffuletta Sandwich Recipe
A freezer friendly hot sandwich, perfect if you like the flavors of New Orleans, and great for busy evenings.
Ingredients
For the olive salad
10-ounce jar green olives with pimientos, drained and chopped (or buy one that's already prechopped)
1 1/2 teaspoons dried oregano
1 clove garlic, minced
3 tablespoons Ken's Simply Vinaigrette Garlic & Basil
1/4 cup chopped fresh parsley
For the Sandwiches
4-6 sesame seed topped rolls, or one 10" Italian sesame seed topped round loaf
1/4 lb Genoa Salami
1/4 lb Capicola or 1/4 lb deli ham
1/4 lb Mortadella
1/8 lb Sliced Mozzarella
1/8 lb Provolone Cheese
Instructions
Preheat oven to 350 degrees.
Combine chopped olives, dried oregano, minced garlic, fresh parsley, and Ken's Simply Vinaigrette Garlic & Basil dressing in a small bowl. Stir until combined.
Slice the bread and top with the olive salad - make sure to spread the oil mix from the olive salad on the top and bottom of the bread.
Then add the cheese, then the meat.
Wrap the sandwiches in aluminum foil and bake for 15 minutes or until the cheese is nice and melty.
Enjoy!
Freezer Options
If you want to freeze these, just wrap them and freeze. Let them thaw in your freezer overnight and cook as directed above. Or, place them in the freezer completely frozen and cook them for about 25-30 minutes.
Notes
Note: if you'd rather eat this sandwich in the traditional manner, don't bother heating it. My family loves the heated sandwiches though, and I like that it's freezer friendly.
Nutrition Information:
Serving Size:
1 sandwich per person
Amount Per Serving:
Calories:

1701
Total Fat:

147g
Carbohydrates:

42g
Protein:

78g
Have you tried a Muffuletta sandwich before?
If you liked this freezer friendly oven sandwich recipe, you might like these too:
Our favorite taco meat – perfect for the freezer