Homemade taco meat is a staple in our house we consider this to be the best taco meat recipe ever. It's perfect to cook in large quantities and freeze the leftovers. You'll love this recipe which yields enough for four or five different meals!

*This post contains affiliate links. Thank you for supporting my blog!*
The best taco meat recipe – our family favorite
Made with your choice of ground meat, lots of beans, and homemade taco seasoning, this taco meat has been our family's favorite recipe for yours. It's extremely versatile based on what ingredients you have on hand! Plus, it's freezer friendly for quick meals on the double.
My kids' all time favorite meal has got to be some variation of tacos: soft tacos, hard tacos, taco salad, nachos, homemade taco pizza, even taco soup. I get ZERO gripes when I serve tacos. My base for all of the meals I mentioned above (except the taco soup) is a meat/bean combo I make in big quantities and freeze.
I make our taco meat one of two ways, depending on the day, my mood etc – either on the stove top or using a slow cooker method. I always include beans in our taco meat because I've found it's a great way to stretch the meat and helps me keep a lower grocery budget.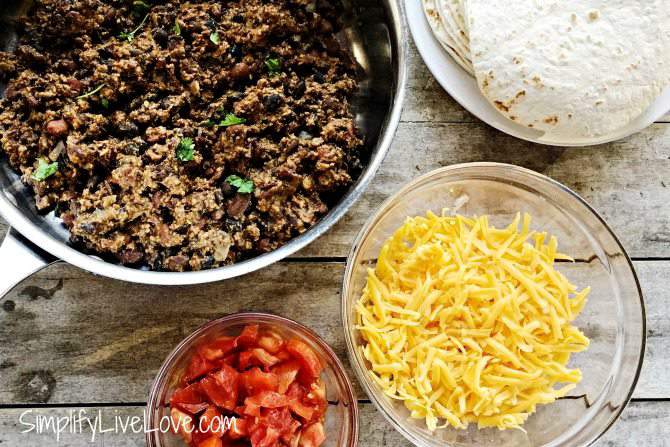 Stove Top Method
In the morning, I start the beans. I use a rapid boil method the day I want to make my taco meat, usually because I've forgotten to soak the beans the night before. 😉 To do a rapid boil, first sort and rinse the beans. Cover them with a lot of water, add salt and 2 TBS oil, and bring them to boil. Boil hard for 1 minute. Then turn off the burner, cover the beans, and let them sit for one hour.
Next, dump the water and replace it with fresh water, more salt, and 2 more TBS oil. Bring the beans to a boil again and gently boil the beans until the are cooked, usually 1 1/2 – 2 hours.
Later in the day, brown the onions and the beef at the same time. Then, drain the meat, add the taco seasoning, water, and beans. Simmer for about 15 minutes.
Slow Cooker Method
When I use my slow cooker, I also use the rapid soak, but instead of cooking them on the stove top after they have soaked in the hot water for an hour, I put them in my slow cooker with the meat, taco seasoning, water and cook on high for 4-5 hours. By the way, if you're looking for a slow cooker, I highly recommend my 6 qt. Hamilton Beach. It's amazing and I love it! Best of all, it costs less than $50 on Amazon! Well worth the money.
Yield: approx. 20 cups
Our Favorite Taco Meat – Large batch recipe perfect for the freezer
Our favorite taco meat recipe!
Cook Time
4 hours
20 minutes
Total Time
4 hours
30 minutes
Ingredients
1 large onion, finely chopped
3 lbs ground beef
1 1/2 cups dried kidney beans
1 1/2 cups dried black beans
3/4 cup homemade taco seasoning
1 1/2 cups water
Instructions
Prepare your beans using a rapid soak. In a large stock pot, bring to boil 6 cups of rinsed and sorted beans. Boil hard for one minute, then turn off the heat, cover the pot, and let the beans sit for one hour.
Meanwhile, over medium high heat, saute chopped onions with the ground beef. Cook until the ground beef is no longer pink, drain, and remove to a 6 qt slow cooker.
After the beans have soaked for one hour, take 8 cups including their liquid, and place in the slow cooker.
Add the water and taco seasoning and stir well.
Cook on high in the slow cooker for 4-5 hours.
Enjoy!
Notes
This recipe yields a tremendous amount of taco meat. I portion it out in four cup portions per meal for my family of six which gives us enough for one recipe of tacos the day I make it, and four to put in the freezer for meals at other times.
Nutrition Information:
Serving Size:
1
Amount Per Serving:
Calories:

548
Total Fat:

8g
Saturated Fat:

1g
Cholesterol:

60mg
Sodium:

1499mg
Carbohydrates:

84g
Sugar:

24g
Protein:

35g
This recipe was first published in 2011, and is better than ever with more explanation and more photos.