Happy Taco Tuesday! Yesterday I shared my taco meal plan featuring seven different ways to serve tacos, and today, I'm sharing my recipe for homemade taco seasoning. This recipe has been through a lot of trial and error and makes the best taco meat ever!
*This post contains affiliate links. Thank you for supporting my blog!*
This post is Day Two of my Write 31 Day Challenge, where I'm challenging all of us to get in the kitchen and do a little more from-scratch cooking with wholesome ingredients! Over the next month, I'm sharing recipes, tips and tricks, and more to help you cook from-scratch food that your family will love, without slaving in the kitchen all day long!
Homemade Taco Seasoning – time saving bulk recipe
I started making my own taco seasoning when I realized that MSG is a common ingredient in seasoning packets. Have you ever looked at the ingredients in pre-made spice mixes? You might be surprised at what you find. I figured it couldn't be that hard to make my own and found a recipe on allrecipes.com that became the basis for the recipe I'm sharing with you today.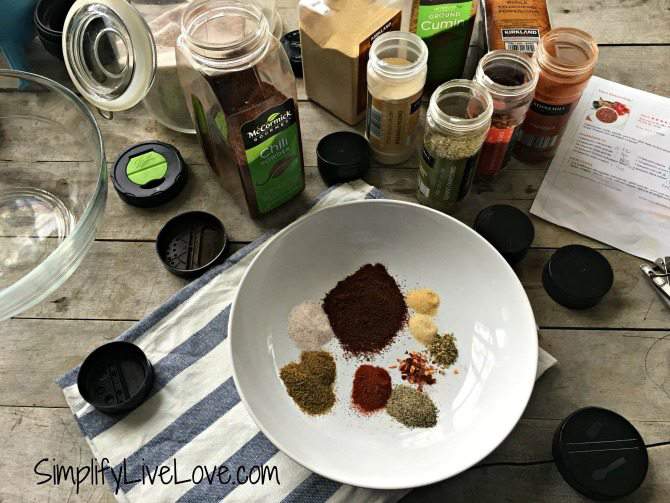 While the allrecipe version is a good start, there were a few things I didn't like about it. First of all, the quantity is just too small. I almost never make only one pound of taco meat since tacos are a family favorite and it's a really easy recipe to put in the freezer. Plus, we just have a few taste preferences so you can bet I tweaked the original recipe. To improve upon that original recipe, I first doubled it, then quadrupled it, and then I increased it by a factor of 16!
The result is bulk homemade taco seasoning that I almost always have it on hand. Having pre-made spice mixes really does save me time in the kitchen and helps me be able to cook from scratch on limited time. I store my pre-made mixes in mason jars with spice lids and keep them in my spice cupboard.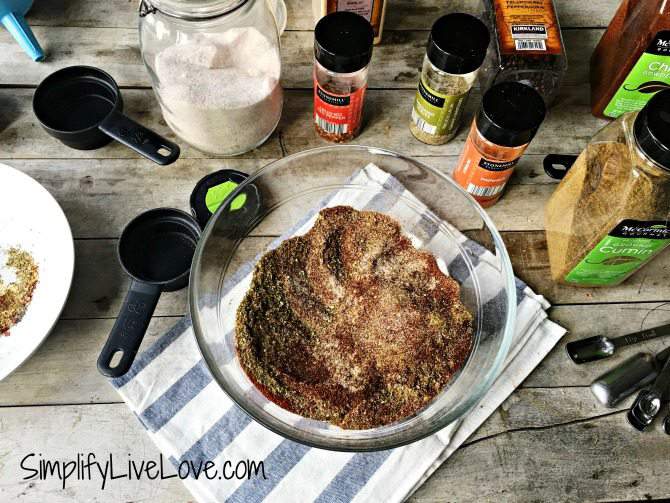 When I cook tacos, I use about 3 TBS of my spice mix per pound of meat and/or beans. Since I cook taco meat in huge quantities (3 pounds of meat and a ton of beans) I generally use 3/4 – 1 full cup of my homemade spice mix. I also add water, like the directions on the back of the taco seasoning packet you can buy at the store says to do. The result is an awesome, homemade taco seasoning with ingredients I recognize and no MSG! Here's the recipe if you want to make your own.
Homemade Taco Seasoning – time saving bulk recipe

Ingredients

1 cup chili powder
1/2 cup ground cumin
1/4 cup REAl Salt
1/4 cup black pepper
8 tsp granulated garlic powder
8 tsp onion powder
8 tsp dried oregano
8 tsp paprika
2 tsp crushed red pepper flakes

Instructions

Simply mix all spices in a bowl.
Using a funnel, transfer the spices to a quart sized mason jar.
Store in a cool dry area and shake well before use.

To use this mix:

Add 3 TBS mix to one pound cooked meat or beans and ½ cup water. Bring to a boil, simmer for 5 minutes.
Enjoy!

Nutrition Information:

Amount Per Serving:

Calories:

42

Total Fat:

1g

Carbohydrates:

9g

Protein:

2g


Do you make your own spice mixes? I'd love to hear about your favorite!