There's a restaurant called Mighty Melt in Central Missouri where my parents lives that serves really delicious sandwiches and salads. They serve broccoli on their salads, and much to my surprise, I love it! I'm not normally a fan of big chunks of raw broccoli in my tossed salad, but Mighty Melt serves it finely chopped and that makes it very palatable to me, for some reason. They also add sunflower seeds to their salads as well, and guess what? I love that too.
In the summer, when I have a lot of broccoli in my garden that I need to use up, I love to make this salad. It's also a nice one to take along to potlucks or even to serve at fancy meals. It's really easy to make, and I hope you like it!
Tossed Salad with Broccoli, Feta & Sunflower Seeds & Balsamic Vinaigrette 
Tossed Salad with Broccoli, Feta & Sunflower Seeds :: Recipe
Ingredients
For the Salad
One head leaf lettuce, red or green or mixed
1 cup fresh, raw broccoli, finely chopped
1 cucumber, thinly sliced
1/4 cup sunflower seeds
1/4 cup good quality feta cheese, coarsely crumbled
For the Homemade Balsamic Vinaigrette
1/2 cup olive oil
1/4 cup balsamic vinegar
1/4 cup water
2 cloves garlic, crushed
1 tsp salt
1 tsp oregano
1/2 tsp freshly ground pepper
Instructions
To Make the Salad
Wash lettuce.
Prepare all veggies.
Assemble salad.
To Make the Dressing
Whisk together all ingredients.
Pour over salad
Enjoy!
What are your favorite salad add-ins? I love nuts and feta. Delish!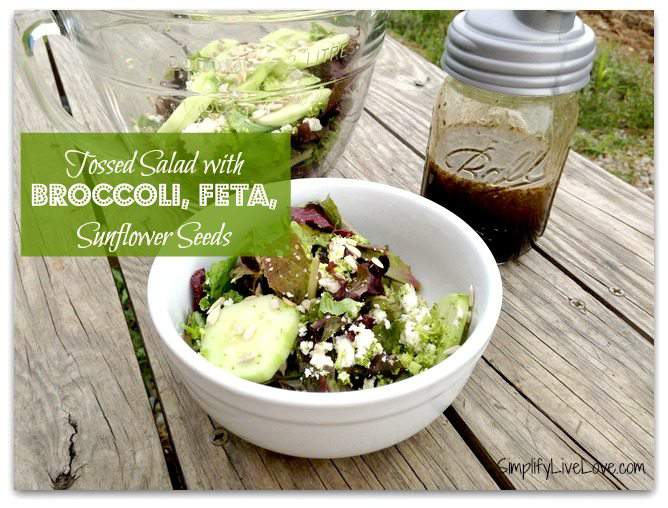 SimplifyLiveLove is a participant in the Amazon Services LLC Associates Program, an affiliate advertising program designed to provide a means for sites to earn advertising fees by advertising and linking to amazon.com.