The Instant Pot has been a real game changer for my family – especially its ability to quickly cook dried beans with no pre-soaking! If you want to learn how to cook all sorts of dried beans in a pressure cooker, this post is for you!
How to Cook Dried Beans in the Instant Pot
Do you know how to cook Instant Pot Beans? Beans can be tricky in the Instant Pot. Sometimes it seems like they come out hard and undercooked and sometimes they are cracked and overcooked. Learn how to get perfect beans every time this post. It doesn't matter if you cook soaked beans or un-soaked beans in the Instant Pot – learn the tricks to get them both just right! While both ways are totally doable with these useful tips, we prefer no pre-soaking of the beans!
One of the things I love the most about my Instant Pot is the ability to cook un-soaked dried beans relatively quickly. My Instant Pot has transformed the way I cook dried beans. I never remember to soak beans the night before and the ability to simply omit that step is so lovely!
We eat a lot of beans here at SimplifyLiveLove. They are frugal and I always have them in my pantry. Our favorite types of beans to stock in the pantry are black or turtle beans, kidney beans, and pinto beans. I buy them in bulk and store them in 5 gallon buckets.
Keeping a stocked pantry helps me cook from scratch and having rice and dried beans on hands means we almost always have something to cook in a pinch. Curious what I always have on hand in my pantry to cook from scratch? Read this helpful post on pantry essentials and grab my free checklist so you can stock your pantry too!
Besides that, beans are quite healthy. They are a fabulous way to added necessary protein to your diet, they are high in amino acids, they are rich in polyphenols, and they are lower in calories and fat than other protein sources. Learn more about health properties of beans here.
What do we do with beans?
Like I said, beans are a staple at my house and I almost always have a container of cooked beans in my fridge ready for some purpose. I add them to taco meat to stretch the meat, they're a staple in my kids' favorite taco soup, and we make a lot of pinto beans for bean burritos, nachos, and more. We also often have rice and bean bowls with guacamole and all the fixins. We also use dried beans in the best chili ever – also made right in your instant pot!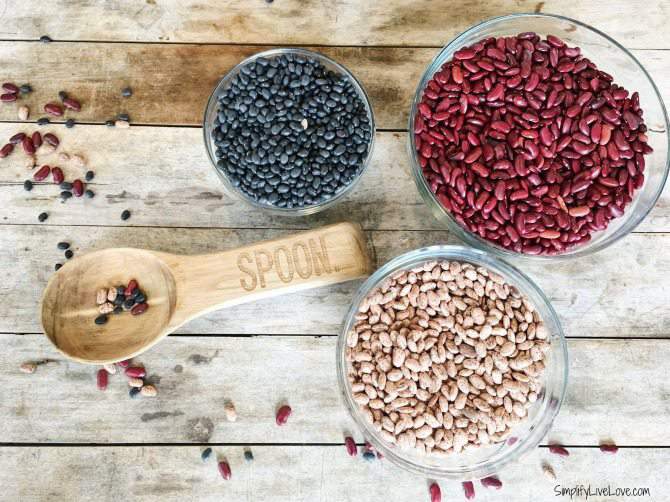 Time Chart for Dried Beans in the Instant Pot
I primarily cook three different types of beans: pinto beans, black beans, and kidney beans. But I have all types of beans in my pantry and so I'm sharing this handy chart of cooking times for nine different types of beans. Soak them, or don't soak them. That's your call.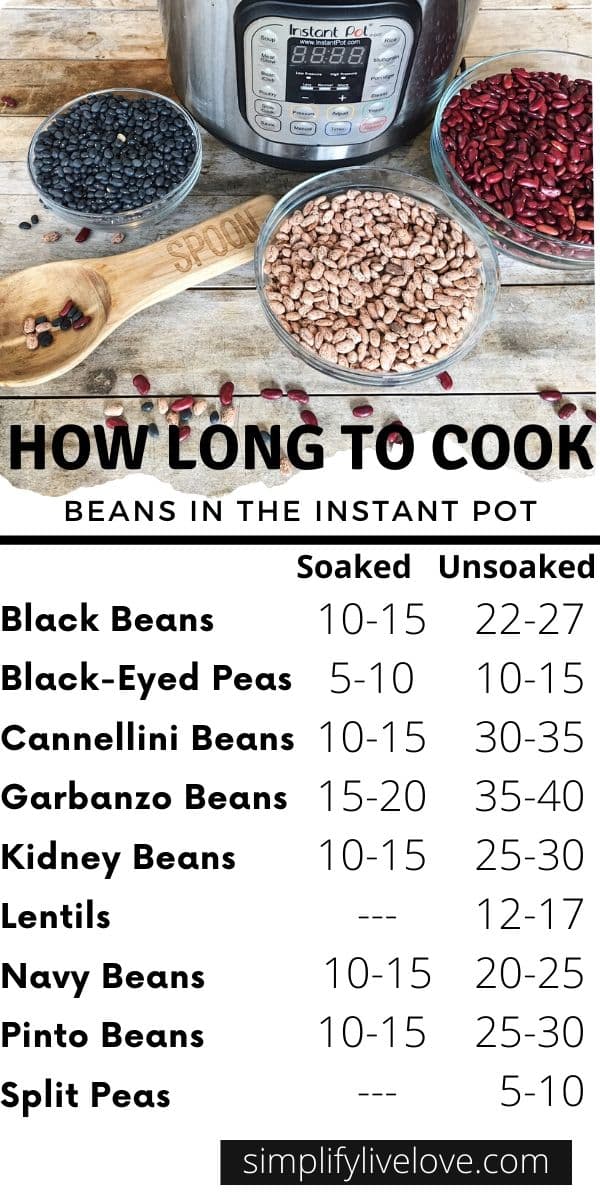 How to choose a cooking time for unsoaked dried beans
How I choose a cooking time depends primarily on my end goal for the beans. If I plan to use the beans in another recipe, meaning they will continue cooking after I take them out of the Instant Pot, I will cook them for fewer minutes.
For instance, if I'm using black beans in my taco meat, I'll cook them for around 22 minutes instead of 27. But if I'm not putting them in another recipe, I will cook them for longer in the Instant Pot so they come out softer instead of al dente. I cook pinto beans for 28 minutes, for instance, instead of 25 if I'm making refried beans.
Water to Bean Ratio for Pressure Cooking Dried Beans
The water to bean ratio for cooking dried beans in the instant pot is 4 cups water to 1 cup beans. One pound of dried beans is two cups, so you need 8 cups of water to cook one pound of dried beans in the pressure cooker.
In addition to the beans, you'll also need a good quality oil and salt as well. I prefer to cook with unrefined salt as regular ole table salt has been bleached and has a lot of additives that I'd rather avoid. My favorite type of salt is REAL Salt from the Great Salt Lake in Utah. I love its pretty colors and it has a nice taste and lots of healthy qualities too. There are so many different types of salt. We only use table salt for crafts.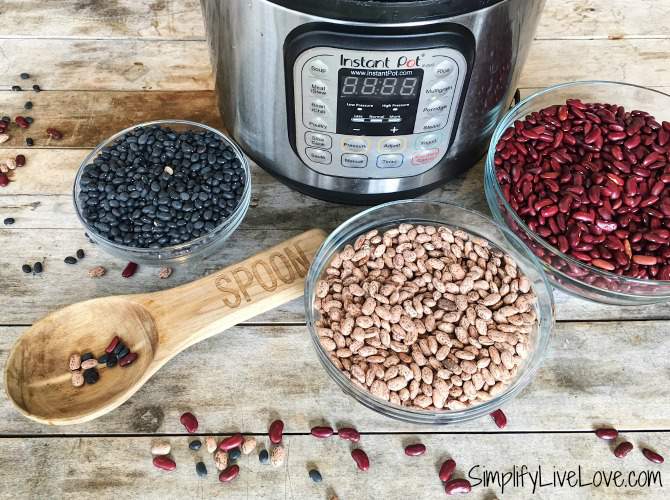 Some things to be careful about when cooking Instant Pot beans
Make sure you do not overfill your pressure cooker when cooking beans, or it will foam and boil over. While the oil helps reduce foaming, one pound of beans (2 cups) is the maximum you can cook in a 6 quart Instant Pot. I know, that saddens me too, but it's not worth the mess to cook more. 🙁 Also, use high pressure and a natural release for best results.
That said, I cook 4 cups of beans successfully in my 8 qt. Pressure cooker. I highly recommend the 8 qt Instant Pot if you have a large family or like to cook a lot at a time.
Yield: 12 - 1/2 cup servings of cooked beans
How to Cook Dried Beans in the Instant Pot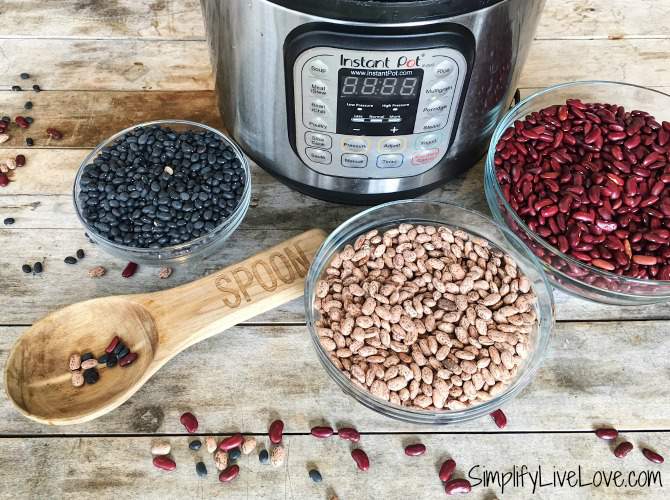 An easy way to cook dried beans in the instant pot. No pre-soaking required!
Additional Time
15 minutes
Ingredients
8 cups water
3 Tablespoons oil
Instructions
Add ingredients to instant pot.
Seal the lid and cook on high pressure for the time specified in the chart.
Use a natural pressure release for at least 15 minutes. You can naturally release the pressure longer if you want.
Manually release pressure and enjoy.
Notes
If you have a larger instant pot, add 4 cups of water per 1 cup of dried beans.
Recommended Products
As an Amazon Associate and member of other affiliate programs, I earn from qualifying purchases.
Nutrition Information:
Yield:
12
Serving Size:
1
Amount Per Serving:
Calories:

66
Total Fat:

4g
Saturated Fat:

0g
Trans Fat:

0g
Unsaturated Fat:

3g
Cholesterol:

0mg
Sodium:

330mg
Carbohydrates:

8g
Fiber:

2g
Sugar:

3g
Protein:

2g
Nutritional information is not always correct.
And that's it, my friends, how to cook dried beans in the Instant Pot! It's totally worth the price of the [easyazon_link identifier="B00FLYWNYQ" locale="US" tag="sililo-20″rel="nofollow"]Instant Pot[/easyazon_link] to me, just for the ability to cook dried beans in a relatively short amount of time! Do you cook beans in your Instant Pot? I'd love to hear if you soak them, or skip it!
Want more easy Instant Pot Recipes? Here you go!
More Instant Pot Recipes You Will Love
Check out my latest posts!