Another famous university town in Baden Württemberg, Tübingen, is a beautiful stop on a visit to Germany. Featuring one of the few completely intact old-style cities (Altstädte) as well one of the oldest universities in Central Europe, Eberhardt Karls Universität, Tubingen is well worth a visit!
*This post contains affiliate links. Thank you for supporting my site.*
Many thanks to the Tübingen Tourist Center for tickets to some of the destinations I mention in this post.
After starting in Heidelberg, Tübingen was the next stop on our recent spring break trip to Europe. Tübingen, like Heidelberg, was spared during World War II, and I was actually an exchange student there many years ago. Tübingen rivals Rothenburg in terms of beautiful old towns, honestly! I fell in love with the town during my year abroad and was excited to stop by with the kids. Who doesn't enjoy showing off their former life to their children? I'm glad to raise my kids in the Iowa boonies, but I want them to know that it's a great big world with a lot of possibilities too. I'd love it if one of them heads off to study in Tübingen some day. That will give me an awesome excuse to get a little apartment and relive the glory days. <3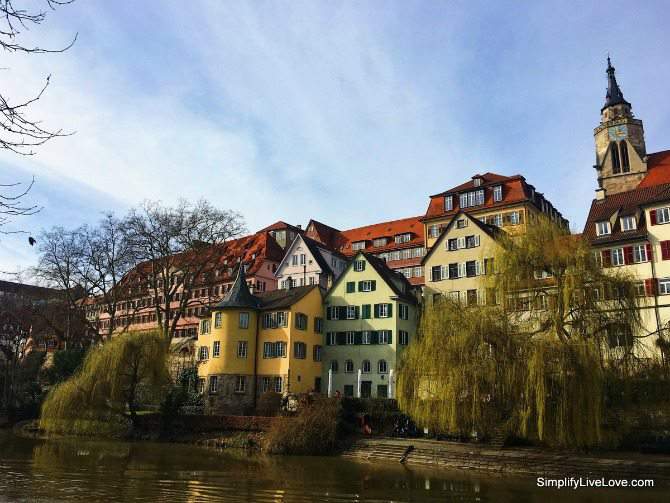 Tübingen, located in a area of southwestern Germany called Swabia, is somewhat off the beaten path and isn't even mentioned in Rick Steve's Germany 2017 Guidebook at all. It's about 2 hours southeast of Heidelberg, and 30 minutes south of Stuttgart. You can get there via train quite easily from Stuttgart if you don't have a car.
We drove down for a day trip and were not in the area long enough, in my opinion. Two to three days would be the perfect amount of time to spend in the Tübingen area: one day to explore Tübingen and its museums, another day to visit Bebenhausen and Hohenzollern, and a few hours at the Rittersport Factory in Waldenbuch, especially if you have kids. 🙂
Here's how we spent our afternoon in Tübingen, as well as a few amazing things to do in the surrounding area!
Neckar Müller Beer Garden
A favorite of the students and tourists, the Neckar Muller Beer Garden is very enjoyable, especially if the weather is nice and the patio is open. If you're outside during nice weather, it's fun to watch people in boats and the birds on the river. And beer! Ah yes, the beer. My favorites are the Helles (literal definition is "light," pale lager beer) and the Radler (literal definition is "the Cylist," half beer / half lemonade). Make sure you try one if you like beer.We started our day in Tübingen with a Schwäbisch lunch of Käsespätzle (cheesy noodles) and Maultaschen (sort of like pierogies). Sadly, the food didn't really appeal to my kids, but the view of the Neckar River was beautiful and the grownups did enjoy the food. After promises of ice cream and crepes, we left the Neckar Müller, crossed the street, and headed down the stairs for a walk on the Neckar Island!
Take a walk on the Neckar Island (Neckarinsel)
The Neckar River (the same river that runs through Heidelberg) actually splits in two for a bit in Tübingen, forming an island in the center of town. It was a favorite hang-out-spot when I was a student there, and the kids loved it too!
They said chasing pigeons and swans, running, jumping, and climbing was a highlight of their day in Tübingen. The Neckarinsel is also a great place to take in the beautiful and famous buildings on the river bank of the Altstadt.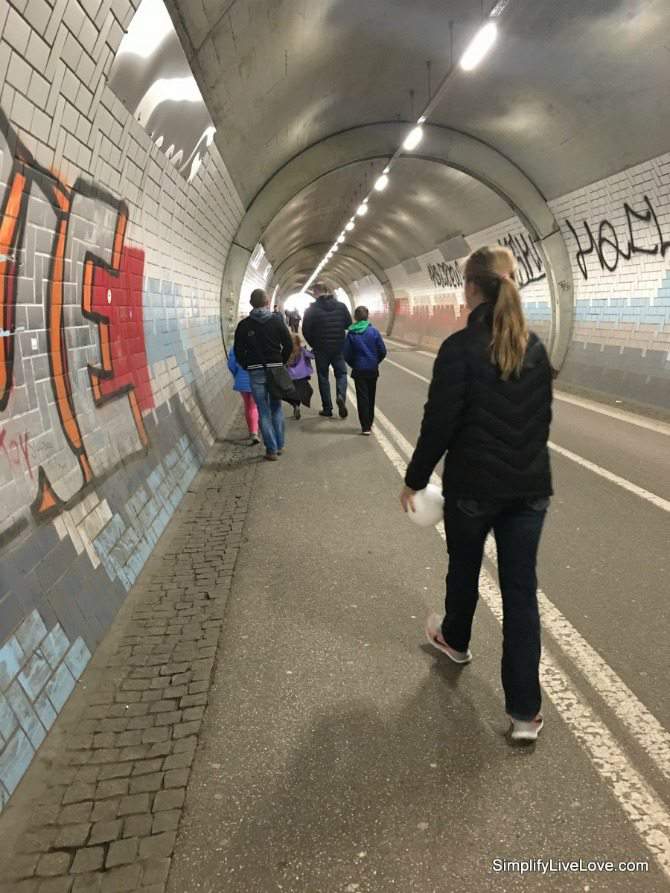 We walked the entire length of the Neckarinsel and climbed the stairs on the other side. From there we walked through the pedestrian tunnel and headed up the uneven cobblestoned streets to the Rathaus (City Hall) at the Marktplatz (Market Square).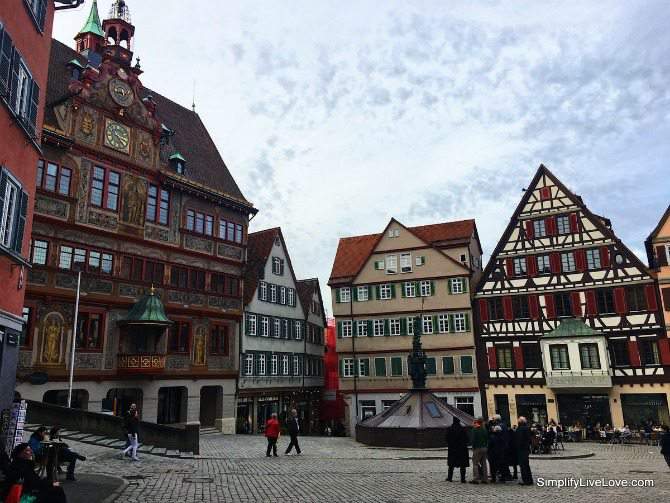 Walk around the Altstadt's uneven cobbled streets
Tübingen's Altstadt is one of the most beautiful old cities I've walked through in Germany. It really is picturesque, with uneven cobblestones and buildings that reach out and almost touch each other from across the street. There are some very narrow walkways and steep inclines, so it's not for the faint of heart. While you're walking around the old city, you might want to stop in the Stadtmuseum Tübingen, located in the Kornhaus – a building that's over 500 years old! We honestly did not stop in and I'm not sure if many of the exhibits, which include historical information about the area, include information in English. But the building is beautiful!
A museum I think my kids would have enjoyed, specially the boy, is the Toy Museum Boxenstop. Located on Brunnenstr. behind the university building Brechtbau (where I spent a lot of time during my year abroad), the Boxenstop claims to have an impressive display of over 70 cars and 1500 different toys which everyone is encouraged to touch and feel!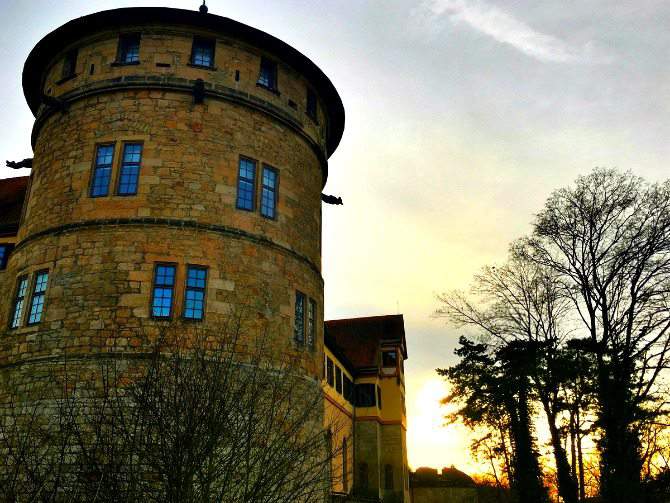 Situated at the top of the Altstadt, Hohentübingen Castle is part of the University of Tübingen. It houses science faculty, museums, and beautiful views of the city below. We toured the Ancient Cultures Museum at the castle and were surprised by how much the kids enjoyed it. I didn't think they'd like it that much, but they surprised us by really enjoying the ancient Egyptian artifacts, a prehistoric art collection, and plaster cast collection of famuos statues from classical archaeology.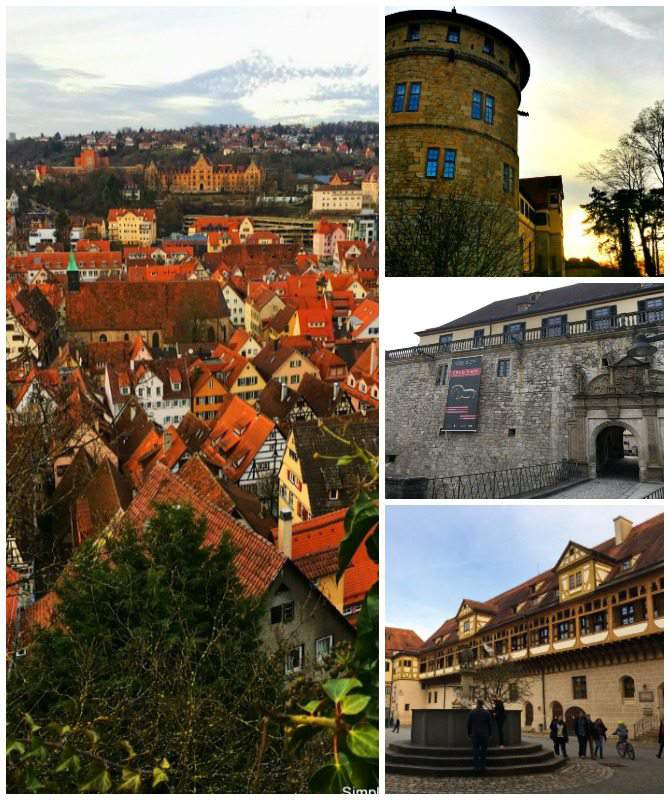 Things to see within a 5-30 minute drive of Tübingen
Well, who doesn't like Ritter Sport? My kid were thrilled when we told them we were heading the Ritter Sport Factory in Waldenbuch, a town about 25 km from Tubingen. We actually started our day there and had a great time, even though, apart from buying lots of cheap chocolate, there's not all that much to do. We enjoyed the little museum and a movie about the company (in English even). They also have an interactive chocolate workshop for kids (no parents allowed!) that could have been a lot of fun. You have to register in advance for that tour, and we did not, so the kids were not able to participate.
We didn't make it here this trip, but I visited years ago when I was a student. The Bebenhausen Monastery is supposed to be one of the best-preserved Cistercian abbeys in southern Germany and was founded in 1180! It's located in the Schönbuch nature preserve area and some of the buildings were turned into a royal hunting palace in the 19th century. At only 5 km from Tübingen, it makes a nice bike ride if you have the time and inclination!
Another place I visited when I was a student is the Hohenzollern Castle, 35 km from Tübingen. It's an easy drive or train ride away and is a beautiful castle to visit. With over 300,000 visitors a year, it's one of the most visited castles in Germany. Hohenzollern Castle is still privately owned by the royal family and is definitely on my list of places to take the kids next time we make it to Germany.
What to learn about more fun places to visit in Germany? Read these posts!
Why you should GO to Heidelberg
What you need to know about driving in Germany
No visit to southern Germany is complete without stopping in the Tubingen area! I hope you'll add it to your list of must visit cities on your German vacation.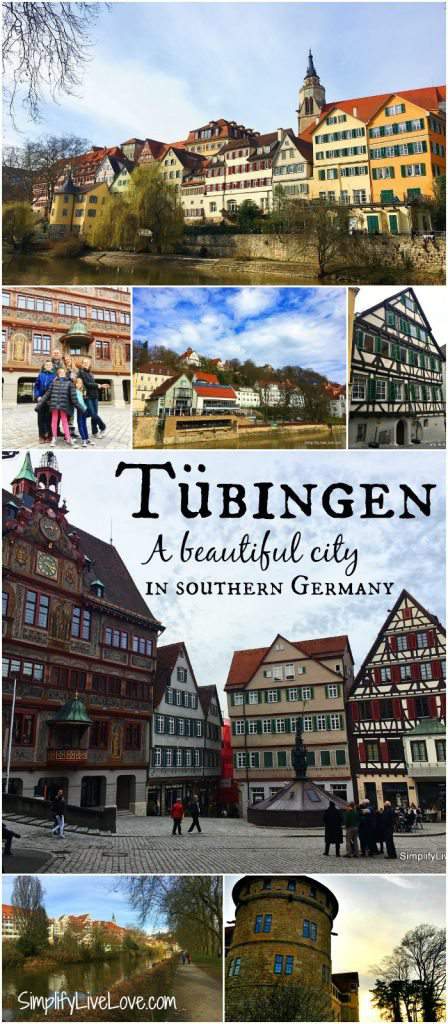 Ready to travel? Use these helpful links to book your stay!